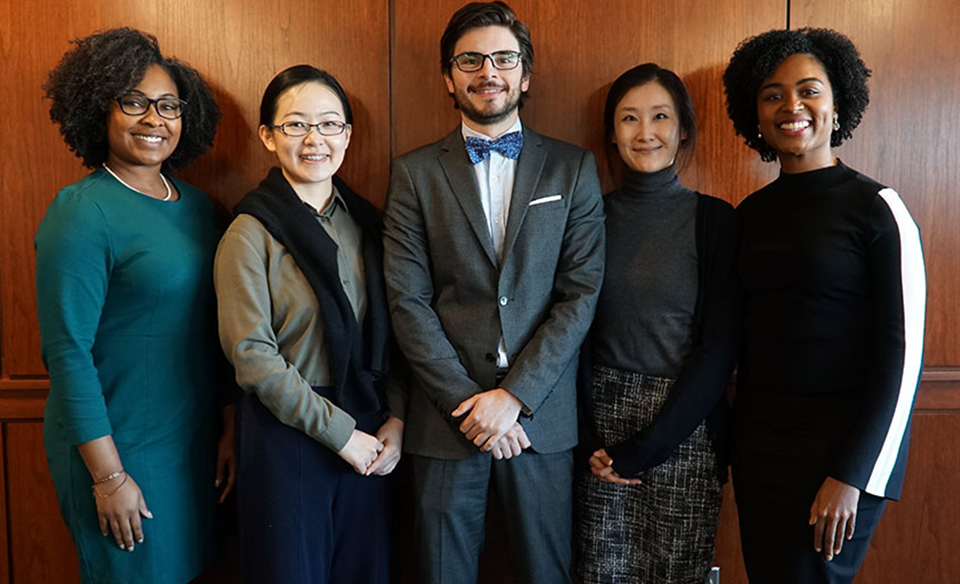 The Department of Pharmaceutical Health Services Research at the University of Maryland School of Pharmacy presented several scholarship awards to five exceptional doctoral students this past October.
---
The Department of Pharmaceutical Health Services Research (PHSR) at the University of Maryland School of Pharmacy hosted its Graduate Program Awards Presentation and Reception in October to present the Harris Zuckerman Scholarship Award, the Arthur Schwartz Memorial Scholarship, the Pharmaceutical Health Services Research Student Travel Scholarship, and the Donald O. Fedder Memorial Fellowship to five exceptional students in its doctoral program.
"Our department looks forward to hosting the Graduate Program Awards Presentation and Reception each year, because it offers us an opportunity to recognize the outstanding accomplishments achieved by the students in our program, and share the legacies of the individuals and families who established these awards," says Danya M. Qato, PhD, PharmD, MPH, assistant professor in PHSR and director of the PHSR Graduate Program. "We received more nominations than ever for this year's awards, which is truly a testament to our wonderful students and the remarkable commitment they bring to the research that they are pursuing."
Supporting Clinician Researchers
The Harris Zuckerman Scholarship Award was endowed by Ilene Harris, PharmD '83, PhD, retired professor and chair of PHSR, to assist students interested in jointly pursuing Doctor of Pharmacy (PharmD) and PhD degrees. Named in honor of her parents — Daniel Harris, MD, and Ann Harris — the scholarship provides support for the training, development, and advancement of graduate students in the PhD in PHSR program at the school. At the event, Yoon Hong, PharmD '17, the 2019 recipient of the award, expressed her gratitude for the support of donors like Harris.
"I thank not only Dr. Harris, but also all of the donors present today for their ongoing support of our department and students," Hong said. "As graduate students, it means a lot to have your support and to know that others care about our professional growth as future health services researchers."
Honoring Two Tremendous Legacies
As the first student admitted to the PhD in PHSR program, Arthur "Artie" Schwartz demonstrated great interest in drug use and pharmaceutical marketing issues. Following his death at an early age, his wife Karen Schwartz established the Arthur Schwartz Memorial Scholarship to provide funding for future students in the program based on academic standing and financial need. Graduate student Chengchen Zhang, MPH, whom one nominator described as "a rising star and an already competent and promising emerging health services researcher," was celebrated as the 2019 recipient of the scholarship.
"This past year has been incredibly exciting," Zhang said. "I have been exposed to a number of amazing projects and had opportunities to collaborate with different faculty members across our department. It has been incredibly rewarding to see how much potential exists for me to make a difference with my research moving forward, and I am truly honored and humbled to receive this award."
Established by Michaeline Fedder in honor of her husband Donald Fedder, DrPH, MPH, BSP, FAPhA, a public health pharmacist and longtime faculty member at the School of Pharmacy who passed away in 2010, the Donald O. Fedder Memorial Fellowship supports the training and development of a graduate student whose work focuses on social justice, pharmacy advocacy, or public health. In recognition of her demonstrated dedication to the field of population health as well as her desire to improve clinical outcomes and reduce health disparities, Jacquelyn McRae, PharmD, was named the 2019 recipient of the award.
In her remarks to the audience, McRae shared an experience from her time as an undergraduate that transformed how she viewed her life and the impact that she wanted to have on others.
"In a speech that she delivered to our graduating class, my academic advisor held up a half-full glass and asked us, 'When you die, do you want your glass to be filled to the brim or completely poured out?'" McRae recalled. "When she paused for a response, I remember thinking that I wanted my cup to be completely full — filled with all of my life's experiences. But then she said something that completely changed my perspective. She said that we should strive to have our cup completely poured out, because that will mean that we have extended ourselves in the service of others."
She added, "Now, when I think about what motivates me in my day-to-day life, it is the idea of having a 'life poured out.'"
Helping Students Share Their Work
New to this year's event was the presentation of the Pharmaceutical Health Services Research Student Travel Scholarship. Spearheaded by C. Daniel Mullins, PhD, professor and chair of PHSR, this scholarship was established with generous financial support from PHSR staff, faculty, students, and alumni. Its funds can be used to pay for travel expenses related to attendance and participation in professional conferences for any student enrolled in courses taught by faculty in the department. Two recipients were named for this inaugural award: Maya Hanna, MPH, and Juan-David Rueda, MD.
Hanna used the scholarship to present a poster highlighting her research titled, "A Comparison of FDA and EMA Guidance on Medicines for the Treatment of Early Alzheimer's Disease," at the International Society for Pharmacoeconomics and Outcomes Research (ISPOR) Europe 2018 conference in Barcelona, Spain, in November. Rueda also used funds from the scholarship to deliver a podium presentation highlighting his research titled, "Application of Machine Learning Algorithms for Predicting Missing Cost Data," at the same conference.
"I joined this program because I wanted to be in a space where I could not only conduct research, but also have an impact on the decisions made as a result of that research," Hanna said. "And I have been fortunate to have the opportunity to travel across the country and around the world to present my research at national and international conferences and events. None of this would have been possible without the support that I have received from this department."