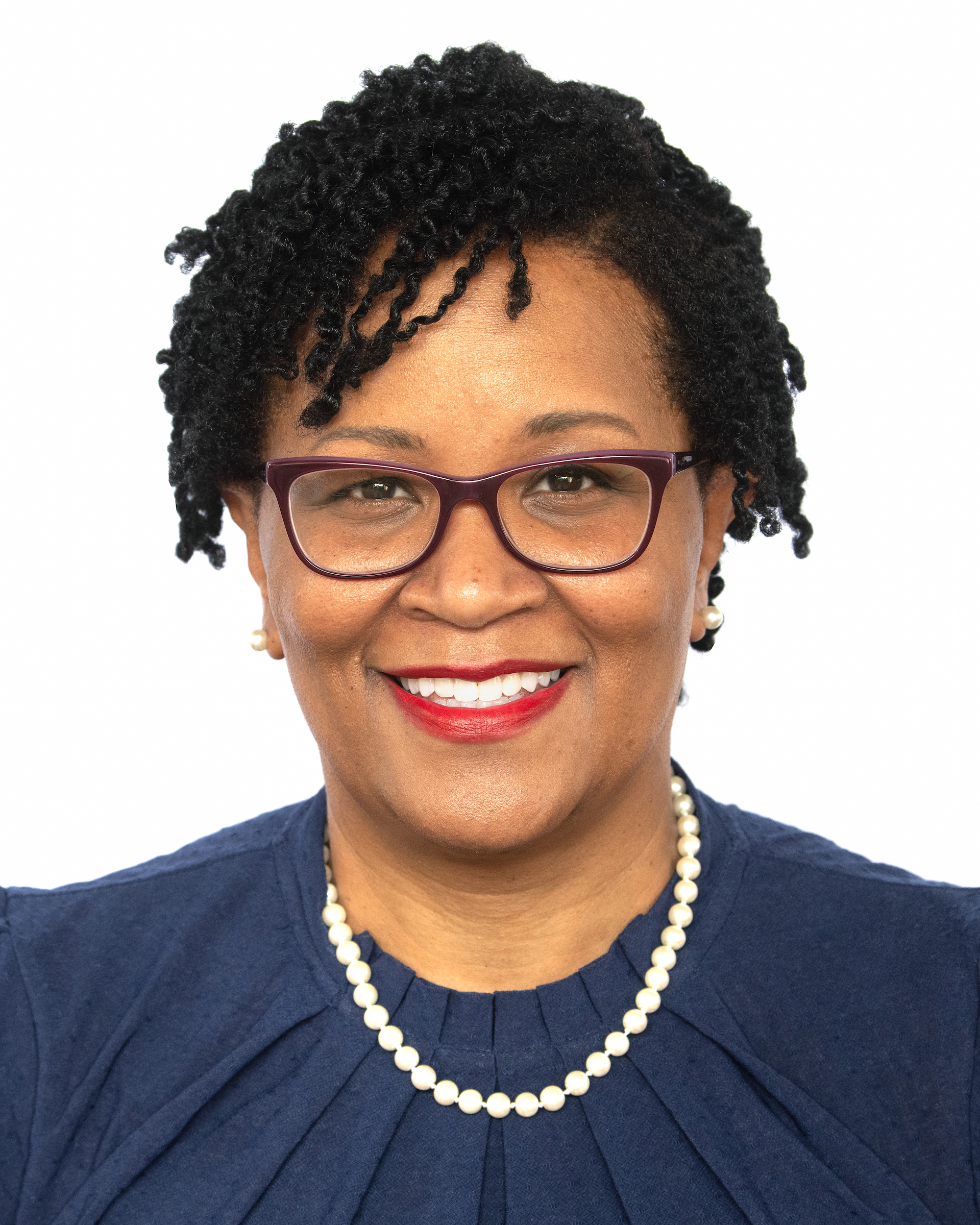 She is recognized for her work to ensure the UMBrella coaching program transitioned smoothly to an all-virtual format.
---
When Paulette Harris-Gross, MS, was helping to plan the virtual holiday party for the University of Maryland, Baltimore (UMB) President's Office, she had no idea that in addition to toasts from the University's leaders, trivia games, and a scavenger hunt, her team had one more item on the agenda to celebrate: her.
Harris-Gross, program management specialist in the President's Office, found out from UMB President Bruce E. Jarrell, MD, FACS, at the start of the party Dec. 18 that she had been named the University's December Employee of the Month.
"This is a surprise party, not just a holiday event. We have in our presence the next Employee of the Month," Jarrell said before announcing Harris-Gross' name to applause from the two dozen people on the videoconference. "I want to personally thank you for everything you've been doing."
Harris-Gross received the honor for her work with the UMB Roundtable on Empowerment in Leadership and Leveraging Aspirations (UMBrella), which supports women by building a community to help them achieve their personal and professional goals and enhancing their leadership skills through a months-long coaching program. Harris-Gross helped to move the third cohort, which launched in September, into a virtual format because of COVID-19 and put together a resources tool kit for the participants.
"Paulette has been tirelessly working behind the scenes to ensure that the program goes on without a hitch," Jennifer Litchman, MA, senior vice president for external relations, special assistant to the president, and founder of UMBrella, said in nominating Harris-Gross for the award. "She is organized, meticulous, anticipates potential roadblocks and challenges, and, most importantly, thinks outside the box on how to overcome those challenges.
"She went above and beyond, putting in hours over multiple weekends researching and vetting resources to be included in a resources tool kit for all coaching participants."
Harris-Gross, who said the award was a "total surprise," told the group, "UMB has done such good work, it's contagious. Once you start working here, you want to do just as much as everyone else."
Harris-Gross, who has been with the University for two years, has numerous roles in the President's Office. With UMBrella, she co-manages the coaching program and manages the professional development scholarships and webpage content. She coordinates the annual daylong Women's History Month Symposium. She also staffs the Diversity Advisory Council, organizing monthly meetings and assisting with special projects, and is chair of the Resources and Professional Development Committee. And she has front office duties, managing the front desk and assisting the president's visitors.
Harris-Gross said her favorite part of the job is "working on different projects, getting a chance to work with a lot of different people from across campus that if I wasn't in this position I would have never met."
UMBrella formed a team, led by Harris-Gross, in late 2019 to review the coaching program, recruit coaches, plan the programming, match participants and coaches, and launch the third cohort.
"My charge was to make sure the team stayed organized and on our timeline. We had decided to make a few enhancements to the program, which included creating a resources tool kit for the participants," she added. "I took quite a bit of time over the summer to curate a tool kit that has articles, books, and videos related to different career topics like career development, leadership, and intersectionality."
The tool kit, which before the COVID-19 pandemic had been envisioned as a short list, grew to more than 400 resources.
The planning for the cohort, of course, hit a snag in the spring when the pandemic started and the team had to "pivot," Harris-Gross said. After surveying the participants, UMBrella found that all were interested in moving forward even if the program was virtual. "That was a huge relief for us," she said.
The cohort, which will run until a closing ceremony in April, includes more than 60 women and 12 coaches. The main networking event that UMBrella holds went virtual, so the team broke it into two events: a coffee hour and a happy hour.
"They were both well attended, and based on the feedback, the participants still felt like they got something out of it, that they were still able to make some connections," she said.
She added that the UMBrella program has helped the women — and herself — cope with the isolation of telework during the pandemic.
"Especially when we are virtual, the women in the program feel like this has given them an opportunity to stay connected," Harris-Gross said. "An advantage for me is that I have become even more connected with other women on campus — the coaches, the planning team, and the participants."
Harris-Gross thanked Litchman "for entrusting me to work on this team" as well as two UMBrella colleagues: Cherita Adams, MBA, MS, assistant dean for administration and strategic initiatives, University of Maryland School of Social Work, and Elisa Medina, MSW, LCSW-C, career development manager, Human Resource Services.
"A highlight for me with this program is working with such great people. We collaborate so well on this project," Harris-Gross said.
Litchman, who said during the videoconference that Harris-Gross winning the award was "the best news of my month," also praised her dedication.
"It has been such a pleasure working with Paulette, and UMB is lucky to have such a dedicated and committed employee who cares deeply about empowering women and marginalized groups and ensuring that opportunities for professional development are available," Litchman said.
As Employee of the Month, Harris-Gross will receive a plaque, a letter of commendation, and an extra $250 in her next paycheck. She plans to donate the money to a UMB program.
"There is just a lot of great work going on at UMB, and I'm proud to be a part of that," she said. "I plan to pay it forward with the award, because I know there are so many people who are having a tough time right now."