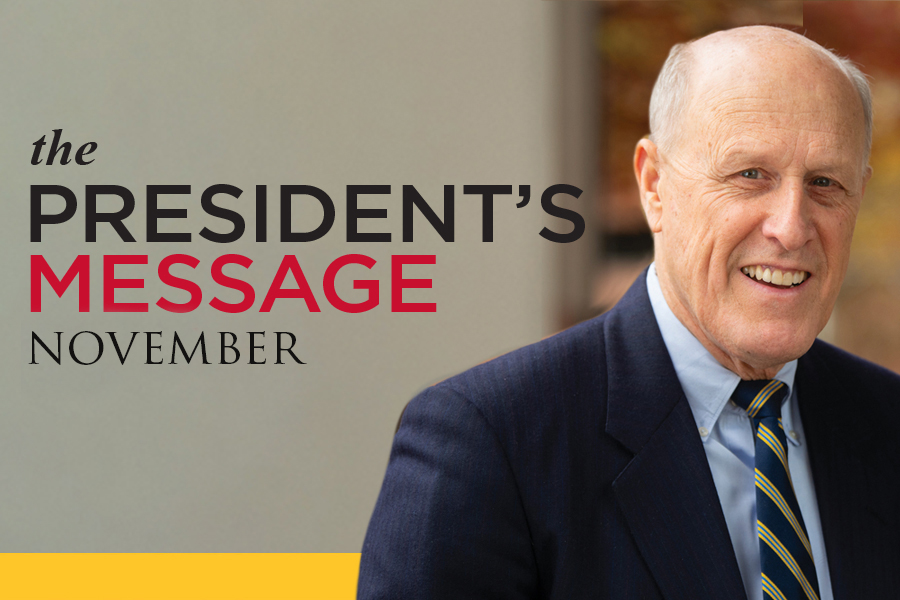 This month's newsletter features Dr. Jarrell's column on what he's thankful for, plus stories on a panel examining the Breonna Taylor case, COVID-19's impact on Latinos, new professorships, and more.
---
In the November issue of The President's Message, you'll find:
President Jarrell's column on all of the things he's thankful for at UMB.
Francis King Carey School of Law professors look at the Breonna Taylor case through a legal lens.
Diversity Advisory Council-led panel examines COVID-19's impact on the state's Latinos.
$2.3 million from the Maryland E-Nnovation Initiative Fund will fund four UMB professorships.
University, Comcast team up to provide West Baltimore families with free internet service.
UMB Guidance Resources offers students, faculty, and staff a variety of services to help with work/academic life issues.
Roundup of student, faculty, and staff achievements.
Read the newsletter online and browse its back issues here.
Sincerely,
Bruce E. Jarrell, MD, FACS
President