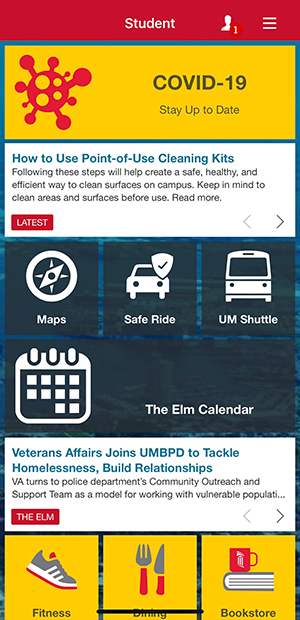 This year, the Office of Communications and Public Affairs (CPA) has widened the communication capability through updates to the push notifications feature.
---
Since the launch of the UMB mobile app in 2014, the technology has undergone an evolution in communication and power to the user, with push notifications being at the forefront.
Push notifications are messages from the app that are sent to the user's smartphone, keeping the community at UMB up to date on news, announcements, and events. The update to this feature includes delivering timely and relevant information based on the user's persona and topic. The user can opt in to one of three personas — student, faculty/staff, and community member — and receive notifications tailored to those individual groups, making it a personal experience. The UMB Office of Communications and Public Affairs has created a step-by-step video on how to navigate and opt-in to push notifications.
This update seeks to benefit the UMB community by not only putting the user in control of what kind of information they want to see but also recycling the messaging that would otherwise be cluttered in email and social media and condensing it on the mobile app. This means the user can receive news such as information about the COVID-19 recovery response in real time at the palm of their hand without going through different channels to stay up to date. More types of notifications that the user can expect include:
• Updates on building and parking garage access;
• News and events from the Community Engagement Center and Academy of Lifelong Learning;
• URecFit virtual classes, events, changes to hours/facilities, and membership news;
• Student Affairs updates on events, services, and promotions;
• Human Resource Services news, professional development opportunities, and telework updates.
These are just some of the topics users can opt-in to that can be tailored to the information most relevant to the user, making the mobile UMB app a necessary tool for communication. Another advantage of push notifications is the simplicity of activating them through the mobile UMB app, which is available for free download in the App Store for iOS users and Google Play for Android users.