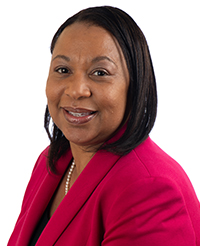 Program director at the School of Medicine discusses her three key takeaways from the 2019 conference.
---
The Association of College Unions International (ACUI) Women's Leadership Institute (WLI) was amazing! I am so inspired and more confident as a leader than ever.
I'm so grateful to the UMBrella Group for providing me with the opportunity to attend WLI 2019. The sessions were impactful, and the speakers were phenomenal. As I reviewed my notes and pondered the insightful information delivered by the WLI speakers, three key takeaways stood out:
Education is the great equalizer.
Build a circle of women.
Ask for what I want.
One of the keynote speakers, Dr. Colette Pierce Burnette, president and chief executive officer of Huston-Tillotson University, stated, "Education is the great equalizer." This resonated with me because I'm passionate about education and lifelong learning. Then I started thinking about how to promote "education as the great equalizer" — how do I motivate and persuade people of color to go beyond secondary to postsecondary education, and how do I address the ethnic and racial disparities in education? These are tough questions. I will do my best to answer at least one of them moving forward.
During WLI, I met some awesome women from various backgrounds. I started thinking about my circle of women — I didn't have one. Where was my sisterhood? Teri Bump, vice president at American Campus Communities, asked, "What will you do to help a sister out?" She shared that we needed more women sponsors and fewer mentors. Sponsors advocate and use their influence to elevate other women. After WLI, I reconnected with two individuals who were instrumental in my career development.
There is a proverb that talks about a person who wants friends must first show themselves friendly. I'm now showing myself friendly, reaching out, asking for advice from women I respect, and including them as part of my circle of women. Moreover, I'm open to opportunities where I can support and encourage women in achieving their educational and career goals, their business endeavors, and, most of all, their dreams.
Ask for what you want. I attended a session on "Know Your Worth … Then Add Tax." It was about negotiating and asking for what you want. There have been times when I did not ask for what I wanted due to fear of rejection, past experiences, or not wanting to seem like I'm asking for too much. During this session, I learned strategies for negotiating, and it was recommended to read the book Ask For It: How Women Can Use Negotiation to Get What They Really Want by Linda Babcock and Sara Laschever. I downloaded the book on my Kindle and started reading it on my way home from WLI. I could have used this book 10 years ago!
Other takeaways included giving myself permission to speak my truth and be extraordinary; being a disruptor; going back and doing the things I regret NOT doing (see YouTube video titled What Is Your Biggest Regret?); knowing what I value; and telling my story. I feel so empowered as a woman, a leader, and an educator. I had a wonderful experience.
Again, thank you, UMBrella, for this opportunity. It really feels great to be a part of an institution that supports women in leadership.
Chanise Reese-Queen, EdD, MSA, CMP, is program director, CME, Office of Faculty Affairs and Professional Development, University of Maryland School of Medicine.

The UMBrella Group is sponsoring two scholarships for UMB staff or faculty to attend the ACUI Women's Leadership Institute in December 2020. Applications must be submitted by Friday, Sept. 4, at noon. Apply for a scholarship at umaryland.edu/umbrella/scholarships/acui.
The UMBrella Group works to support the success of women at UMB by building community and helping them achieve their personal and professional goals, enhancing their leadership skills, and championing women at all levels of the organization. Learn more at umaryland.edu/umbrella.