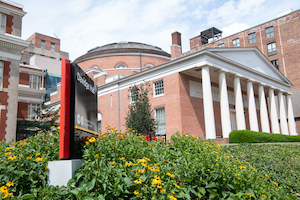 Michelle Pearce, PhD, a clinical psychologist and University of Maryland Graduate School professor, offers advice for reintegrating as many employees are set to return June 1.
---
Countless video meetings and online events. Very little in-person interaction with students or colleagues. Isolation. Fear. Grief.
It's been a long 14 months since the last time many University of Maryland, Baltimore (UMB) employees were on campus. On March 13, 2020, the COVID-19 pandemic abruptly caused the University to shift to mostly telework and telelearning. While some operations have resumed, and some employees and students have been back on campus — joining the front-line workers who kept the University up and running from the start — June 1 will mark the return to in-person work for many.
And with it, we should expect a tide of emotions, both positive and negative.
"I think there's going to be anxiety and overwhelm and ambivalence. And I think people are going to feel a bit confused about that ambivalence," said Michelle Pearce, PhD, a clinical psychologist and University of Maryland Graduate School professor. "We've been wanting to get back to normal life and now we have the chance. It's going to feel unexpected to have myriad emotions. It won't just be positive emotions. There will be some negative emotions, too."
UMB President Bruce E. Jarrell, MD, FACS, said in a letter to the University community this month that he has directed each school and administrative unit to increase its on-campus density to about 50 percent capacity starting June 1 and about 80 percent capacity at the start of the fall semester.
"Starting June 1, almost everybody needs to be here some of the time. And for the fall semester, almost everybody will be back on campus most of the time," he wrote.
Jarrell has emphasized throughout the pandemic that the institution takes a family-first approach. His online program Virtual Face to Face with President Bruce Jarrell has covered topics such as telework and returning to campus, grief, and student mental health. The University also offers resources such as the Student Counseling Center and the Employee Assistance Program as well as a COVID-19 Coping Kit. UMB has put together a Return to Campus Guide. And Jarrell wrote about mental health in his May President's Message.
Pearce is a member of a task force that Jarrell formed on mental health and returning to work. She said the University has shown that "the message is, we really care about your mental health. The impact that COVID has had on our mental health is even more widespread than the impact it had on us physically. And what I mean by that is, more of us have been affected by mental issues than infected by COVID.
"We really need to keep that in the forefront of our minds when we go back. We're not just thinking about vaccines and wondering if we are physically safe. We have just been through a collective trauma for over a year, and we're going to be dealing with that for a while. We're going to have to look out for one another in terms of our mental health."
She said one emotion that has been expressed to her about reintegrating into society is dread.
"Some of what I've heard is, 'I like not having a commute, I like not taking my kids to six different activities all week long, and life just felt more manageable for a while, and now I'm dreading that I have to pick all that back up suddenly,' " she said. "We go from a long period of trauma and being in a heightened stress response, and then suddenly thrown back into a transition where we're taking on all these things again. I think many of us are just longing for a break."
Pearce said those who feel overwhelmed reintegrating at work and in society should go at their own pace.
"We are all going to have a different pace around how comfortable we're going to feel with this reintegration process," she said. "It's good to be able to decide how we want to integrate and what that pace will be. That's going to be easier in our social lives, and it's going to be a little harder in our work lives."
She suggests employees speak with their supervisor, dean, or chair about the best approach for being comfortable and feeling safe. "Maybe you can work from home a day a week or more. Maybe there are half-days on campus. Maybe there are options to log in virtually to big meetings," said Pearce, who added that the recent mandate that all UMB employees and students must be vaccinated before returning for the fall will go a long way toward making people feel safe.
She said the UMB community should look out for each other during this transition.
"We need grace for each other and grace for ourselves," she said.
Pearce said those who may be fearful about reintegrating can use a therapy technique called imaginal exposure, which is used to help people with phobias.
"We gradually expose you to the thing that you're afraid of to weaken the fear response," she said. "Because as long as we're avoiding something, we're strengthening the fear response. And if we gradually approach it, we can weaken it. Imaginal exposure gives you a chance to think about in your mind what it's going to be like to be in that situation before you're actually in the situation. We can imagine going back into the office or imagine going back to school. That's a gradual way to be able to lessen the fear response before we get there."
Pearce recently wrote an op-ed for The Baltimore Sun called "Social reintegration: preparing for post-COVID life" in which she offered other suggestions such as be selective ("You may not want to engage in all of the activities you once did"), be patient ("There will likely be ups and downs in your reintegration process"), and be open ("We have been through a collective trauma. It will take some time to recover").
Pearce said these steps will help retrain the brain after "living in a fear state."
"We recognize it, we name it, we normalize it. And over time, as we practice slowly getting back to normal life and lessening the idea that people are a threat to us, that helps to change the brain," she said.
She suggests making sure you take care of yourself at home, too.
"Engage in self-care: exercising, eating healthy, getting out in nature, going to bed early," Pearce said. "Expect that it is going to be stressful to go back to work and try your best to balance it out with good self-care at home."