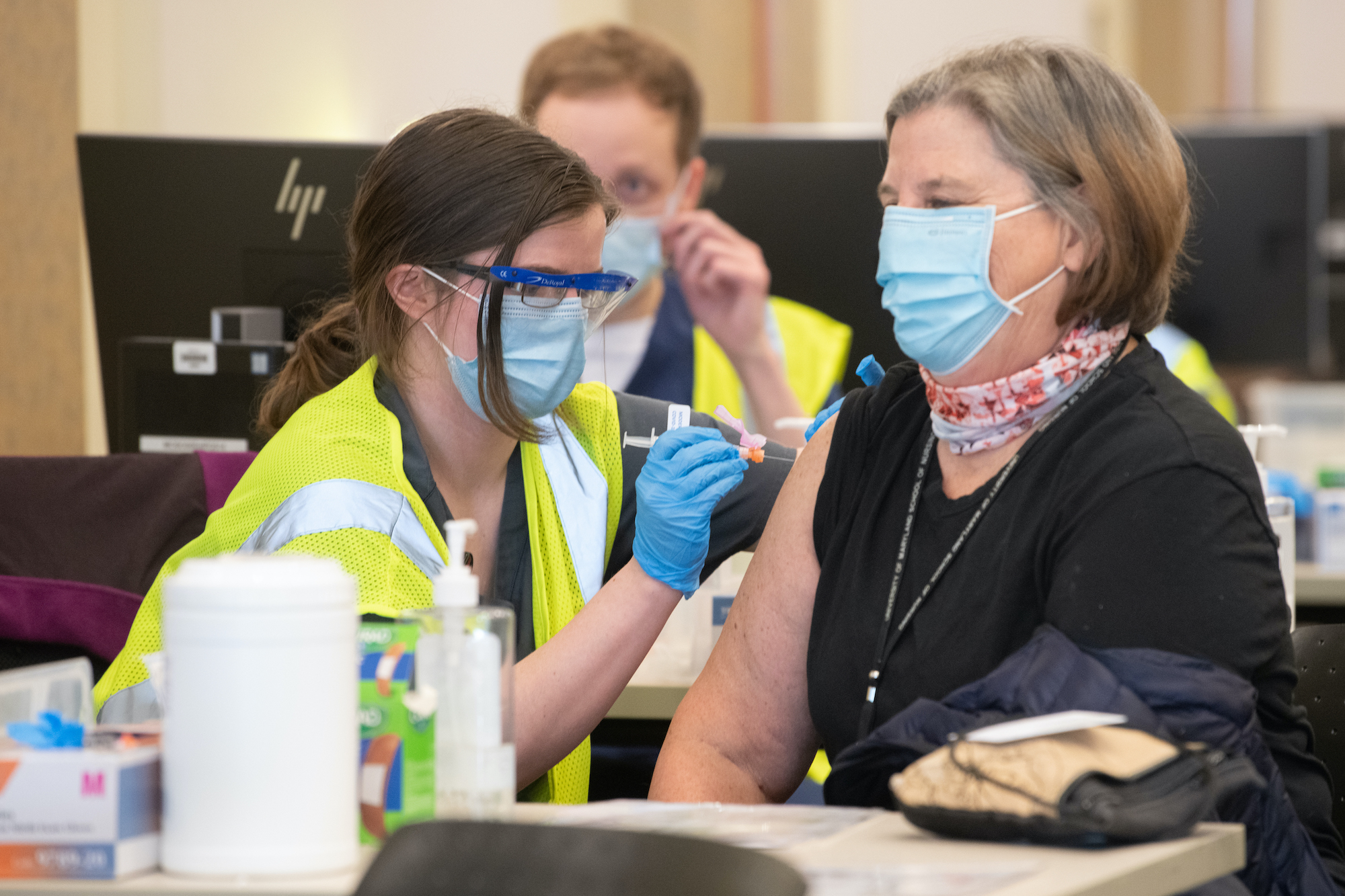 Clinical Nurse Leader master's option student Kelly Doss shares her experience completing her community/public health clinical rotation as a COVID-19 vaccine administrator at the campus center clinic.
---
To clarify time references noted, this article was written on Jan. 23, 2021.
When I enrolled in the University of Maryland School of Nursing's Clinical Nurse Leader master's option in January 2020, I had no idea how much the pandemic would alter daily life across America and the world in the coming months. I'm now in my fourth semester of nursing school, with two semesters to go before graduating.
In December, the School of Nursing gave us the option to start our community/public health clinical rotation early, given the need for skilled staff on the front lines and uncertainty around the availability of clinical sites in the spring 2021 semester. At the same time, the School began reaching out to students about the possibility of helping with COVID-19 vaccination efforts. In starting my community clinical early, I was hoping and excited to potentially contribute to this effort.
The University of Maryland Medical Center's (UMMC) vaccination clinic, currently located at the University of Maryland, Baltimore's Southern Management Corporation (SMC) Campus Center, was established to vaccinate health care and other front-line workers and eventually community members against COVID-19. I was scheduled for my first shift at the clinic on Jan. 13.
Any shifts we work at the vaccination clinic count toward our requirement of community clinical hours, and the goal for our community health course is to complete 24 hours at the clinic — although once we've met that commitment, we can work as many shifts as we want or are able to in a volunteer capacity. I plan to work as many shifts that I can accommodate in my schedule, hopefully continuing throughout the spring semester. As of writing this article, I've completed two 10-hour shifts, and I have three more shifts confirmed.
Prior to my first shift, I was a little nervous, especially about making sure that everything was documented correctly and being able to navigate the electronic health record (EHR) platform, although I felt well prepared otherwise. We had learned how to administer medications, including intramuscular injections, in our first semester, and I had previously given a flu shot in my adult health clinical under the supervision of my clinical instructor.
When I arrived at the SMC Campus Center for my first shift, some of the lead nurses there helped me access the EHR, and we went through the steps of how to document and schedule appointments for the second vaccine dose.
The lead nurses were very helpful, and they ensured the entire clinic ran smoothly. I had to document two deferrals of COVID-19 vaccines (due to responses to some of the screening questions), and the lead nurses were a fantastic resource to make sure that I documented everything correctly in the EHR. Before the clinic started for the day (appointments start at 7 a.m.), one of the lead nurses went over key points, including a brief summary of intramuscular injections and reminders to sign and/or clock in. I was supervised by a clinical coordinator throughout the day.
There were other students there administering vaccines, including students from the School of Pharmacy, and two other CNL master's students volunteered later in the afternoon. I really enjoyed working near a nurse from the electrophysiology lab at UMMC. She was very nice to talk to, gave me tips throughout the day, and helped answer a lot of my questions.
The clinic is set up in a large ballroom with one-directional traffic flow. The room is divided into two sections: half the room is for first doses of the vaccine, and the other half is for second doses. People enter near the front of the room, check in with a navigator, and then are directed to a free vaccination station, one of 40 in the clinic. Each station has a light, and if the light is on, that station is free for the next vaccine administration. We then turn our light off when someone is at our station. We also have two flags at our station: one to let the nurses know we are out of vaccine doses and one to let the nurses know that we have a question. The flag system works well, since the lead nurses are able to see the visual cues from around the room.
The specific vaccine administered depends on what the pharmacy has available; on Jan. 13, the clinic was administering first doses of the Moderna vaccine and second doses of the Pfizer vaccine (for those who had received first doses of the Pfizer vaccine). After the vaccine is administered, individuals are directed to a nearby observation area to wait for at least 15 minutes, and those with a history of severe allergic reactions are directed to wait for at least 30 minutes. Nurses and nurse practitioners help to observe this area.
On Jan. 13, the clinic was busier in the morning and pretty steady through lunchtime. I didn't count how many vaccines I administered that day, but during my second shift, I administered 56 vaccines, so I have probably administered about 100 vaccine doses total. After lunch, there didn't seem to be as many appointments, and the pharmacy slowed down with drawing up vaccines so that no doses were wasted. We got about half an hour for lunch, and we had to make sure to give any remaining vaccine doses to other vaccinators during our break.
It has been nice to be able to highlight the work that my community health clinical group, composed of 12 CNL students, did throughout winter break. I'm excited to be part of this and very, very happy to have this opportunity to give back to the community and to front-line workers.