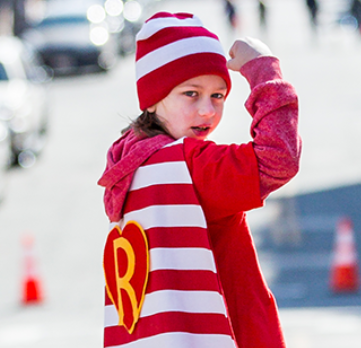 Join Ronald McDonald House Charities Maryland on April 7 as we take one last lap around our current neighborhood in our eighth annual 5K run and walk.
---
Join your friends at Ronald McDonald House Charities Maryland for its 8th annual Red Shoe Shuffle 5K Run and Walk on April 7, starting at 8:30 a.m. This fun and easy 5K will loop around the Inner Harbor and return to the Ronald McDonald House located on West Lexington Street in the heart of University of Maryland, Baltimore's campus. Tell your friends, family, and co-workers to join your Shuffle team to celebrate the day in Baltimore!
There is only one Ronald McDonald House in Maryland, and we have been home to more than 35,000 families over the last 37 years. Each year, more than 1,500 families arrive at our doorstep in search of hope for a child battling a catastrophic illness or injury. Circumstances that bring our families here are unfortunate, challenging, and often tragic. Amidst the uncertainties and fears these families and children face, we offer respite, normalcy, compassion, and love.
We can't make the medicine taste better, the shots hurt less, or the treatments less painful. But each of us can affect the journey with love, hope, compassion, and fun. At the Ronald McDonald House, we believe that with the love and support of community, fear and despair can be overcome through optimism and joy.