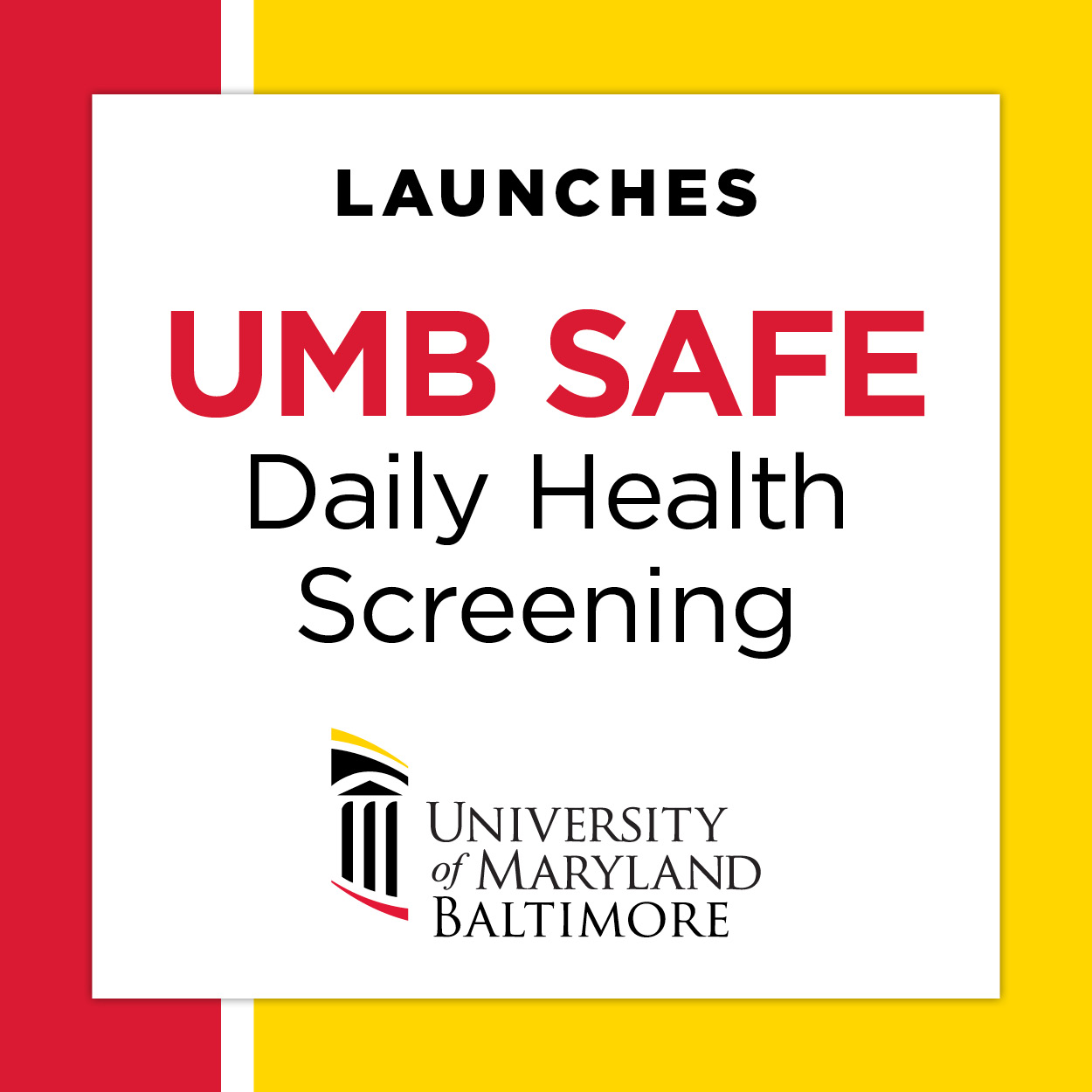 The form, which requires you to disclose any COVID-19-related symptoms before coming to campus, can also be paused for reasons such as teleworking.
---
University of Maryland, Baltimore (UMB) employees and students now need to take an additional step in their daily routines before coming to campus: filling out an online form disclosing any COVID-19 symptoms or known exposure to the virus.
The UMB Symptom Assessment For Employees (and Students) on Campus (SAFE on Campus) has launched for employees and students. The program aims to keep members of the community safe during the COVID-19 pandemic as more people return to campus and other UMB facilities. While the focus of the SAFE screenings is for people who regularly visit campus and other UMB facilities as part of employment or academic responsibilities, any employee or student who plans to visit UMB property must complete the SAFE screening. Examples include going to the SMC Campus Center, which will reopen Monday, Aug. 17; or the URecFit gym or Health Sciences and Human Services Library when they reopen.
"Our priority is the health and safety of the UMB community. We want to do everything possible to create a low-risk COVID-19 transmission environment," said UMB Interim President Bruce E. Jarrell, MD, FACS. "We've successfully implemented SAFE on Campus with over 1,300 enrollees and are glad to be able to expand it. Along with the need for face coverings and physical distancing, SAFE on Campus is another public health tool that helps us stay safe." E
Employees and students received an email in their UMB inbox from the address safe-no-reply@umaryland.edu with a link to register. Employees and students who registered with SAFE during the pilot phase must register again.
The form will require the name of your supervisor if you are an employee. For students, individual schools will provide you with a student school contact, and you will be able to add a supervisor if you work on campus. You also can add your personal email address if you wish to get reminders there as well. Anyone who is teleworking or learning remotely will need to register but can "pause" the email reminders with approval from your supervisor until you return to campus for any reason. Find out how to pause the SAFE form emails here.
Once you are registered, you will receive a COVID-19 Symptom Screening Form at 4 a.m. every day. You will receive another reminder if you have not filled it out by 9 a.m. You can ignore the email on weekends if you do not come to campus then, and can put the email on hold for vacations or other planned absences.

If you will not be on campus or participating in any co-curricular experiences, the form ends with that answer, and you will receive an email response confirming that you are not coming to campus.  
If you are coming to campus, you should fill out any symptoms you may be experiencing that are related to COVID-19. The screening program is designed to identify new symptoms that may represent COVID-19, and those completing the form should not document chronic symptoms or recurrent symptoms related to other diagnosed medical conditions. It can be hard to tell the difference between seasonal allergy symptoms and COVID-19, so if you're not sure, report the symptoms and talk it over with one of the experienced clinicians supporting this program.
The form will also ask you if you have come into close contact with anyone diagnosed with COVID-19 over the past two weeks, if you have traveled out of state, and if you are currently expected to quarantine or isolate yourself.
Once you have completed and submitted the form, the system will send you an email response that tells you whether you are cleared to come to campus, or if you should not come to campus but instead call UMB's COVID-19 hotline. The system will copy your supervisor or student school contact; UMB Occupational Health or Student Health will also be notified if you reported symptoms. The specific symptoms reported will be treated as personal health information and will not be shared with your supervisor whether you are an employee or student. 
If necessary, Occupational Health will work with the supervisor or school and Environmental Health and Safety (EHS) to determine the level of risk and develop an appropriate notification and cleaning plan.  
When you call the COVID-19 hotline (1-800-701-9863), an operator will take your information, and a nurse case manager will return your call, usually within one to two hours during business hours (it can take longer on nights and weekends). The case manager will make recommendations about whether you can come to campus or whether you need to quarantine and can also provide information on testing, isolation, and when you can return to the University.
Students should upload COVID-19 test results in Castle Branch. Employees will upload their results in SAFE.

In addition, if you have been diagnosed with COVID-19 and have been on campus the past few weeks, you should call the COVID-19 hotline to report your diagnosis. A nurse case manager will work to identify and notify anyone you may have come into contact with at the University and provide guidance on when you can return to campus.
Employees and students who have symptoms or know they have been exposed will also be asked to fill out an Exposure or Illness Report Form to help UMB track cases and notify others who may be at risk of contracting COVID-19. The form asks questions such as how you were exposed (i.e., patient, colleague, household member, community member, or travel); a description of how you were exposed and whether the people involved were wearing masks; and whether you have participated in off-site learning activities involving your program over the past week.
The SAFE on Campus tool is part of an initiative from the University Health recovery task force.
"The University's goal is to have a symptom-free campus, where no one is coming to campus with COVID-19 symptoms. SAFE on Campus is a critical tool for educating and promoting this practice," said EHS director Steve Deck, DM, MBA, the Recovery Task Force's University Health deputy focus area leader.
The University of Maryland School of Nursing (UMSON) recently launched a weeklong pilot of the COVID-19 Symptom Screening Form with about two dozen certified registered nurse anesthetist students. "The students are filling it out and that piece of it seems to be working well," said Margaret Hammersla, PhD, ANP-BC, a former UMSON assistant professor and administrator who was involved with the pilot.
"What made this particular system a good one to go with, it seems to be the one that is the easiest and simplest for the user and creates very little burden," Hammersla said. "It's sent directly to your email, you can complete it on any device, and it takes less than a minute. It really is the least burdensome way of submitting this information. It's pretty straightforward."
Employees and students who do not have access to cellphones, computers, or tablets will work with their supervisors on an alternative screening method. Employees and supervisors can email DL-CampusSAFEMeetingMembers@umaryland.edu to request accommodations for people with disabilities.
There is no campuswide plan to require showing your response to the symptom screening form to enter buildings; however, individual programs may require you to show your response to site supervisors who were not already copied.
"This is truly an honor system," Deck said.
A list of frequently asked questions about SAFE has been posted on the UMB Recovery website.
Anyone who has technical difficulties with registering or submitting the form should contact the Center for Information Technology Services Help Desk at help@umaryland.edu or 410-706-HELP.