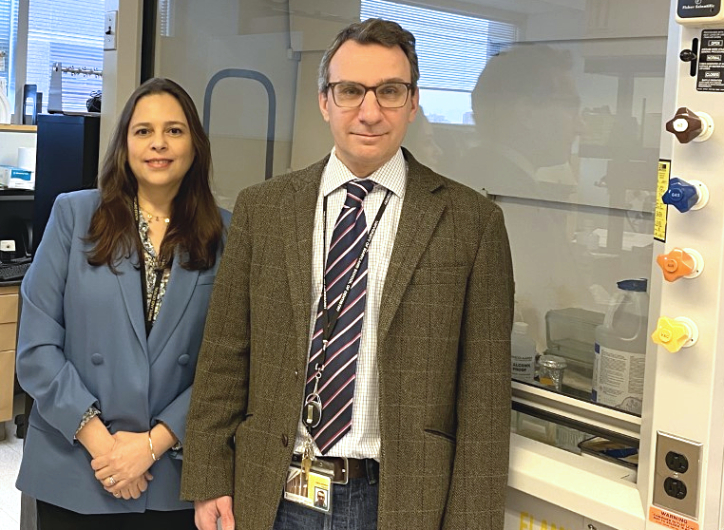 Research proposes novel treatment that could fast-track relief for migraine sufferers.
---
The University of Maryland School of Dentistry (UMSOD) and Saint Louis University (SLU) School of Medicine recently received a combined $5.3 million from the Department of Defense (DOD) and the National Institutes of Health (NIH) to study a new way to treat and prevent migraines by "switching off" specific pain receptors.
Migraine, a complex brain disorder that brings on throbbing headaches as well as a host of other symptoms including nausea, vomiting, sensitivity to light, and mood changes, affects 30 million people in the U.S., including children as young as 5 years old.
The team proposes a novel approach that will target two distinct receptors, sphingosine-1-phosphate receptor 1 (S1PR1) and adenosine A3 receptor (A3AR), to turn off pain signals involved in inflammation. The treatment will be especially helpful to the approximately 50 percent of migraine patients who get little relief from existing medications.
The collaboration brings together Simon Akerman, PhD, research assistant professor, and Marcela Romero-Reyes, DDS, PhD, clinical associate professor, UMSOD Department of Neural and Pain Sciences; and Daniela Salvemini, PhD, academic chair SLU Department of Pharmacology and Physiology.
The grant will allow Akerman and Romero-Reyes to combine their basic science and clinical expertise in migraine and orofacial pain with Salvemini's extensive experience in pain disorder drug development to pursue a promising new approach to migraine pain relief and prevention.
The research is particularly promising because drugs targeting these receptors already exist, including one that is Food and Drug Administration (FDA)-approved to treat multiple sclerosis (MS). As a part of this study, the team will be able to conduct preclinical screening, speeding the way to possible clinical trials repurposing these compounds for migraine pain.
"Our approach is exciting," said Akerman, "because it could fast-track relief for millions of people affected by migraine."
Romero-Reyes agreed, "The S1PR1 class of drugs we are testing both already have FDA approval for MS. That is a huge advantage because the development of the drug itself has already been done, but we are able to repurpose these molecules to dissect a completely novel mechanism and therapeutic approach in migraine."
Calling her UMSOD colleagues "world experts in migraine," Salvemini said, "Our collaboration over the years has led to remarkable findings that can now be pursued with the ultimate goal of translating our discoveries from the bench to the bedside, hopefully impacting the lives of many individuals."