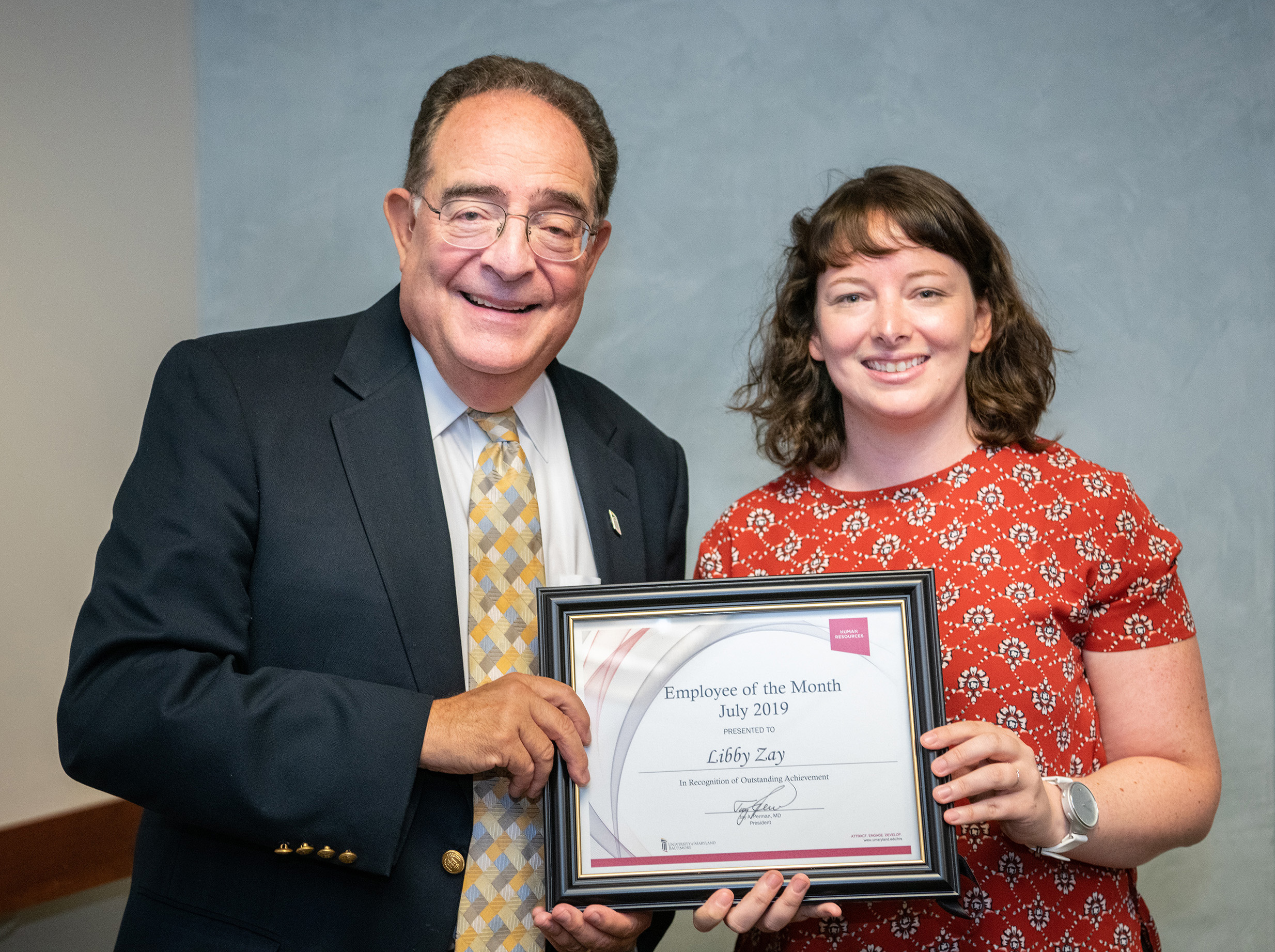 Marketing and digital media specialist makes measurable impact at school and across University.
---
Libby Zay, MFA, has worked at the University of Maryland School of Nursing (UMSON) for 2½ years and has made a sizable impact — or, in her case, a large and impressive digital footprint.
As senior marketing and digital media specialist in UMSON's Office of Communications, Zay is responsible for managing the school's website and social media accounts as well as lending her expertise to marketing efforts at the school and the broader University of Maryland, Baltimore (UMB) campus. And her work doesn't stop there.
"Libby has achieved an extraordinary amount at UMSON, from leading the complete redesign of our website to managing our search engine optimization initiatives and our website accessibility project," says Giordana Segneri, MS, the school's director of marketing and public relations and Zay's supervisor. "She's also been key to growing our social media accounts and our follower base. But her true achievements are in her endless efforts at collaboration within UMSON and across campus."
This type of collaboration — working with UMSON administrative and academic departments, serving on Universitywide website and social media committees, partnering on projects with UMB's Office of Philanthropy — culminated July 11, when Zay was honored as UMB's Employee of the Month.
University President Jay A. Perman, MD, surprised Zay with the award at a supposed meeting on media buying in the Saratoga Building. He delivered a plaque, letter of commendation, and news that a $250 bonus would be in her next paycheck. Perman, who tirelessly promotes interprofessional education, quickly seized on that aspect of Zay's stellar job performance. He was joined at the ceremony by Segneri and UMSON Dean Jane M. Kirschling, PhD, RN, FAAN, who also directs UMB's Center for Interprofessional Education.
"What resonates with me is how you embody the University's core values, particularly around the value of collaboration," Perman told Zay. "Dean Kirschling and I are very focused on teaching people to work as a team, and students and employees need to see somebody who walks the walk the way you do, someone who says, 'We're all in this together, and each of us brings something special to the table.' So I particularly appreciate that about you."
Zay says collaboration comes with the territory in her job, which includes writing for the school's magazine and other print publications, revamping the school's website section by section, and managing the school's social media accounts — Facebook, Twitter, Instagram, and LinkedIn.
"I probably interface with just about everyone at the school in some capacity," says Zay, who worked in communications for the University of Baltimore and Maryland Institute College of Art before joining UMSON in January 2017. "In terms of collaboration, I work every day with different people on various projects, whether it's updating a webpage or doing a printed piece or brainstorming and throwing ideas around. And in managing social media, I'm around the school all the time, taking photos and collecting information."
Zay has been recognized at UMSON as well, winning its Staff Excellence Award in December 2018. As Segneri pointed out, Zay collaborates well beyond the office, getting involved in UMSON community engagement initiatives, lending her digital communications expertise for a step competition at the school, and joining colleagues in service activities at UMB's Community Engagement Center.
At UMSON, Segneri says Zay has worked to build bridges between the Office of Communications and all departments at the school, particularly those that might not focus on digital communications.
"Libby patiently, thoughtfully, diplomatically, and intentionally works to present information in a way that is accessible and clear," Segneri says. "She isn't just an implementer, she is an educator, and her work to educate our colleagues has significantly increased understanding and comfort levels with our digital tools and resources.
"She also is a skilled marketer and user experience expert, and her contributions to myriad projects and processes have increased awareness, internally and externally, of our programs and initiatives and boosted productivity for many units."
Zay's work also has boosted the school's social media presence, sparking increases in followers most notably on Twitter (by 70 percent), Facebook (65 percent), and LinkedIn (59 percent).
"Each outlet has a different audience," Zay says. "We try to tailor the content to each account, and there are enough things happening around the school to keep the information moving. It's a big job, but I get a lot of help from our Office of Communications team."
Zay says that team — led by Segneri and incudling Enjoli Sonnier, MS, and Laura Hager — makes comiing to work "a special thing."
"I really enjoy that I get to work on a lot of creative and innovative projects and I really get to use both sides of my brain," says Zay, who does freelance writing about travel and has written a book about her adventures. "I love the people who I work with, and it's fun to work with nurses. They're just very caring and compassionate people. It's a very nice environment to work in.
"I'm very humbled by this UMB award," she adds. "It's a great honor to be singled out, especially because there are so many wonderful things happening at UMB. It's great to see my hard work be recognized — especially from Dr. Perman and Dean Kirschling. This award is a great thing that the University does for its staff."