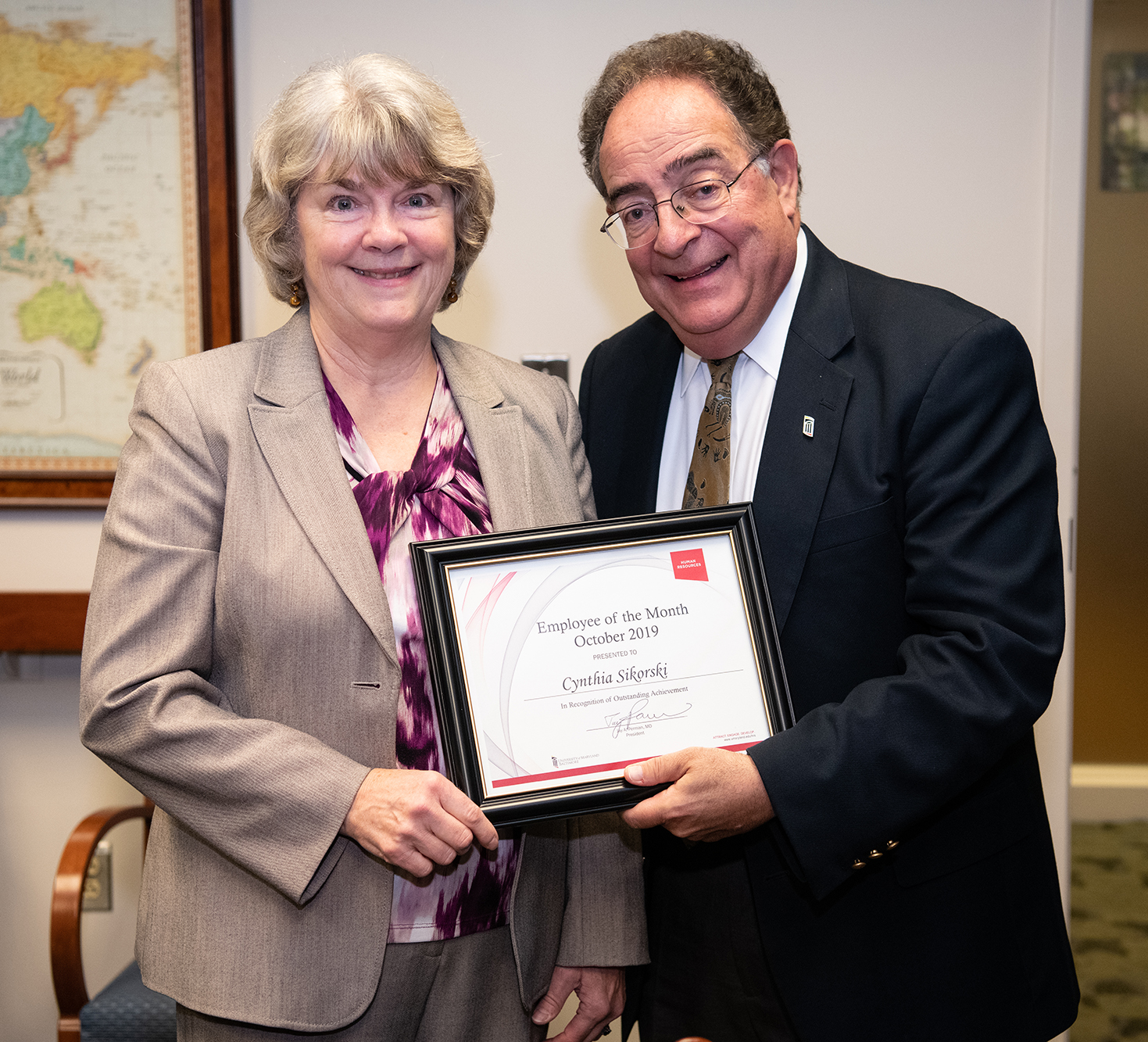 School of Nursing director of alumni relations singled out for devotion to school and graduates as well as efforts to boost career development and student-alumni mentorship opportunities.
---
Cynthia Sikorski doesn't enjoy or need the limelight. As director of alumni relations at the School of Nursing (SON), she's much more focused on steering attention toward the school and its graduates.
"I care very deeply about the institution, and I don't work for acclaim," says Sikorski, who has been in alumni relations roles at SON for nearly 10 years. "I'm not comfortable being the center of attention, because my role is to put our alumni in the spotlight."
It's a job she does quite well, and that was clear on Oct. 23, when Sikorski was honored as the University of Maryland, Baltimore's (UMB) Employee of the Month. University President Jay A. Perman, MD, surprised Sikorski with the award in a conference room at the Saratoga Building, where she and her SON development and alumni relations colleagues had gathered to pose for what she thought would be a professional group photo.
"They lied to you about the photo," Perman told Sikorski with a laugh. "This is actually about you. I know you're very focused on the School of Nursing's alumni, and I fully appreciate that. Every year at commencement, I tell our graduates, 'I hope you won't forget us.' But they do need reminders. They need nice people like you to reach out to them, and that's why the work you do is so important."
Sikorski's colleagues — supervisor Laurette Hankins; Stacey Conrad, MBA; Lorrie Voytek; and Anita Riley — were overjoyed and offered rousing applause as Perman handed Sikorski a plaque, a letter of commendation, and news that an extra $250 would be in her next paycheck. Hankins, associate dean for development and alumni relations, heaped additional praise upon Sikorski.
"Cynthia is a fantastic ambassador for the School of Nursing," Hankins says. "We have more than 23,000 alumni, and over the last 10 years she has made strong and positive impressions on thousands of them, bringing them closer to the school and making them proud to be alumni.
"I don't know if I have ever known a person more curious, more interested in everything around her. Cynthia truly gets to know our alumni, and they feel 'listened to' — which is a somewhat rare gift in these times. She is professional and completely dedicated to the school's mission. She is gracious, giving, and a wonderful team player."
Sikorski says the feeling is mutual, referring to the development and alumni relations team as her "second family." She also likes the fact that her job has two tracks — analyzing data and interacting with people.
"I enjoy that it's combined — there is a good deal of numbers crunching, but I also get to build connections and work with students and alumni from across the spectrum," she says. "We have a wonderful team in development and alumni relations, and I feel blessed to be part of it. Four of us have worked together for more than eight years, so we're very, very close, and our team does a great job."
In addition to helping organize alumni reunions and milestone celebrations, Sikorski's job entails linking alumni with one another for mentorship and development. During the past year, she spent several months exploring possible vendors to create an online community for SON alumni and students. Hankins described Sikorski's efforts on that task as "herculean," with the result a SON portal, UMSONConnect.com, through Graduway, an alumni networking platform.
"When I came on board, I saw a need for career and professional development opportunities for nurses. I thought this would be a great way to bring alumni back and get them connected in mentoring-type roles," said Sikorski, who previously worked in alumni relations at the University of Miami (Fla.) School of Law, Howard (Md.) Community College, and University of Maryland University College. "Graduway seemed to be the leader in this field, so we contracted with them and are building an alumni mentoring platform as we speak.
"Ultimately, students will be able to search according to nursing specialties, where people live, where they work, and identify mentors. And when alumni join, they'll identify the ways that they are willing to help students or fellow alumni. I've been very impressed with what they offer, and I see it growing as we move forward."
Sikorski had aspirations to be a teacher before veering into the alumni relations lane, but she does offer tutoring to children by participating in the Reading Partners program, where community volunteers are placed in under-resourced Baltimore schools to help children with basic reading skills.
"I've done this for four years, first at Southwest Baltimore Charter School and now for two years at Lockerman Bundy Elementary School, and it's a wonderful program," Sikorski says.
She says her volunteerism is inspired in part by UMB's commitment to community engagement, and she thanked Perman and other University leaders for leading such initiatives.
"I love the University of Maryland, Baltimore," Sikorski says. "I love my work — it's very stimulating, challenging, and rewarding. I'm deeply grateful for the opportunity to work here and to help make UMB and Baltimore a better place to work and live."
Read about previous Employee of the Month winners here.