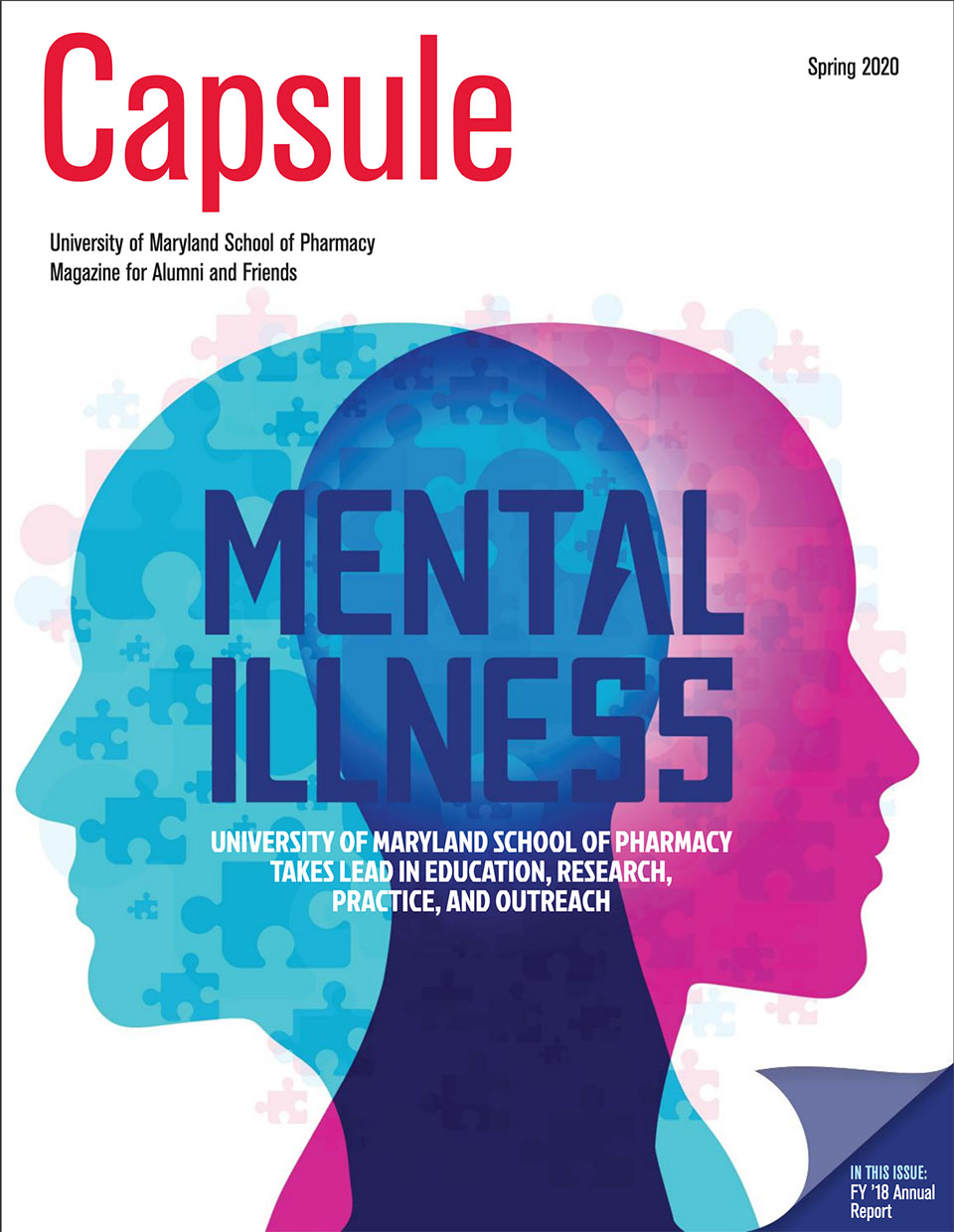 The latest issue of the School of Pharmacy's magazine for alumni and friends showcases its leadership in the field of mental illness.
---
We all know someone. With an estimated 46.6 million Americans suffering from a mental illness, we all know someone. That someone might be a family member or a friend. It might be a co-worker. It could be the cashier at the grocery store we see each week. Or it could be ourselves.
Whatever your relationship to mental illness, you surely know its impact. And the complex nature of the wide array of disorders classified as mental illness. During the last several decades, these disorders have moved out of the shadows, recognized as legitimate and complex medical conditions.
The University of Maryland School of Pharmacy has long been supporting patients who suffer from mental health disorders. Some of our earliest work in this area began in the 1980s when the School received its first contract from the state of Maryland to administer the pharmacy program in the state's mental health facilities. That program has expanded to include the School's oldest pharmacy residency program and clinical sites for our faculty.
The School also works with patients affected by substance abuse disorders, examines state and federal policies related to the prescribing of antipsychotic medications, and seeks to create new and improved treatment options for illnesses such as depression. And as an institution of higher learning, we educate our students — future health care professionals — on mental health disorders and the myriad treatment options that are available.
We are now also paying closer attention to the mental health needs of our community — our faculty, staff, and students — encouraging them to speak up when they need help and continuing to connect them with assistance resources.
This issue of Capsule details our work in this important area. It's sobering to see it cataloged together in these pages. But it's also inspiring to see all that we are doing to assist those who suffer and to reduce further suffering.