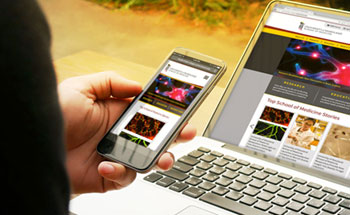 UMSOM's Media Relations Team writes and produces a wide range of internal and external print publications featuring news and human interest stories about faculty, staff, and student accomplishments.
---
The Media Relations Team publicizes newsworthy discoveries and achievements by our physicians and scientists, reports substantial grant awards and journal publications, and highlights stories of human interest.
SOM News Archives
Working closely with local reporters and the national media, the media relations staff provides the public with important health-related news and information about biomedical research.
---
SOM

news
SOMnews, the official newsletter of the University of Maryland School of Medicine, features stories about the outstanding achievements of School of Medicine faculty in the clinical, education, and research arenas.
---
The Buzz
Self-reported news from the School of Medicine community.
---
State of the School
The State of the School of Medicine address is delivered annually by Dean Reece to highlight the institution's goals and accomplishments. The State of the School of Medicine includes important facts about the budget, the curriculum, research funding and philanthropy, milestones in clinical care, and the year's achievements by faculty, staff, and students.