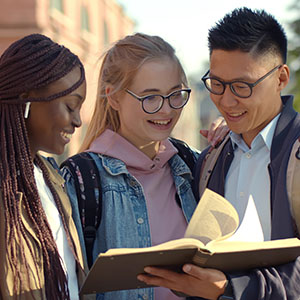 Two UMB students describe how building and maintaining relationships can be helpful in your academic pursuits and beyond.
---
How does building and maintaining healthy relationships help you achieve academic success? UMB Student Affairs asked two students to answer this question. Here are their responses:
Daniel Chu, School of Dentistry
Healthy relationships with classmates are essential in constructing academic success and being able to efficiently manage stress. As I like to say, "A healthy relationship is a healthy mind." I am a third-year student at the School of Dentistry, and having a healthy relationship with my classmates allows me to have a more enjoyable time at school and be more efficient.
Having good relationships with peers makes going to classes and listening to long lectures much more bearable and helps me to focus on learning. When it comes to studying for exams, having more friends in school also means more resources, different types of notes, and studying techniques, which ultimately allows me to retain information better and score higher on my examinations. In group projects, a healthy relationship with classmates generates an atmosphere where we can bounce ideas off of one another and work together effectively as a group, allowing us to develop the best academic outcome for our group.
As third-year students, we are finally able to start seeing our own patients. Good relationships with classmates has helped me to perform better in the clinical setting as well. As students, we can help each other out by being assistants for one another, which makes dental procedures much easier and can help to optimize our time in clinic. Also, having good relationships with my classmates has given me the opportunity to work together with some of them on their patients, thus allowing me to fulfill some of my requirements for graduation.
Among numerous benefits, positive relationships have been a large motivator for my hard work in school, and therefore I believe that healthy relationships with classmates are an essential factor in my academic success.
Ariana Meinster, School of Social Work
Relationships play a key role in almost all areas of personal wellness, including academic success.
For students, developing relationships with others in your cohort can increase your support system. If you're having an issue with a particular assignment or concept, you can seek out guidance from your friends and other classmates in your courses. This is especially important during COVID-19 and virtual learning. As a student, you may be feeling lonely or struggling to keep up with coursework. Having a support group made up of friends and colleagues can help build a sense of community, even if you only meet over Zoom.
It also is crucial for students to develop positive relationships with their professors. A positive relationship between you and your professors allows you to feel comfortable asking questions and feel like you are being heard. Virtual learning complicates the ability to build and maintain these relationships, due to the elimination of in-person office hours and the ability to spontaneously speak with professors before class. However, if your professor offers virtual office hours, take advantage of them! And if you need to speak with a professor outside of those hours, send them an email and set up a time to talk. It is so important that professors and students continue working together to create brave spaces, both on campus and virtually, so that we can all can continue to academically thrive.
Relationships with friends, other students, and professors play an important part in our academic success and overall well-being. Positive relationships are a great benefit to you and your life.
Want to learn how you can build better relationships?
UMB Guidance Resources can help you learn to develop more meaningful relationships with your friends, fellow students, and professors. You also can call 1-855-410-7628 to speak with a guidance consultant who can direct you to other helpful tools.