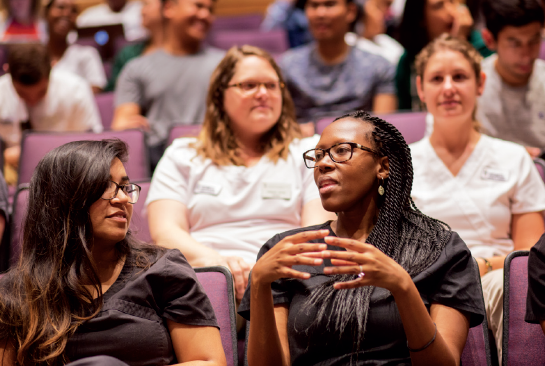 96 percent of health care professionals who have worked on interprofessional teams believe the model improves the quality of care and patient safety.
---
José suffers from heart problems and was diagnosed with Type 2 diabetes. He was having difficulty taking the appropriate amount of medication to manage his symptoms, and if taken incorrectly, the medicine could damage his kidneys.
In an attempt to get him back on track, José's primary care provider referred him to the Interprofessional Care Clinic at Holy Cross Health Center in Gaithersburg, Md., where he worked with a University of Maryland, Baltimore (UMB) interprofessional education (IPE) team composed of faculty and students from the University of Maryland schools of nursing, pharmacy, and social work. The group coordinated his care with his primary care provider and specialists, and now José is able to manage his conditions.
Although such interprofessional collaboration has proved to be a valuable asset for patients, health professions students do not often have opportunities to collaborate on patient care. But through a project funded by a two-year, $50,000 grant from the National Center for Interprofessional Practice and Education and a matching $50,000 from the UMB Center for Interprofessional Education, UMB is making these connections possible.
Since 2014, faculty-supervised student teams have been working together to provide care to underserved, low-income patients at Mercy Health Clinic in Montgomery County, Md. The grant allowed UMB to expand this interprofessional care to two new locations in Montgomery County: a Holy Cross Health Center in Germantown and the one in Gaithersburg, where José was seen.
"Multiple barriers prevent IPE in outpatient clinics versus the inpatient setting, including the fact that the different health care disciplines aren't always all in the same place at the same time," says Gina Rowe, PhD '13, DNP '10, MHP, FNP-BC, UMSON assistant professor at the Universities at Shady Grove (USG) and principal investigator (PI) on the grant-funded project. "There are also fewer patients available at one time, and there is often limited space and fewer resources in primary care. This initiative has been so exciting because it allows our students to learn about interprofessional practice in the context of real patients in a community-based, primary-care setting."
Patient outcomes are examined during the six months prior to and six months after participation in the IPE clinic. Those who collaborated with the Interprofesional Care Clinic team during this ongoing project have demonstrated significantly lowered blood sugar levels, lowered blood pressure levels, and decreased numbers of emergency department visits in the follow-up period. Patients also have reported increased satisfaction with mood and quality of life.
"The team-based approach that we use has been tremendously beneficial to our patients," says Heather Congdon, PharmD, BCPS, CDE, assistant dean for the University of Maryland School of Pharmacy at USG, a co-director of UMB's Center for IPE, and co-principal investigator on the grant. "It has facilitated enhanced services for patients who need a little more attention, such as with increased patient education on medications and chronic conditions, as well as assistance with increased access to much-needed resources such as clothing or food."
A Course for Collaboration
As of last fall, an introduction to interprofessional education is a rite of passage for new entry-into-practice students at UMB. Over their first two semesters, dental hygiene, nursing, medicine, pharmacy, and physical therapy students complete six interprofessional learning experiences as part of a required Foundations of Interprofessional Education and Practice course.
This means that all new traditional Bachelor of Science in Nursing and Clinical Nurse Leader master's option students come together online and face-to-face with students from other health professions to learn about communication, roles, teamwork, and ethics. The goal is to enable diverse disciplines to work collaboratively to enhance patient-, family-, and community-focused health care.
The course is a response to the rising complexities seen across all sectors of health care. In 2009, the national associations for schools of medicine, dentistry, nursing, pharmacy, and public health formed the Interprofessional Education Collaborative to promote and encourage interprofessional learning experiences. UMB has long been committed to providing students with the skills to practice collaboratively, and in 2013, it founded the Center for Interprofessional Education, directed by UMSON Dean Jane M. Kirschling, PhD, RN, FAAN.
Photo by Chris Hartlove
This article first appeared in the Spring 2019 issue of Nursing For/um magazine.