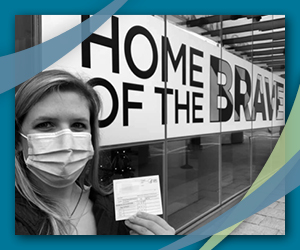 Carin Morrell, public information officer, got vaccinated to protect her family and colleagues.
---
Carin Morrell, MA, public information officer, University of Maryland, Baltimore (UMB) Police Department and Office of Emergency Management, was recently vaccinated with the COVID-19 vaccine to protect her parents, sister, and coworkers.
"I got this vaccine for my sister as she nears her due date for my new baby niece and nephew. I got it for my parents, who haven't yet been able to get the vaccine despite health concerns. I got it for my colleagues, who come to campus each day to keep UMB safe," she said. "Most importantly, I got the vaccine to recognize the contributions of every person who worked to produce this tiny medical marvel in record time."
Share Your Experience
Why did you decide to get the COVID-19 vaccine? Why should others get it? These are questions on the minds of many now that vaccines are available to help end the coronavirus pandemic.
At the University of Maryland, Baltimore (UMB), personnel from UMB, the University of Maryland Medical Center, and Faculty Physicians, Inc. are being vaccinated at the SMC Campus Center.
Over the next few months, we will be highlighting members of the community and their vaccination experience. Share your experience getting vaccinated by tagging us @umbaltimore and using #UMBVaccinesWork on Twitter or Instagram. Include why you got the vaccine. You can also submit your photos and comments about your vaccine experience, by clicking here.