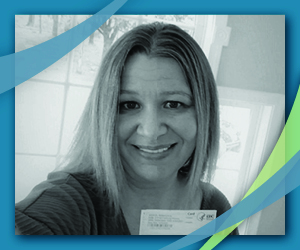 Rebecca Weston, an assistant professor of nursing, got vaccinated for the safety of her family and students.
---
Rebecca Weston, EdD, MSN, RN, CNE, an assistant professor of nursing at the University of Maryland School of Nursing, recently received the COVID-19 vaccine to protect her family. Also, she wanted to be able to protect those she will be vaccinating.
"I got vaccinated for my husband and kids, who need me here, healthy. I got vaccinated for every nurse I've ever worked with or taught who has worked on the front lines of this pandemic and is exhausted. I got vaccinated so I can safely start vaccinating others."
Share Your Experience
Why did you decide to get the COVID-19 vaccine? Why should others get it? These are questions on the minds of many now that vaccines are available to help end the coronavirus pandemic.
The University of Maryland, Baltimore (UMB) Vaccination Clinic is open to serve the UMB community and select partners to Get The Vaccine. The UMB Vaccination Clinic is able to provide vaccinations for the Native American population, tribal or Native American agency employees, and Baltimore City residents and workers. Learn more at GetTheVaccineBaltimore.org.
Over the next few months, we will be highlighting members of the community and their vaccination experience. Share your experience getting vaccinated by tagging us @umbaltimore and using #UMBVaccinesWork on Twitter or Instagram. Include why you got the vaccine. You can also submit your photos and comments about your vaccine experience, by clicking here.