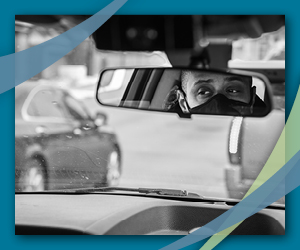 Yale Partlow, UMB Police Department, received the COVID-19 vaccine to protect his family and departmental colleagues.
---
Yale Partlow, outreach and intervention officer with the University of Maryland, Baltimore Police Department, was recently vaccinated on campus and explains that he did so to protect others.
"I'm getting the shot to help mitigate the spread of COVID, protect my family, protect the citizens and, of course, my fellow departmental colleagues," said Partlow, who has a considerable amount of contact with homeless members of our community. His work as a liaison is critical, particularly now as the homeless and others are even more vulnerable during the pandemic.
"Most of the folks we come in contact with on the street, they usually are not struggling with one thing. It's usually several [things]. They're unsheltered, or they have some sort of cognitive impairment, or development disability, or undiagnosed or untreated mental illness, and they're homeless, and they're using or drinking," Partlow said.
Now that he's vaccinated, Partlow can protect the individuals whom he comes in contact with, as well as his family and other colleagues on campus.
Share Your Experience
Why did you decide to get the COVID-19 vaccine? Why should others get it? These are questions on the minds of many now that vaccines are available to help end the coronavirus pandemic.
At the University of Maryland, Baltimore (UMB), personnel from UMB, the University of Maryland Medical Center, and Faculty Physicians, Inc. are being vaccinated at the SMC Campus Center.
Over the next few months, we will be highlighting members of the community and their vaccination experience. Share your experience getting vaccinated by tagging us @umbaltimore and using #UMBVaccinesWork on Twitter or Instagram. Include why you got the vaccine. You can also submit your photos and comments about your vaccine experience, by clicking here.