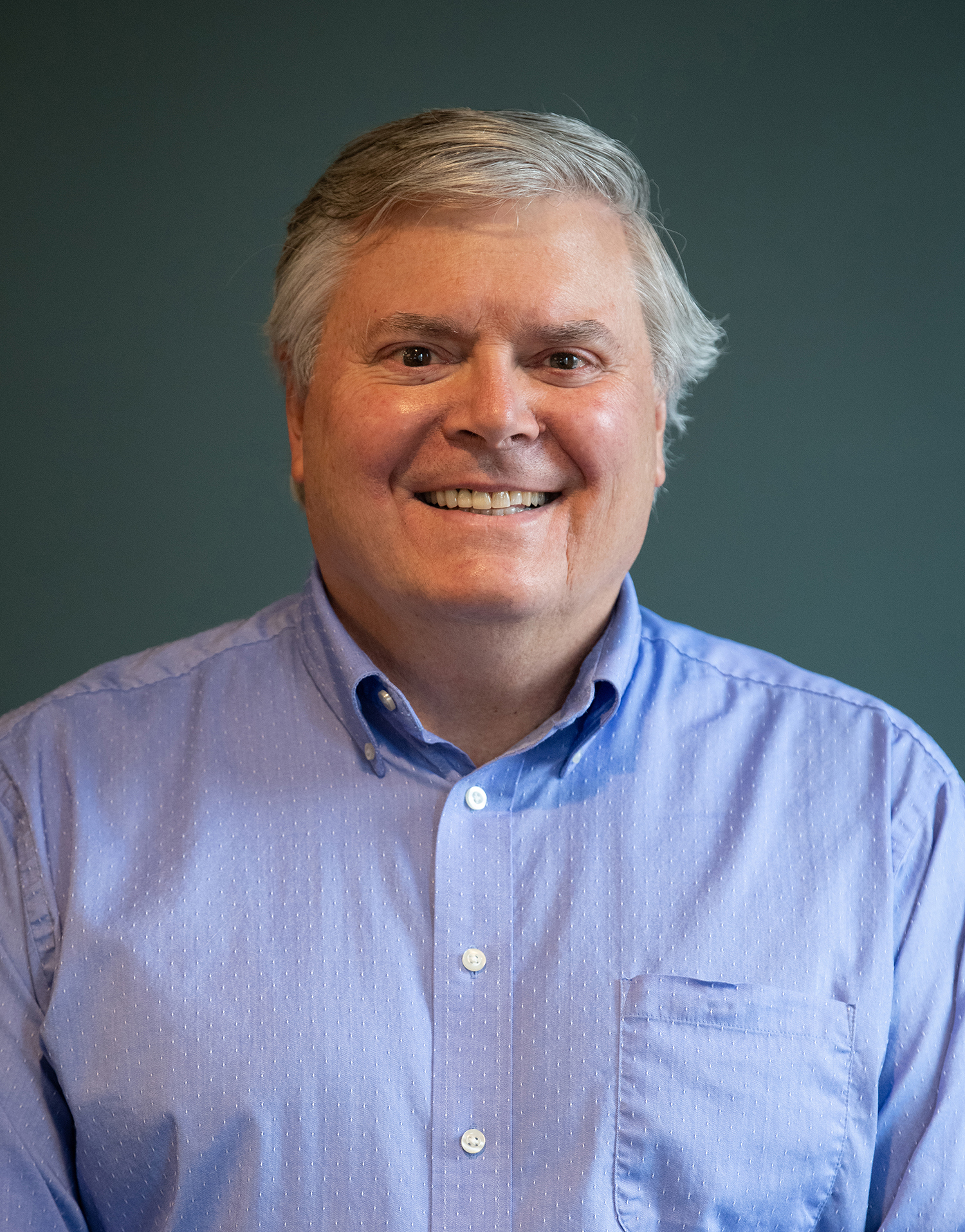 Office's executive director honored for his work in managing the renovation of UMB's new Community Engagement Center.
---
When Terry Morse, MBA, MS, logged onto a Zoom video conference Nov. 23 to discuss his performance review, he was a little perplexed by a couple of the faces staring back at him. Seeing his supervisor made sense. But his daughter? And the University of Maryland, Baltimore's (UMB) president?
"Is this some sort of intervention? I'm not sure I want my daughter to hear how badly I'm doing," Morse joked, referring to Emily Morse, who works in UMB's Office of Research and Development. But President Bruce E. Jarrell, MD, FACS, quickly pointed out that the meeting wasn't a formal performance review, but instead a rave review: Morse, executive director in the Office of Design and Construction (D&C), had been named UMB's September Employee of the Month.
"You really deserve this award," Jarrell told Morse, who was selected for his work in managing various aspects of the nearly $9 million renovation of UMB's new Community Engagement Center (CEC) on South Poppleton Street. "This was a complicated job with a lot of different components to it, including budgetary aspects and working with MEDCO [Maryland Economic Development Corporation]. And you got it done on time and under budget. It was a phenomenal job, and I'm so appreciative of your efforts."
Morse's supervisor, Nazanin Fouladi, MArch, noted he was the "key point person" in UMB's relationship with the project manager, MEDCO, and the general contractor, Riparius Construction. The project's success was critical because the 20,000-square-foot building will expand the services and support the University provides to community members in West Baltimore once COVID-19 restrictions are lifted.
"The new CEC building was a presidential priority and the most high-profile UMB construction project in the community," said Fouladi, associate vice president in the Office of Facilities and Operations, which oversees D&C. "Terry ensured that the project remained on schedule and conveyed UMB's priorities to our partners in a tactful and firm manner. Terry also was responsible for briefing senior UMB leadership at biweekly meetings."
Fouladi noted that Morse provided those briefings with not only smarts and skill but also humility, acknowledging when he couldn't provide an update right away and showing great determination to seek answers to the UMB leaders' questions.
"Terry gave the leadership team confidence that the project was on course," Fouladi said. "In sum, due to Terry's stewardship, the renovation was a massive success."
(Take a video tour of the new CEC.)
Jon Kucskar, JD, advisor to the president, echoed Fouladi's comments about the nimble way in which Morse managed the renovation of the CEC building, which is nearly seven times larger than the original CEC on West Baltimore Street. In addition to scheduling and budget goals, the project had to meet requirements related to using minority- or women-owned businesses.
"There were a lot of people at the University who had different desires, needs, and requests about this project, and Terry managed them very gracefully," Kucskar said. "He handled all of this input in a way that was really responsive, and he got the job done."
The project was challenging as well because the building, which had been vacant for years, was in serious disrepair: holes in the roof, rotting walls, leaking pipes, broken windows, just to name a few issues. The building also is a historic site, part of the old St. Peter's Church complex.
"We had to come up with a plan to fully restore the building while retaining large parts of it as historic," said Morse, who has worked at UMB for 31 years. "We had to work closely with the Maryland Historical Trust, and anything we did to the structure's exterior — and some elements of the interior — had to be reviewed and approved by them."
The COVID-19 pandemic didn't delay the renovation, but it has postponed the opening of the CEC to its full capabilities. "It hasn't been open to the public yet in the way we had hoped, and that's a little frustrating," Morse said. "But it's a beautiful project, and I can't wait for the public to really see it."
Morse will receive a plaque, a letter of commendation, and an extra $250 in his next paycheck for being Employee of the Month, but he said his true rewards are tackling new projects and working with a great team.
"I love the challenges that come with this job," he said. "I love that no day is ever the same. There are always new problems that arise where we can make adjustments and work things out. I'm an engineer by training, and I love the engineering aspect of my work.
"I'm grateful, honored, and humbled to win this award, because there are plenty of other deserving people in our office and around UMB doing great work on many projects. All of these initiatives are very exciting and hold great promise, and I find that working on them is very rewarding."