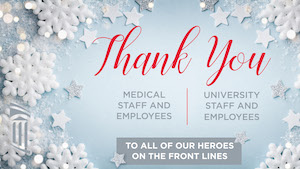 Community thanks continue to pour in for our essential employees working in the UMB community during the COVID-19 crisis, especially as we enter the holiday season.
---
The list of front-line heroes working in the UMB community is long, and it includes numerous people working physically distanced every day to keep UMB equipped to carry out our mission to serve the University community through professionalism, stewardship, and leadership one interaction at a time.
Our front-line workers have been going strong since mid-March. They regularly leave their families at home to go to work, and have spent many quiet months as part of our essential staff keeping buildings functional and safe, and assuring that our on-site resources remain operational.
To show support for these heroes, UMB put a call out to the Baltimore community in the spring, asking for thank yous in the form of cards and recorded messages — sharing heartfelt words, images, drawings, and voices — that we could share with all of our onsite staff and with staff across the University System of Maryland.
Even though this call to action ended a month later in the spring, we have continued to receive an outpouring of beautifully crafted thank-you cards from young and old alike during the summer and fall — all recognizing the commitment of our front-line workers during the pandemic.
What began as a goal to create a simple video message for our internal community has resulted in a small library of messages that we are excited to share as a thank you to the countless people who have continued to brave the unknown each day to go to an office, lab, or medical center to provide support for people and buildings who make up our network.
During this holiday season, we thank all of the essential employees — our front-line heroes.