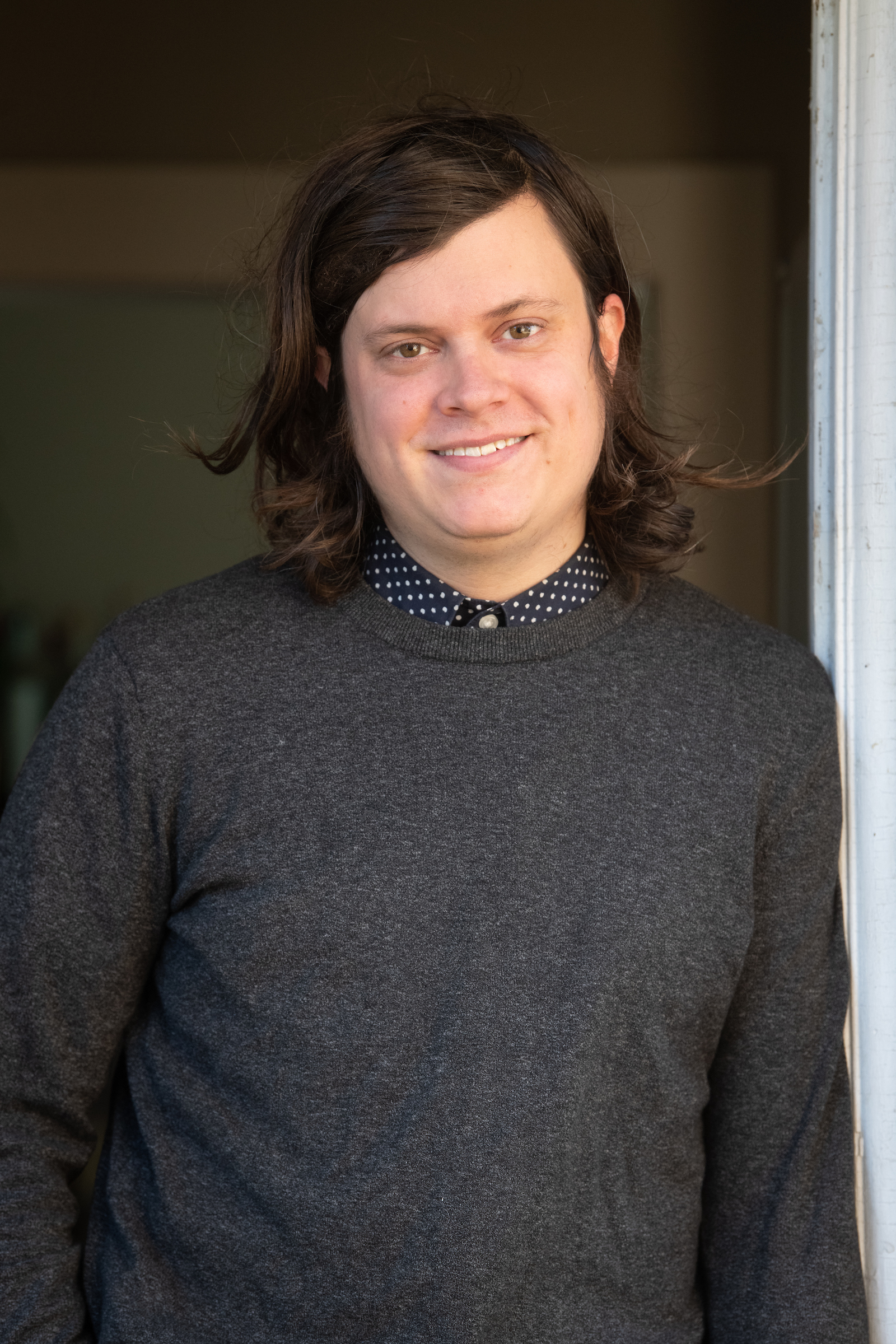 Marketing and operations specialist honored for his innovative work planning programs such as the Grid Pitch.
---
For Taylor DeBoer, MA, working with students is the most rewarding part of his job as marketing and operations specialist for the University of Maryland, Baltimore's (UMB) Graduate Research Innovation District (Grid).
And DeBoer's dedication to students was apparent when he was honored Nov. 17 as the University's August Employee of the Month. During a Zoom video conference, he was celebrated by UMB President Bruce E. Jarrell, MD, FACS, as well as about two dozen colleagues — and a student from the School of Nursing, Kendal Lee.
Lee, an innovation fellow at the Grid, praised DeBoer's leadership.
"You have truly redefined what leadership looks like," she said. "You have found potential in me. You have given me opportunities to fulfill that potential, develop new skills, and learn and grow. I also believe that a leader sits at the same table with those they lead, and it's been an honor to be seated at the same table as you."
DeBoer manages events and programs at the Grid, the innovation hub that provides entrepreneurial services and education to UMB students, faculty, and the community. He was honored for his work on the Grid's events, particularly the Grid Pitch, a showcase that allows students to pitch their innovative business ideas to a panel of experts and investors in the entrepreneurial community.
When the coronavirus pandemic shut down in-person events, DeBoer had to be flexible and creative to implement and execute the Grid Pitch as a virtual event in the spring. A field of eight teams, with 17 students, participated.
J. Howard "Jim" Kucher, DPA, MBA, program director of the MS in Health and Social Innovation program at the Grid, praised DeBoer's work on the Grid Pitch.
"Taylor sweated every single detail of a complex virtual presentation platform that we invented on the fly, and it turned out great," Kucher said.
DeBoer's supervisor, Jenny Owens, ScD, MS, assistant dean, Graduate School, and faculty executive director, the Grid, applauded his innovation.
"Taylor connects well with students and is innovative in his outreach efforts. I recommend him highly for Employee of the Month for his work with growing entrepreneurial efforts in the Grid and a superb effort with the Grid Pitch," she wrote in her nomination letter.
DeBoer's responsibilities include planning and managing programs such as student Lunch and Learn events, which are now virtual. Guests for those programs have included founders and CEOs discussing their startup and entrepreneurial experiences and law professionals giving advice on how to create a business entity.
For the 2019-2020 academic year, "we saw a participation increase of over 200 percent compared to the previous year, and I attribute that to Taylor's dedication, enthusiasm, and inclusivity," Owens said.
DeBoer also created CareerLab, inspired by an idea from one of his student fellows who had expressed concern about finding a job during the pandemic, with Gregory Brightbill, MBA, MEd, leadership education and involvement program specialist at the Intercultural Leadership and Engagement Center. Together, they organized a series of six workshops for students looking for tips on finding a job, especially during these uncertain times.
"Students are overwhelmed. This is a very strange time to be going out into the workforce," DeBoer said. "There should be career-related resources. That was an example of something totally born out of COVID and new and different that we hadn't done before."
During the Zoom call, Jarrell praised DeBoer, who initially thought he was in the wrong meeting when he saw how many people were there, including University leaders.
"To have somebody like you on this campus and working with our students is an unbelievable asset," Jarrell said. "Here we are in these restricted times, and yet someone with your capabilities and interpersonal skills comes to the forefront and is extremely valuable."
Almost all of his colleagues who spoke during the call talked about DeBoer's friendly demeanor and personality.
"You're just so nice and a joy to work with," Owens said. "You're such a team player when everyone needs help."
DeBoer thanked his colleagues, particularly Owens, whom he called "an incredible resource, an incredible leader who is just so supportive in so many different ways," as well as Flavius R.W. Lilly, PhD, MA, MPH, vice provost of academic and student affairs and vice dean of the Graduate School, who has been involved in his career development.
"We were all very excited when we hired you. Little did we know what we really had, in terms of what you've contributed, not only to the Grid but elsewhere around campus," Lilly said. "I always appreciate seeing the amazing things you are contributing and enjoy watching you really develop as a leader across campus."
DeBoer said the award reaffirms that he is right where he should be.
"Until I took this job, I didn't really consider myself to be a career-motivated person. I always thought I'm going to work hard, I'll do well," DeBoer said. "It's been a lot more than that, which has been a very pleasant surprise. It's made me realize that I hadn't quite found the right place until I got here."
As Employee of the Month, DeBoer, who has worked for the University for more than two years and also serves on the UMB Staff Senate, will receive a plaque, a letter of commendation, and an extra $250 in his next paycheck.
He is working on virtual programs now but is looking forward to the eventual return of in-person events. He says the Grid will expand its programming with its move this fall to space in the Health Sciences and Human Services Library.
"We're going to take some of our programming on the road and go to different schools," he said.