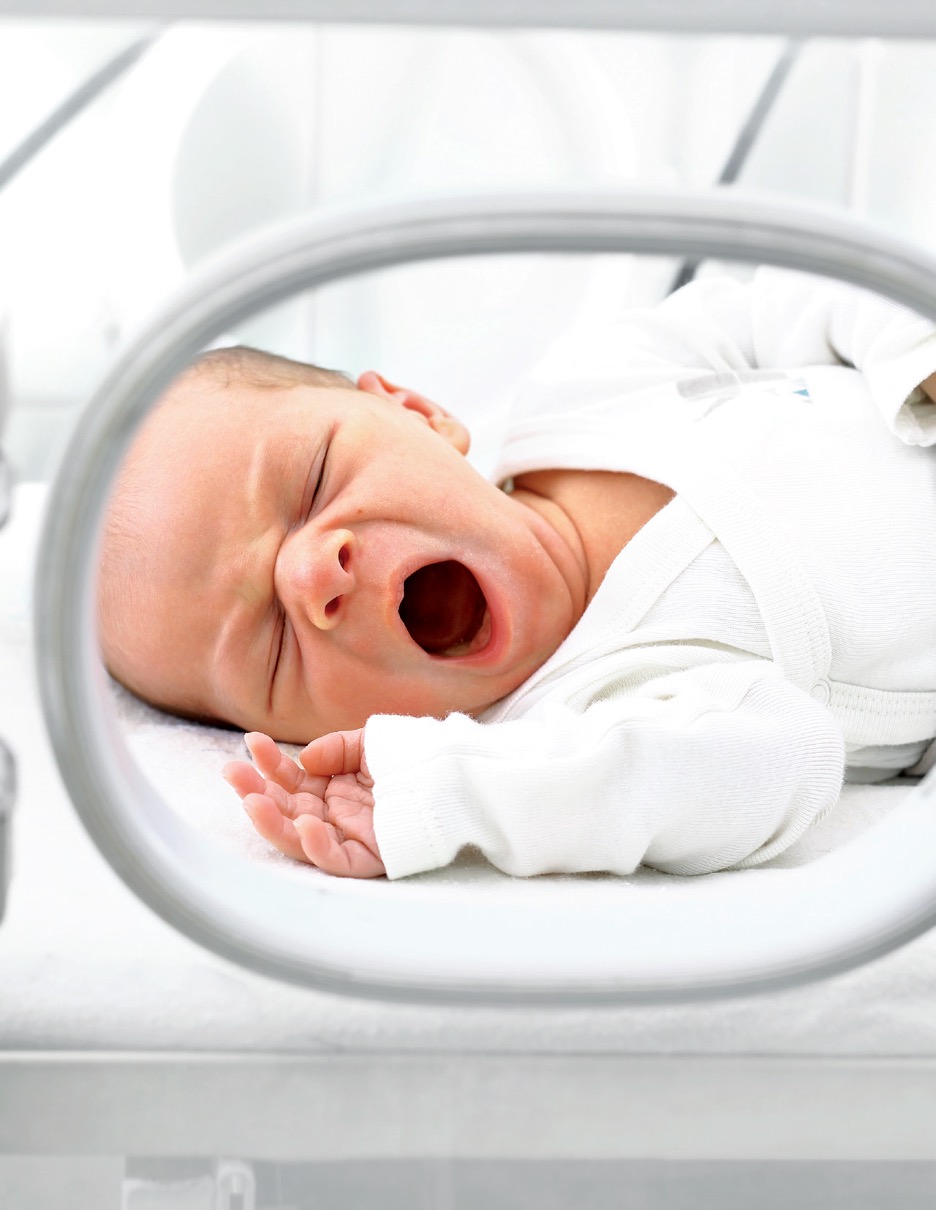 Neonatal nurse practitioners provide expert care to the smallest patients.
---
Jan Wilson, DNP '09, MS '94, BSN '74, CRNP, NNP-BC, FAANP, assistant professor and director of UMSON's Doctor of Nursing Practice Neonatal Nurse Practitioner (DNP NNP) specialty, has witnessed incredible advancements in the field of neonatology since her early days as a nurse. When pregnant women arrived at a hospital in preterm labor in the 1970s, they were given liquor – yes, liquor – to slow down labor, because alcohol can suppress uterine contractions, Wilson says. Today, when a pregnant woman goes into preterm labor, health care providers have a multitude of medications that can suppress labor. Yet, despite advancements in U.S. maternal and infant care, preterm birth rates are rising.
According to the Centers for Disease Control and Prevention (CDC), preterm birth rates have risen steadily for the past six years. In 2020, 1 in 10 babies in the United States was born too early, before 37 weeks of gestation. Preterm birth and its complications are the second leading cause of infant mortality, behind birth defects, according to the CDC.
The need for advanced practice neonatal nurse practitioners to care for these small patients is greater than ever. UMSON is helping to meet the demand with its DNP NNP specialty, one of very few in the country and the only one in the state of Maryland. The first four UMSON DNP NNP graduates earned their degrees in May 2019.
Neonatal intensive care unit (NICU) beds make up 35% of all staffed beds in U.S. community hospitals, according to the American Hospital Association. The 2016 National Workforce Survey conducted by the National Association of Neonatal Nurses (NANN) revealed that 73% of NICUs didn't feel that they had enough NNP staff to cover their needs.
In addition, the average age of NNPs across the country is increasing, and as older nurses retire, hospitals are struggling to replace them with younger, qualified providers, the 2016 NANN survey reports, adding that the current supply of NNPs is not meeting demand, and the shortage is expected to continue for at least another five years.
"Meeting workforce needs is an ever-moving target," Wilson says. The number of students that the School can accept is related to the availability of local and regional clinical sites that can host those students. Typically, each site can host only one NNP student per semester, Wilson explains, because NNP preceptors not only host and educate students, but they must also carry a significant patient load. "There has to be a balance between education and the delivery of excellent patient care," Wilson adds.
Another factor that affects workforce numbers is the ability of hospitals to recruit and train new NNPs. The onboarding process is resource intensive and can take up to six months. During that time, the new graduate is partnered with a mentor until they are able to work more independently.
The School has devised a creative solution to this issue. Thanks to partnerships with more than a dozen clinical partners, including the University of Maryland Medical System, every NNP student will have a guaranteed position upon graduation. "We created partnerships with institutions that saw the value in hiring an NNP," Wilson explains. "The sites are willing to host these students for their last one to two clinical semesters, which has resulted in a more rapid onboarding process for the new graduates. It's a win-win for the School, the student, and the organization." In fact, six out of seven students in this May's graduating cohort had jobs secured by February; the seventh was involved in interviews "with every likelihood that she will be hired before she graduates," Wilson says.
The specialty is designed to afford students the opportunity to spend as many hours as possible in a NICU. To supplement those in-person clinical hours, students also get hands-on experience at UMSON caring for Gaumard's Super Tory, a $60,000, state-of-the-art simulation baby.
"The most stressful experience for a new grad is to be in charge of resuscitating an infant," Wilson says. "Super Tory allows us to set up a scenario specific to a high-risk neonate, and the students work together to appropriately address the problem."
In a common scenario, the anatomically accurate baby is programmed to experience respiratory arrest. If the students intervene correctly, Super Tory's heart rate and oxygen levels go up. That intervention might also include intubating the patient's tiny airway to the appropriate depth, and when done correctly, the baby will respond positively.
Taking care of small patients is immensely rewarding because small interventions have a substantial impact. "A small change can make a big difference in this population," Keiara Williams, DNP '20, NNP-BC, notes.
As a self-described adrenaline junkie, Williams, who works in the University of Maryland Medical Center NICU, says the ability to provide expert care to the smallest patients is what attracted her to pursuing a career as an NNP. "The way the fetus has to transition to the extrauterine environment is just so amazing, it astounds me how resilient they are," she says.
Despite being home to many world-class medical institutions, the state of Maryland has a C minus rating in the March of Dimes annual report card, in part due to the state's preterm birth rate of 10.3%. The March of Dimes report card provides an overview of maternal and infant health across the United States based on data collected from the National Center for Health Statistics. The highest grade the organization awarded in 2020 is a B plus, which only four states received.
Health disparities and racial inequities significantly affect these rates. In Maryland, the preterm birth rate among Black women is 44% higher than the rate among all other women. Data from the National Institutes of Health Eunice Kennedy Shriver National Institute of Child Health and Human Development's risk calculator, which can predict a range of possible outcomes for infants born extremely preterm, reveal that babies who are not white tend to have a lower survival rate and poorer outcomes due to racial disparities in care, Wilson explains.
The NNP specialty requires its students to examine the root causes of such outcomes and other care-related issues through quality improvement projects. Students review and analyze the care provided at their clinical education sites and determine possible improvements.
"By requiring students to complete a quality improvement project, we are not only educating them to care for an infant's physical needs, we are educating them to be leaders in evaluating and addressing the quality of care and to collaborate with providers, families, communities, and legislative organizations to improve care and to address inequities in care," Wilson explains. "With clinical expertise, combined with leadership skills and understanding of quality improvement, we hope that they'll go on and contribute to programs that can improve mortality rates."
NNP students must already have at least two years of experience working in a NICU when they enter the DNP specialty, and they spend their time at UMSON building upon those skills to become nurse leaders. "My goal as an NNP is to represent the profession as positively as I can – to me, this meant obtaining my doctorate," explains Julie Williams, DNP '19, CRNP, NNP-BC. In her role as the lead NNP of the Johns Hopkins Hospital NICU, she applies her skills to managing patient-focused projects. As a national leader, she heads up projects and committees dedicated to improving neonatal care.
UMSON NNPs graduate fully prepared to care for the health and well-being of all babies when they need it most. "Becoming an NNP is the best move I ever made," Julie Williams adds. "As NNPs, we affect so many of the infant's life decisions before the patient is even able to make a decision – it's a responsibility that cannot be taken lightly."
---
A GLOBAL APPROACH TO NEWBORN MORTALITY
Global maternal and child mortality rates have steadily declined for several decades, thanks to collaborative efforts addressing the major causes of maternal mortality and vaccine-preventable and other major childhood diseases, but newborn mortality rates remain relatively stagnant. However, cost-effective, proven interventions to reduce newborn deaths are available, and most newborns can survive and thrive if they have access to high-quality health care, including inpatient care.
In November, the World Health Organization (WHO) launched a new report co-developed by Nancy Bolan, PhD, MPH, FNP, CNM, assistant professor and director of UMSON's Office of Global Health, to help save an estimated 1.7 million newborns each year through universal access to high-quality newborn care.
"Since 2006, there's been an increased focus on the issue of human resources for health, with the understanding that you can't achieve health goals globally without paying particular attention to the health workforce," Bolan explains.
Human resource strategies to improve newborn care in health facilities in low-and-middle-income countries, published by the WHO and written by Bolan with experts from the Council of International Neonatal Nurses, the WHO, and neonatal leaders, seeks to guide countries in creating policies that will increase newborn health worker numbers and improve the competencies required to deliver quality care for all newborns, including in intensive care units.
According to Bolan, "these strategies address all health workers, but have a special focus on care delivery by nurses and midwives, because they make up the largest segment of the health workforce in many countries and provide most of the care for mothers and newborns in health facilities throughout the world."
Photo: Getty Images
THIS ARTICLE FIRST APPEARED IN THE SPRING 2021 ISSUE OF MAGAZINE.