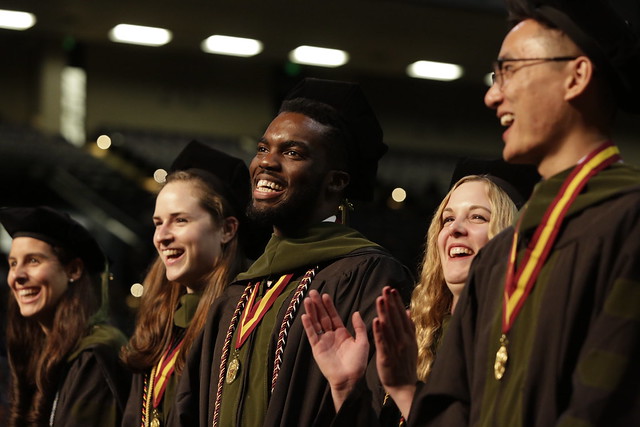 The speakers, honorees, and marshals for Thursday's Universitywide ceremony offer words of wisdom to the Class of 2019.
---
We asked the commencement keynote speaker, honorary degree recipients, honorary marshals, and student remarker what advice they would like to pass along to UMB's Class of 2019. Here are their responses:
Barbara Pierce Bush
Founder and board chair, Global Health Corps
Keynote speaker
"Stay open and curious. I once was on a clear path to becoming an architect, a job I'd always dreamed of. And, lucky for me, I didn't stick to that path. Instead, I nurtured the voice in my mind that was always interested in reading about global health and said yes to a number of moments in life that led to the founding of Global Health Corps. For that, my life is so much bigger than it would've ever been."
Victoria Hale, BSP '83, PhD
Adjunct professor, University of California, San Francisco School of Pharmacy, and founder, OneWorld Health and Medicines360
Honorary Doctor of Sciences
"Make time in your life to be quiet in our noisy world, examine what is in your heart and honor that, allow your heart to guide your professional journey, and be of service to others."
Philip Needleman, PhD '64, MS
Emeritus trustee and chair of the National Council, Washington University School of Medicine Honorary Doctor of Sciences
"Be ready for and embrace major and constant change. The awesome power of genetics, information technology, and CRISPR/CAS [DNA editing] will change the world as we know it!"
Robert Beardsley, PhD, MS
Professor and vice chair for administration, Department of Pharmaceutical Health Services Research, School of Pharmacy
Honorary University Marshal
"Rejoice in the amount of knowledge you now have, but be aware of what you don't know —which will become very obvious the first day you assume your next position."
Jacquelyn L. Fried, RDH, MS
Retired associate professor and director, Division of Dental Hygiene, School of Dentistry
Honorary Student Marshal
"Do what you love. To me, passion sparks success. If an opportunity presents itself and 'rings your chimes,' go for it. One other piece of advice: Do not be afraid to take risks. There is only one you — make your mark!"
Jane Lipscomb, PhD, RN, MS, FAAN
Retired professor, School of Nursing, and director, UMB Center for Community-Based Engagement and Learning
Honorary Faculty Marshal
"Try to always be guided by how you can make the greatest impact on the lives of the public. Money and prestige are so fleeting when compared to making a difference."
Sarah Montague Shepson
Francis King Carey School of Law
Student Remarker
"I offer two pieces of wisdom from Maya Angelou. The first: 'Do the best you can until you know better. Then when you know better, do better.' The second: 'Nothing will work unless you do.' "
More on commencement
Read more about the speakers, honorees, and all of the graduation festivities at UMB's Commencement 2019 website.