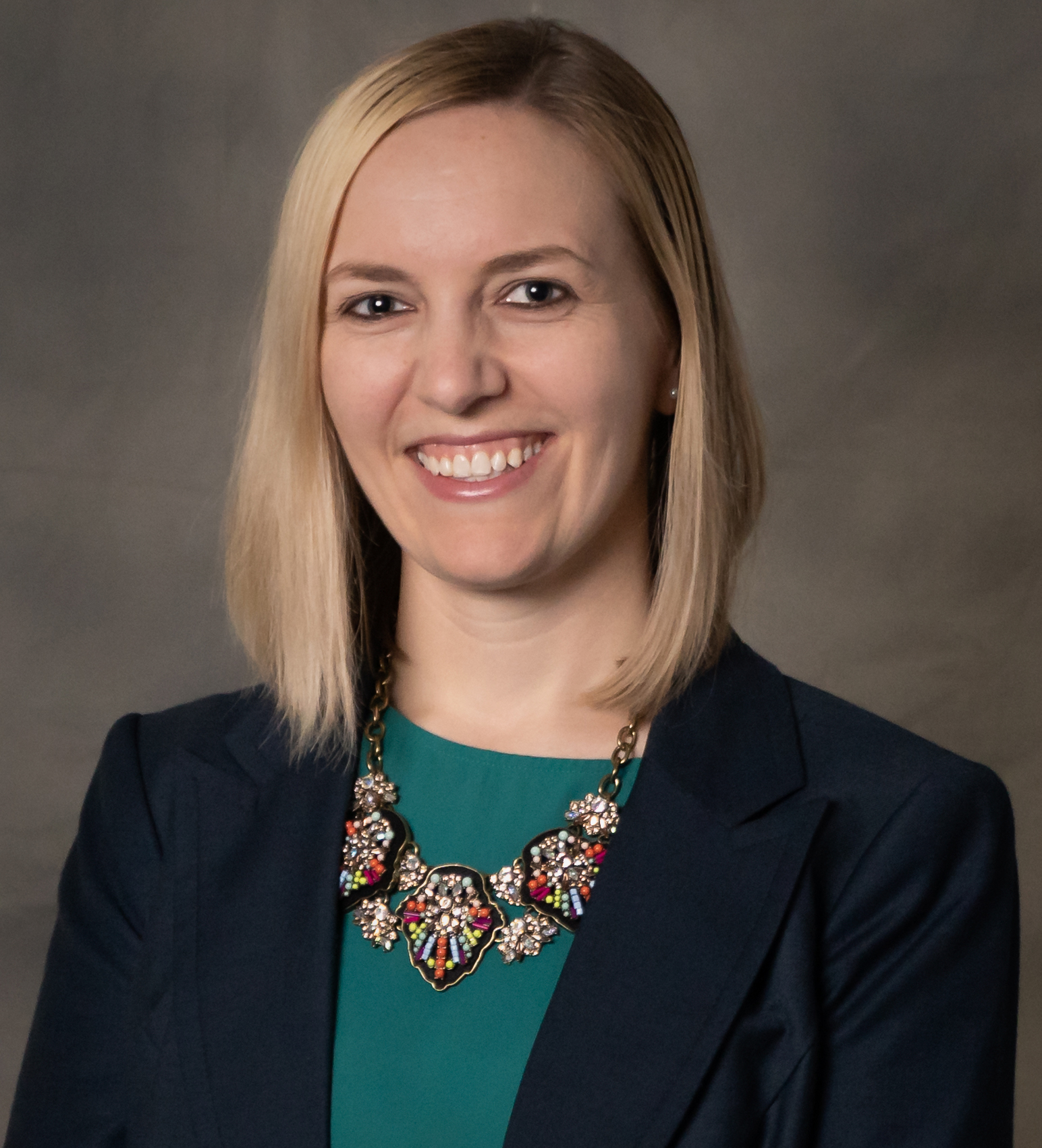 Carey School of Law student plans to call on work and educational experiences to deliver message on public service: 'There is always work to be done to improve our society.'
---
During the month leading up to UMB's commencement on Thursday, May 16, The Elm will feature stories on the ceremony's keynote speaker, honorary degree recipients, marshals, student remarker, and more. For more information, go to UMB's Commencement 2019 website.
Today: Student Remarker Sarah Montague Shepson, MPPA

---
Sarah Montague Shepson, MPPA, took an uncommon route to the University of Maryland Francis King Carey School of Law, working in Arkansas, Tennessee, Iowa, and Washington, D.C., after her 2009 graduation from the University of Maryland, College Park (UMCP). But her seven-year journey before law school had a common thread.
"Through all of my experiences, I've had a commitment to shaping our society for the better, and that's what I see as the purpose of all the programs at the University of Maryland, Baltimore [UMB] schools — to serve others," says Shepson, who will graduate from the Carey School of Law this spring and was selected from among a handful of candidates to be the student remarker for UMB's commencement ceremony on Thursday, May 16.
In her speech, Shepson plans to reflect on her work experiences — teaching high school English, developing education policy, managing grant budgets, organizing a congressional candidate's events, managing a congresswoman's schedule — as well as her three years of law school study and activities.
"There are more than enough societal challenges that can use our attention, and I hope to encourage my UMB classmates to meet those challenges head-on," says Shepson, who also found time to earn a master's degree in public policy and administration online from Northwestern University in 2015. "I aim to inspire my fellow graduates with stories of leaders who have inspired me. And I would like to talk about the importance of public service, no matter where our careers take us in the future."
Shepson says she learned great lessons about public service from the congressional career of John Dingell, who served Michigan in the U.S. House of Representatives for nearly 60 years and passed away in February. Shepson worked for a year-and-a-half as an executive assistant and scheduler for his wife, Rep. Debbie Dingell, who succeeded him in 2015 after his retirement.
"John Dingell helped write some of the most notable legislation in modern American history — the Civil Rights Act, the Clean Air Act, the Clean Water Act, the Affordable Care Act," Shepson says. "He was a legislative giant, and you would not find a more committed public servant. Yet, at the end of his life, he still wondered if he had done enough, if he had worked hard enough to make a difference in people's lives.
"Most of us could only dream of creating the legacy he left, but I think what Congressman Dingell knew better than anyone else is that the work is never done. No matter the profession, there is always work to be done to improve our society."
Shepson, who also worked as an operations director for Iowa congressional candidate Staci Appel in 2014, said she learned other lessons — about life and work ethic and perspective — from the first job she took after graduating from UMCP, teaching English at Hughes (Ark.) High School as part of the Teach for America program.
"It was by far the most challenging job I've ever had," she says. "Teaching taught me grit, ingenuity, patience, and compassion. It also taught me the value of time — how to use it effectively and how consistent, daily effort can compound to achieve amazing results."
It also showed her the power of levity.
"I learned how to infuse joy into the most challenging situations," Shepson says. "My students had such great senses of humor, and I think about them often. For me, laughter is the best medicine for a tough day. Those lessons helped me in every job I've had since, in my personal life, and in my time at UMB."
That time began in 2016 at the Carey School of Law, where her activities included being president of the Alternative Dispute Resolution Team, articles editor on the Maryland Law Review, writing fellow in the Legal Writing Center, fellow in the Rose Zetzer Women Leadership & Equality program, and research assistant for Dean Donald B. Tobin, JD. She also has held internships with U.S. District Court Judge Richard D. Bennett, JD; the Office of the General Counsel of Montgomery County (Md.) Public Schools; and Maryland Del. Brooke Lierman, JD.
"I am incredibly fortunate to have had such an enriching experience at UMB," says Shepson, who grew up in West Lafayette, Ind. "I am not sure what exactly I expected of law school, but my experience truly exceeded my expectations. I was able to not only excel academically, but I also got to know more about how our state operates through the school's clinic program, particularly in my work in the Low-Income Taxpayer Clinic, and my internships.
"I am most proud of serving as president of the Alternative Dispute Resolution Team," she adds. "It meant a lot to me to be elected by my peers and to have the opportunity to support my teammates as they competed in negotiation and mediation competitions across the country."
After graduation, Shepson will start a job with Covington & Burling LLP in Washington, where she worked as a summer associate in 2018. She plans to stay active in pro bono work and volunteer in her community.
"I'm not yet sure where my career will take me," Shepson says, "but I know that the Carey School of Law has prepared me well for whatever opportunities come my way."