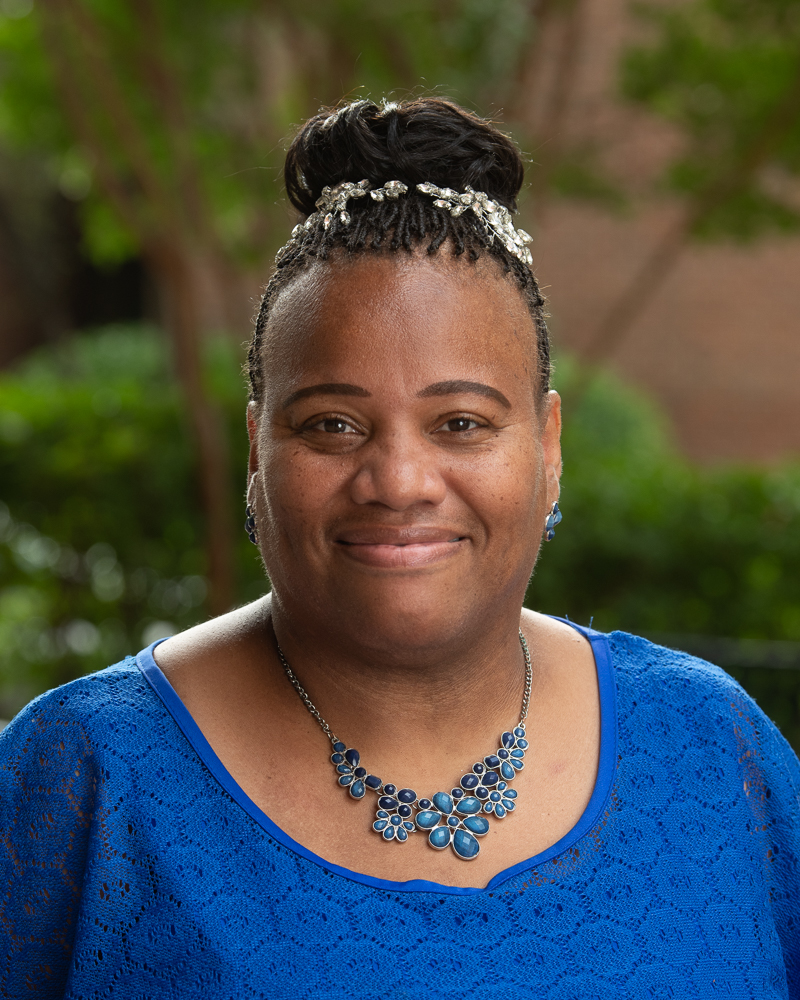 She's honored for her work on the Quantum Financials system, "can-do attitude," and department's response during the COVID-19 pandemic.
---
Lynell Pendleton thought she was attending a virtual meeting to discuss two new processes she is involved in implementing as the director of disbursements in the University of Maryland, Baltimore's (UMB) Department of Financial Services.
Instead she found herself wiping away tears and receiving virtual high-fives after being told by Interim President Bruce E. Jarrell, MD, FACs, that she had been chosen as the University's April Employee of the Month.
Pendleton was honored for her work on implementing Quantum Financials, the UMB cloud-based financial accounting and reporting system that successfully launched in the fall, as well as her response during the COVID-19 pandemic.
"It's certainly a tribute to you," Jarrell said. "There are a lot of people who have highly respected the job you've done here and what you've done for this campus, so you have my congratulations."
"This is truly a shock. A very good one," Pendleton said as she wiped away tears during the Zoom call Aug. 14.
Susan McKechnie, CPA, assistant vice president and University controller, pointed out that Pendleton was assigned to Quantum halfway through the two-year project. Pendleton, who has worked for the University since 2011, became manager of disbursements in 2018 before being named director of disbursements. She handles the payments for transactions for the campus and oversees the University's travel system.
"She was immediately assigned to the Quantum project team and given the task of configuring the cloud system in the various payables areas to meet the requirements of UMB and the state of Maryland," McKechnie wrote in the nomination form. "She stepped up to the task with great enthusiasm and commitment. As a new manager in the department, she had to learn a lot of new processes and procedures in the old system and then create new processes and procedures under the new system. Despite the enormous undertaking under tight deadlines, she always kept a positive outlook and was ready to help anyone who asked for assistance."
During the video conference, McKechnie added that Pendleton generously shared her knowledge with her staff and the rest of the campus.
"She just jumped right in," she said. "Lynell is so positive, she has this can-do attitude, she took leadership and stepped right up to it, and you couldn't tell that she was new to this position."
Pendleton said she felt welcomed, which made the process go smoothly. "People were always willing to share information," she said. "You feel equal in that respect and that you are truly a part of the team. I am proud to work for UMB."
About six months after the Quantum launch, the COVID-19 pandemic led many UMB employees to start teleworking. But Pendleton and her staff have worked in their University office several days a week to meet the state's paper requirements.
"Just when we felt like we were getting on our feet with Quantum, COVID hits," McKechnie said. "But she and a handful of people kept us going."
Pendleton said COVID-19 has presented challenges for her and her staff.
"It's required us to think outside of the box to come up with ways to process transactions differently but still try to maintain the same time frame," said Pendleton, who is working toward a master's in business administration from the University of Maryland Global Campus. "It's definitely taught me a little bit more patience and flexibility. At the very beginning, everything was shifting every day."
Cindy Lyons, deputy controller, said those types of challenges don't faze Pendleton. "I always admired her dedication to her work and her ability to remain professional in everything she does. She accepts the challenges head-on," she said.
Pendleton said one of her joys is helping people. "I like interacting with people and problem-solving," she said. "COVID has created more problems to solve so that can be challenging, but I do like helping people and being able to resolve issues and get people paid, get things processed. I find joy in that."
Pendleton, who as employee of the month will receive a plaque, a letter of commendation, and an extra $250 in her next paycheck, thanked both her staff for its willingness to make changes and adjustments and senior management for supporting her team.
Dawn Rhodes, MBA, chief business and finance officer and vice president, praised Pendleton's commitment to the University. "You are an example of the spirit and attitude that we want to bring to work," she said.