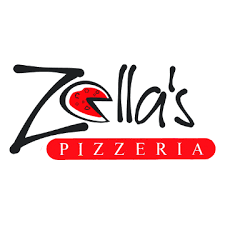 The gourmet pizzeria, bar, and art gallery has been a staple in the Hollins Market neighborhood since 2007.
---
Grab a slice of heaven on your lunch break or for your next event. Zella's Pizzeria is a quick walk away from UMB in Hollins Market. Zella's is a gourmet neighborhood pizzeria, bar, and art gallery located in the heart of West Baltimore. Owners Cem and Julie opened Zella's in 2007 with the hopes of creating a lively gathering space where great food, community, and culture could intersect.
In creating Zella's (derived from Julie's grandmother's surname, Manzella), the owners melded their two strengths. Cem learned the art of pizza making from his uncle in New Orleans who emphasized the importance of quality products and fresh ingredients. Julie focused on transforming the interior of the vacant, dilapidated space, known in the early 1990s as the Telltale Hearth, into a vibrant, fun, and welcoming eatery.
Zella's staff are honored to serve and be part of the Sowebo/Hollins Market/Union Square neighborhoods, whose residents are known for their relentless efforts in community and city-wide improvement. Zella's is an important part of the UMB community, catering many events over the years with spectacular reviews. Stop in for lunch, join them for happy hour, or give them a call to cater your next event — you won't be disappointed.