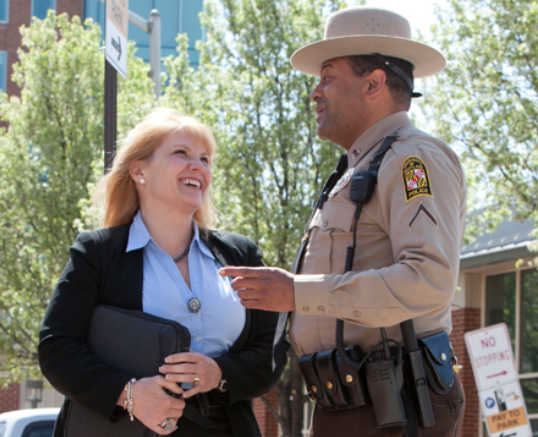 Officer-accompanied van rides offered from 7 a.m. to noon beginning on Monday, March 4.
---
The UMB Police Department is adding a new dedicated morning service to its Safe Ride program to better meet the needs of the University community. Now, in addition to the traditional coverage from 3 p.m. to 1 a.m., UMB students, staff, faculty, and University of Maryland Medical Center personnel can request a van ride from a uniformed officer from 7 a.m. to noon in the boundary area, roughly three blocks off campus.
The new dedicated morning service will be provided in the following areas:
Baltimore Street south to Washington Boulevard and Schroeder Street to Martin Luther King Jr. (MLK) Boulevard
Ridgely's Delight-Pratt Street south to Washington Boulevard, Greene Street to MLK
As part of the dedicated service, UMB Police will be utilizing the marked Safe Ride van for the area west of MLK and the marked Dodge Durango patrol vehicle for the Ridgley's area.
The Safe Walk program, in which an officer will accompany you on foot, will continue to be a 24-hour service.
This expanded service aims to ensure that our students — and others — get to and from the University safely. To utilize the Safe Walk/Safe Ride program, simply call 6-6882 on a campus telephone or 410-706-6882 (off campus), and a uniformed officer will be sent to your location. Riders are required to have a UMB ID or UMMC ID.
Learn more and see a boundary map at the link below.