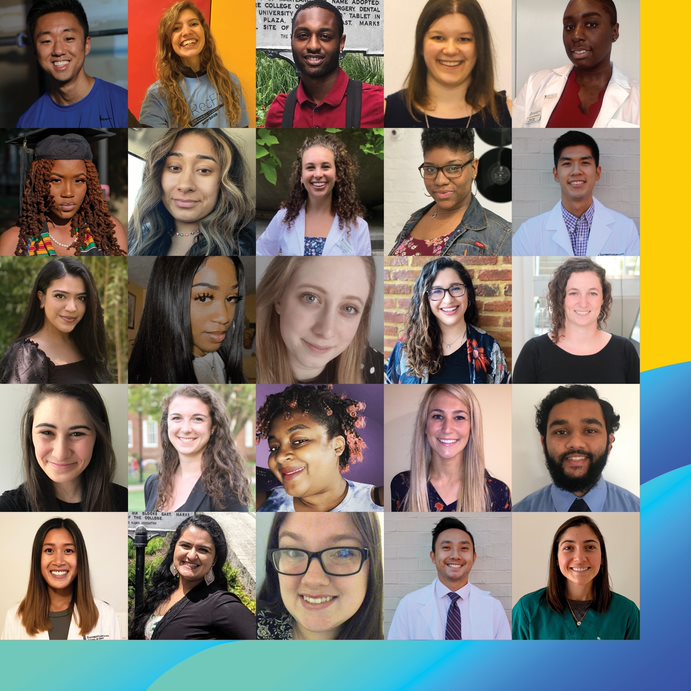 Student Affairs recognizes the dedication and hard work of student staff during the week of April 12-18.
---
A highlight of being a Student Affairs professional at the University of Maryland, Baltimore (UMB) is engaging with the diverse group of student employees that work in UMB Student Affairs. Every day, these students leverage their unique perspectives and experiences to strengthen the student-focused work of the division.
While COVID-19 has removed the ability for students to work on-campus, it has not reduced the impact of their work. Virtually, these 40-plus student employees assist with programming, content creation, and vital initiatives that address student needs. They also provide virtual services that improve the student experience at UMB, helping their peers feel supported and providing the tools they need for success. In return, student employees in UMB Student Affairs learn invaluable skills that are transferrable to the classroom and their future professions, such as how to effectively work and communicate with interprofessional teams.
In honor of National Student Employment Week, which runs April 12-18, UMB Student Affairs will be recognizing our student employees. We are also using this week to celebrate our non-student part-time employees. They are an essential part of UMB Student Affairs and the services we provide. We appreciate all the hard work they do for the UMB community.
All week on our social media accounts, we will be posting photos and quotes that showcase our appreciation for their dedication and hard work. Follow us on Instagram (@umbcampuslife) and Facebook (@campuslifeUM).
Our student and non-student part-time employees are also listed below. Thank you all for advancing the mission of the University and UMB Student Affairs.

Maranyely Beltran – 2nd Year

Brianna Ciccarino – 2nd Year

Patricia Comrie – 2nd Year

Sumr Farooq – 2nd Year

Shanice Harris – 2nd Year
Quinn Kenny – 1st Year

Tural Mammadli – 2nd Year

Ariana Meinster – 1st Year

Katie Nenortas – 1st Year

Rebekah Schrier – 1st Year

Alina Bui – 3rd Year

Lena Chehab – 4th Year

Daniel Chu – 3rd Year
Lizz Gentry – 4th Year

Alexandra Hegerle – 1st Year

Molly Keam – 4th Year

Gaston (Trey) Perry III – 1st Year

Rupini Shukla – 2nd Year
Florish Okigweh – 2nd Year

Sarah Prenatt – 3rd Year

Francis King Carey School of Law
Golda Serwatien – 2nd Year
School of Medicine (Physical Therapy)
Mycah Berson – 1st Year

Jeremy Beyer - 2nd Year

Ali Forejt – 3rd Year

Emily Garguilo – 2nd Year

Rylenn Keys – 2nd Year
Alex Lee – 3rd Year

Tessa Shifflett – 2nd Year
Pavan Patel – 3rd Year

Caroline Russell – 4th Year

Jasmine Thornton – 1st Year

Alexa Bedingfield - URecFit & Wellness

Shannon Ehlert- URecFit & Wellness

Jasmine Jacobs - URecFit & Wellness

Ashley Kansinally - URecFit & Wellness

Amelia Marcus - URecFit & Wellness
Madeline Miller - URecFit & Wellness

Hannah Mueller - Writing Center

Kayla Shannon - URecFit & Wellness

Tanya Stephens - URecFit & Wellness

Marissa Walch - URecFit & Wellness