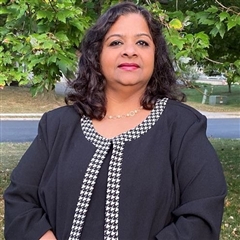 School of Dentistry employee sings the praises of guidance, support, and friendship from "vibrant group of women."
---
I work in the School of Dentistry's Dean's Office as a senior contracts and grants specialist. I participated in the second cohort of the UMBrella Coaching Program, and when I applied to this program, I wasn't sure how it would benefit me personally and professionally.
But right from the first breakfast introduction meeting, I felt like this group of vibrant women would be a great support system in my professional role. The coach and the participants on my team were very welcoming and instantly felt like long-lost friends. Every month we met during the lunch hour to discuss a topic related to personal development in your career. We got a chance to discuss our views and problems, and at the end of the meeting we would get positive solutions on how to handle the situation. Everything we discussed was confidential so that all the participants could talk freely without any concerns.
One of my favorite topics was communication with your manager in the workplace. There were ideas that we discussed that I never thought I could use for effective communications. After this discussion, I used these tactics and the outcome was great. Every month, the topic selected and assignments helped shape us professionally. Even after our cohort ended, we still meet for lunches and email one another.
I strongly encourage all women at UMB to join this wonderful group to make new friendships and gain professional development. I would highly suggest attending all meetings and actively participating in group discussions, enjoying the new friendship that you make.
Note: The UMB Roundtable on Empowerment in Leadership and Leveraging Aspirations (UMBrella) works to advocate for a culture that embraces flexibility and family-friendly work policies, coaches women at all levels of the University, and provides opportunities to women at UMB to connect and engage with a community that supports the success of women. Learn more about the UMBrella Group at umaryland.edu/umbrella/.