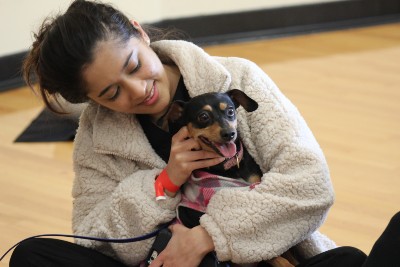 The text-to-give campaign is tied to the Puppy Love event, which is being held virtually Dec. 2.
---
The Wellness Hub will be hosting the annual Puppy Love event Dec. 2. However, it will look a little different this year. With the number of COVID-19 cases rising, the event will be held virtually with multiple breakout rooms where you can see multiple animals from puppies to fish.
For years, the Wellness Hub has hosted the Puppy Love event annually during Stressbusters week as it is an incredibly stressful time for students in all programs. However, why "Puppy Love," or pet therapy? According to the Association of Anxiety and Depression of America, pet therapy has shown to alleviate stress, anxiety, and depression. In addition, pet therapy has been found to decrease the feeling of social isolation, which is much more prevalent now because of the pandemic. In another article by the National Institutes of Health, interacting with pets has been found to decrease the levels of cortisol, a stress hormone, and lower blood pressure. Also, watching pets play and have fun with their chew toys is always a delight that can calm the most stressed students.
In addition to offering a variety of pets and a lot of needed stress relief, URecFit's The Wellness Hub is partnering with the Maryland Charity Campaign to raise donations for the Maryland Society for the Prevention of Cruelty to Animals (MDSPCA), the Baltimore Animal Rescue & Care Shelter (BARCS), and Fidos for Freedom. The MDSCPA aims to improve the lives of pets and people in the community. The goal of BARCS is to foster and rescue pets and encourage responsible, safe, and healthy pet ownership. Fidos for Freedom, which focuses on enhancing the quality of life for people in the community, has also been one of the Wellness Hub's biggest supporters with the Puppy Love event.
The text-to-give campaign is open from now until the end of the Puppy Love event. To give, use your cell phone to text MCC64 to 44-321.
Along with other Stressbusters events, the Puppy Love event is one of the most anticipated events ever year. Although different to previous years, the event is expected to be as interactive and as fun as in the past. If you would like to attend the event, you can register by clicking here. If you would like to put your furry friend on display you can click here. We hope to see you and your furry friends next week.
For more information on the Wellness Hub, visit umaryland.edu/wellness.