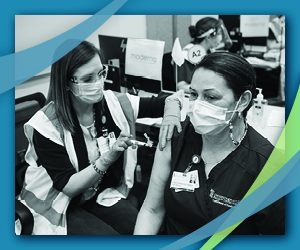 Elena Hernandez Torres, a medical practice representative, got vaccinated to protect her co-workers.
---
Elena Hernandez Torres, medical practice representative III, was recently vaccinated with the COVID-19 vaccine to protect her co-workers after experiencing the passing of a family member.
"It's important because I work in a facility where we get a lot of people with different issues, and I know that COVID is the worst. I'm scared of COVID. I can help other people if I get the vaccine," she said. "I got it in my family, too. My ex-husband passed away from COVID-19 in December, and it affected all my family and all my friends, too. COVID has changed everything for us. We can't be together with our loved ones."
Share Your Experience
Why did you decide to get the COVID-19 vaccine? Why should others get it? These are questions on the minds of many now that vaccines are available to help end the coronavirus pandemic.
The University of Maryland, Baltimore (UMB) Vaccination Clinic is open to serve the UMB community and select partners to Get The Vaccine. The UMB Vaccination Clinic is able to provide vaccinations for the Native American population, tribal or Native American agency employees, and Baltimore City residents and workers. Learn more at GetTheVaccineBaltimore.org

Over the next few months, we will be highlighting members of the community and their vaccination experience. Share your experience getting vaccinated by tagging us @umbaltimore and using #UMBVaccinesWork on Twitter or Instagram. Include why you got the vaccine. You can also submit your photos and comments about your vaccine experience, by clicking here.