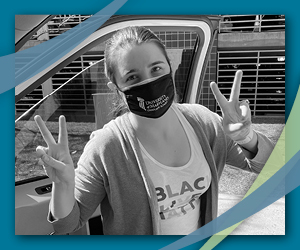 Emily Smith got vaccinated due to her passion for vaccine advocacy.
---
Emily Smith, microbiology and immunology PhD candidate in the Graduate Program in Life Sciences (GPILS) at the University of Maryland, Baltimore, was recently vaccinated with the COVID-19 vaccine to inspire others to get the shot.
"I am incredibly passionate about vaccine advocacy and improving science communication between the scientific community and the general public," she said. "Vaccine work also transcends my personal life into my professional life."
She is currently working on thesis research as a University of Maryland Graduate School PhD student in the Center for Vaccine Development and Global Health (CVD) with the hopes to create a vaccine against intestinal bacteria one day.
"Getting the COVID-19 vaccine was a small but meaningful action for the greater safety and health of the Baltimore community. I hope to use my vaccination experience as evidence for my loved ones and co-workers that the vaccine is safe and effective! I also hope to raise awareness about the need for equitable vaccine distribution in the Baltimore community," she said.
Share Your Experience
Why did you decide to get the COVID-19 vaccine? Why should others get it? These are questions on the minds of many now that vaccines are available to help end the coronavirus pandemic.
The University of Maryland, Baltimore (UMB) Vaccination Clinic is open to serve the UMB community and anyone 16 and older to Get the Vaccine. The UMB Vaccination Clinic is able to provide vaccinations for the Native American population, and tribal or Native American agency employees. Learn more at GetTheVaccineBaltimore.org. Individuals under age 18 must be accompanied by a parent or legal guardian.
Over the next few months, we will be highlighting members of the community and their vaccination experience. Share your experience getting vaccinated by tagging us @umbaltimore and using #UMBVaccinesWork on Twitter or Instagram. Include why you got the vaccine. You can also submit your photos and comments about your vaccine experience, by clicking here.