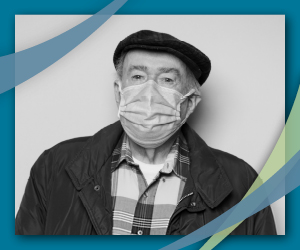 Stanley Kriel, 90, got vaccinated for the safety of himself and his family.
---
Stanley Kriel, 90, was recently vaccinated with the COVID-19 vaccine to protect himself thanks to his daughter signing him up for an appointment.
"I'm getting the vaccine because I didn't want to get the virus. My daughter is a respiratory therapist, and she's also the one who signed us all up. Thanks to her, because we don't have computers. The shot is nothing to be afraid of, really," he said.
Share Your Experience
Why did you decide to get the COVID-19 vaccine? Why should others get it? These are questions on the minds of many now that vaccines are available to help end the coronavirus pandemic.
The University of Maryland, Baltimore (UMB) Vaccination Clinic is open to serve the UMB community and beyond. The UMB Vaccination Clinic, open to those 12 and older, is also able to provide vaccinations for the Native American population, tribal or Native American agency employees, and anyone who is 12 and older. Walk-up vaccination slots are available 10:30 a.m. to 4:30 p.m. Thursday through Saturday for UMB students and employees; Native Americans and tribal agency employees; Baltimore City residents, workers, and students; and Baltimore metro area residents. Learn more at GetTheVaccineBaltimore.org. Individuals under age 18 must be accompanied by a parent or legal guardian.
Over the next few months, we will be highlighting members of the community and their vaccination experience. Share your experience getting vaccinated by tagging us @umbaltimore and using #UMBVaccinesWork on Twitter or Instagram. Include why you got the vaccine. You can also submit your photos and comments about your vaccine experience, by clicking here.