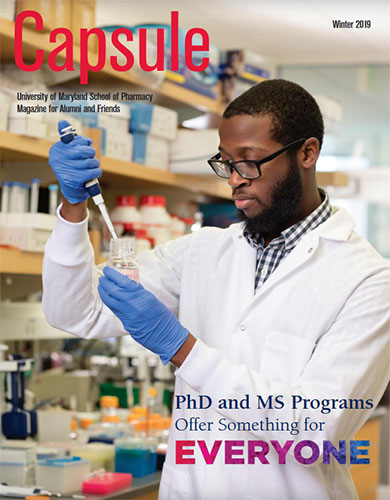 The latest issue of the School of Pharmacy's magazine for alumni and friends showcases how the school's PhD and MS programs offer something for everyone.
---
When the Maryland College of Pharmacy was founded in 1841, six students enrolled seeking to earn the only academic degree the college offered at the time — a PhL (Licentiate of Pharmacy). As the years went by, the Maryland College of Pharmacy became the University of Maryland School of Pharmacy, and its academic offerings expanded from a sole focus on the pharmacy profession to include pharmaceutical sciences and health services research. The first Master of Science (MS) degree was conferred in 1929, and the first Doctor of Philosophy (PhD) degree in 1933.
While the school's largest academic program by enrollment remains the Doctor of Pharmacy (PharmD), we have placed enormous emphasis during the last several years on capitalizing on the expertise of our diverse faculty by expanding our academic offerings. As clinicians, researchers, scientists, policy experts, and advocates, our faculty possess a wealth of knowledge across a wide range of disciplines. The changing job market, the growth of the biotechnology and pharmaceutical industries, and the advent of new treatment protocols have created demand for specialized degrees — a demand that the School of Pharmacy can meet.
This issue of Capsule focuses on the extraordinary growth and achievements of the school's MS and PhD programs. We now offer four MS degrees and two PhDs, with more than 240 students enrolled in the programs. Many of those students participate in our programs remotely, as all but one of our MS programs are online, a purposeful decision to accommodate the working professionals who enroll.
In this issue, you will meet current students and alumni of our MS and PhD programs. As with our PharmD students and alumni, I am in awe of their achievements, dedication, and ability to juggle professional responsibilities, family, and school.