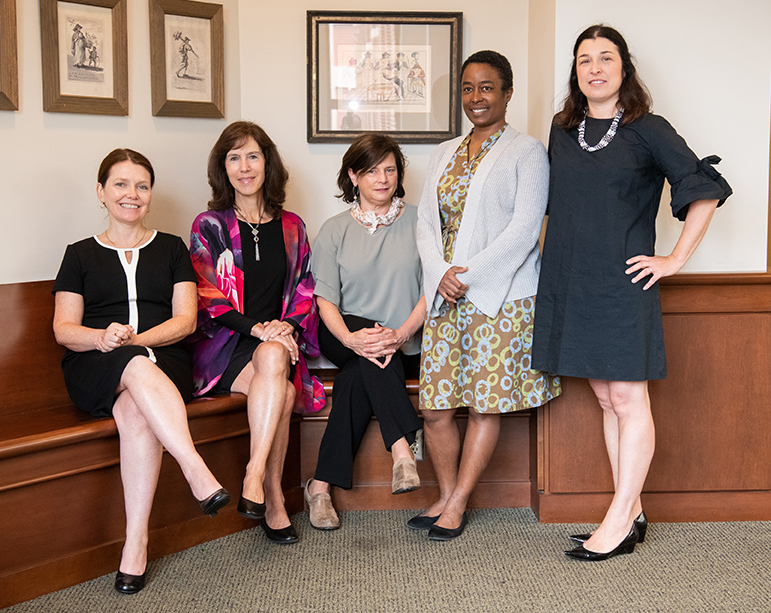 Free Universitywide program offers support for employees to resolve conflicts in confidential and nonjudgmental process.
---
University of Maryland, Baltimore (UMB) employees experiencing tensions with co-workers have a new place to turn with the Sept. 3 launch of the Workplace Mediation Service. Housed in the Center for Dispute Resolution (C-DRUM) at the Carey School of Law, the Workplace Mediation Service is a free Universitywide program open to all UMB faculty, staff, and student employees.
The mediation process supports employees in developing outcomes that are agreed upon by the employees involved in the mediation. Mediators focus on facilitating the conversation and the process; not judging the employees or their situation. Confidentiality is an important part of mediation. Nothing goes in the employees' UMB files.
Roger Ward, EdD, JD, MSL, MPA, senior vice president for operations and institutional effectiveness, says he has been discussing the need for such a program at UMB for several years. "We realized that not every complaint needed to put through an extended review/investigation process," says Ward, who also oversees the Office of the Ombuds, the Office of Human Resources, and the Office of Accountability and Compliance — other problem-solving options at UMB. "Oftentimes, conflicts in the workplace are the result of misunderstandings for which mediation is an appropriate option."
The Workplace Mediation Service works in tandem with the three other offices.
"What matters most in a conflict management system is that employees are getting the right services that meet their needs," says Aisha Samples, MS, program specialist in the Workplace Mediation Service. "So if they are speaking with one of the other three offices and mediation is appropriate and everyone agrees, then I will receive a referral. We will contact the employees to have a conversation about the process and their situation. They get to decide if they want to proceed with mediation. If so, we will schedule the mediation with our experienced mediators at a convenient location."
The mediators currently include Samples, C-DRUM faculty director Deborah Eisenberg, JD; Barbara Grochal, MAT, MBA, CPCC, director of C-DRUM's Schools Conflict Resolution Education Programs; C-DRUM associate director Toby Guerin, JD; and C-DRUM special projects director Stacy Smith, JD. The goal is to broaden the number of mediators as the program grows.
The mediators are neutral, which means they will not give advice, take sides, or make any decisions. They will listen and help the parties resolve the matter on their own terms. Says Samples: "Our mediators do a really good job of listening and not judging others."
She adds: "The campus climate that employees and leadership are looking for is more attainable when we discuss and try to resolve difficult workplace situations. It can be tough to initiate those conversations alone so the Workplace Mediation Service helps by providing a service where employees feel supported and heard throughout the process."
Samples says the Workplace Mediation Service is committed to responding to referrals in two days. "We know it can be hard to take this step so we want to be as supportive as possible and promptly move through the process to accommodate the employees." However, there is no maximum number of mediation meetings. After the first session, follow-up sessions may be scheduled if everyone chooses to continue to participate.
There are several misperceptions about mediation. It does not involve a formal investigation or disciplinary action. Mediation is a confidential space to discuss and resolve concerns. Employees will be heard whether it is the first attempt to address a workplace issue or if other options have been tried. And since it is strictly voluntary, those at mediation want to be there, enhancing the probability of finding common ground.
Matt Lasecki, SPHR, associate vice president and UMB's chief human resources officer, says both HR and the Workplace Mediation Service have the goal of helping parties who may be in conflict find a workable resolution.
"People don't just come to Employee Relations in HR for disciplinary matters," he says. "Employees will come to us and say 'I want to change my work schedule but my manager won't let me.' We'll have a discussion with the manager and say, 'Is there any way this can happen?' If the manager says no we'll say, 'Let's think about this. What if you adjusted this?' And they'll say 'Well, OK that's an option' and now we work with the employee and the manager to implement the solution.
"You've got to figure out how to meet people where they are, where they are most comfortable," Lasecki adds. "Accountability and Compliance can compel people to come and testify. It opens long, formal investigations. If we [in HR] can resolve the problem before an investigation, we will. If an employee says I'm uncomfortable going to Human Resources, then they can go to the ombuds – and now Workplace Mediation Service."
Samples says the Workplace Mediation Service is looking beyond the number of agreements that are reached to evaluate the service. Lasecki sees it as a means of support, with the aim of "everyone getting along and the work getting done." Adds Ward: "The goal is simple: this program is yet another in a suite of programs at UMB aimed at making UMB a best place to work."
"Did I mention that we are really good listeners?" adds Samples.
To learn more about the Workplace Mediation Service, contact mediation@umaryland.edu, call 410-706-4270, or check out its website.