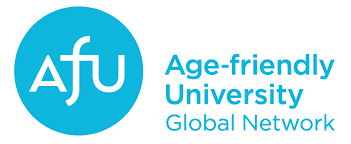 The Age-Friendly University movement at UMB is seeking to reframe the way we approach and discuss aging by encouraging age-affirming language.
---
It is almost time to celebrate one of our most important family members, our biggest champions, favorite storytellers, and best cookie-bakers — grandparents! Grandparents Day is coming up Sunday, Sept. 12, and we hope you all have marked your calendars to honor their wisdom and support.
What words come to mind when you think of your grandparents? Diseased? Disabled? Frail? We could hardly imagine using these words to describe our own grandparents, let alone our older co-workers and faculty members at the University of Maryland, Baltimore (UMB) , but these are the assumptions often made about older adults and what our own functioning will be like in later life.
There is good news, though! We are living in an aging society, and everyday older adults like Edith Murway-Traina are challenging the negative stereotypes associated with aging. OK, maybe they're not challenging them exactly like that 100-year-old Guinness World Record-holding competitive powerlifter, but the assumptions are being challenged nonetheless as both the size of the 65-plus cohort is growing and people are living longer. Every day in the United States, 10,000 people turn 65 years old. There are already more people over age 65 than under age 5, and, by 2034, the U.S. Census Bureau projects that there will be more people age 65 and older than under the age of 18. And, to top it off, the fastest-growing age demographic is the age 80-plus cohort.
Older adulthood is the most heterogeneous of the entire lifespan and is much more culturally diverse today than in previous generations. Though some older adults require a complex array of care and management, most continue into their eighth and ninth decades of life continuing to live healthy lives and contributing to society in myriad ways. This is because while aging is both inevitable and universal across gender, race, and ethnicity, our genetics, environment, and lifestyle create a unique aging experience that can either hasten or slow the rate at which these changes occur.
We are all experiencing some of the related changes right now regardless of whether we are aware of them or not, but we don't really think about them until we see our first wrinkle or pluck the first gray hair. But aging is not a problem to be solved through anti-aging cosmetic changes, it is a period of life to be embraced and is, therefore, in need of reframing.
The importance of reframing through age-affirming language is being recognized by one of the most successful beauty magazines in the country. In 2017, Michelle Lee, editor-in-chief of Allure magazine declared that the publication would no longer use the term "anti-aging." In her powerful article that highlighted the importance of language, she persuasively wrote "changing the way we think about aging starts with changing the way we talk about aging."
The national Reframing Aging Initiative also is challenging the "public's understanding of what aging means and the many ways that older adults contribute to our society," and UMB, a designated age-friendly university, is leading the local charge. We cannot be equitable and inclusive if we are excluding the aging experience. Negative language and ageist attitudes are demeaning, disrespectful, and reinforce negative stigmas surrounding age-related changes and dehumanize older adults, leaving them isolated and exacerbating declines in bio-psycho-social functioning.
The age-friendly movement at UMB aims to address many of these concerns by creating a more inclusive environment, not only in the university setting, but across Maryland. Faculty and students from all schools and divisions have come together to embrace and implement UMB's age-friendly initiative.
For more information on our work and how to get involved, visit us at umaryland.edu/gerontology/. Additionally, keep an eye out for future features in The Elm surrounding this exciting initiative. We look forward to reframing aging together, and we hope you'll join us in creating a more age-friendly society!
Disclaimer: Elm Voices & Opinions articles reflect the thoughts or opinions of their individual authors, and may not represent the thoughts or values of UMB as an institution.