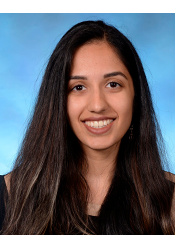 The fifth-year School of Medicine MD/PhD candidate's passion for sustainability has taken many forms during her time at UMB.
---
The UMB Office of Sustainability would like to recognize Aishwarya Iyer, fifth-year MD/PhD candidate at the University of Maryland School of Medicine (UMSOM), as a Sustainability Champion!
Iyer is a PhD candidate in the biochemistry program, and her thesis research is focused on elucidating the structural and functional consequences of a novel mutation in MYBPC1 linked to myopathy with tremor. She is originally from Gaithersburg, Md., and attended the University of Maryland, Baltimore County for her undergrad, majoring in biochemistry and molecular biology.
Sustainability was always a value integrated in Iyer's childhood, particularly the importance of resource conservation and food waste minimization. The emphasis was not only on gratitude for current resources, but also on environmental protection for the betterment of future generations. However, her passion for sustainability was amplified when she moved to Baltimore for medical/graduate school.
"The decreased availability of sustainable options and the effects of climate change disproportionally affecting underserved communities was highly evident. It really emphasized the need to improve sustainablility efforts in our community in all aspects, especially socioeconomic," Iyer says.
Iyer has been involved with sustainability on UMB's campus in many ways. At the end of her first year of medical school, she joined the UMB Sustainability Committee as a student representative. The committee has since been restructured into several working groups, and Iyer is now involved in the Green Labs Working Group.
During her second year of medical school, Iyer and a few classmates collaborated to create a yearlong eco-competition within the medical school to promote sustainable actions and behaviors (the competition was unfortunately cut short due to the COVID-19 pandemic). In addition, Iyer and her classmates worked with the faculty at UMSOM to design and incorporate a lecture discussing the impacts of climate change on health into the school's curriculum.
During her service as the University Student Government Association (USGA) secretary, and later as the USGA president, Iyer collaborated with the UMB Sustainability Committee and the newly formed Office of Sustainability on numerous matters, from receiving support from the USGA Senate for climate change education to be integrated into all school curriculums at UMB, to collaboration and promotion of neighborhood cleanup events for Earth Day 2022.
When asked about one thing that fellow students, staff, and faculty at UMB can do to contribute to campus sustainability efforts, Iyer says, "Don't hesitate to reach out to the Office of Sustainability to see what ways you can get involved or join working groups that you feel passionate about. If you would like to get involved with changing your school's sustainability climate for the better, reach out and collaborate with other students/staff/faculty who are passionate about the same things to get initiatives started. Also talk to students from other schools, because some of those initiatives might already be in place and can be replicated or expanded to your school."
Finally, Iyer encourages everyone to try their hand at composting! She started composting several years ago to decrease the amount of food waste going to the landfill, and she encourages everyone to try it.
"If you don't have access to outdoor yard space, there are options to compost in the city such as the Food Scrap Drop-Off Pilot Program, MOM's Organic Market, Baltimore Compost Collective, and more."
Do you have a UMB Sustainability Champion you would like to nominate to be featured? Please fill out this form. Self-nominations are welcome.
Subscribe here to the UMB Sustainability newsletter and follow the UMB Sustainability social media channels (Facebook, Twitter, and Instagram).