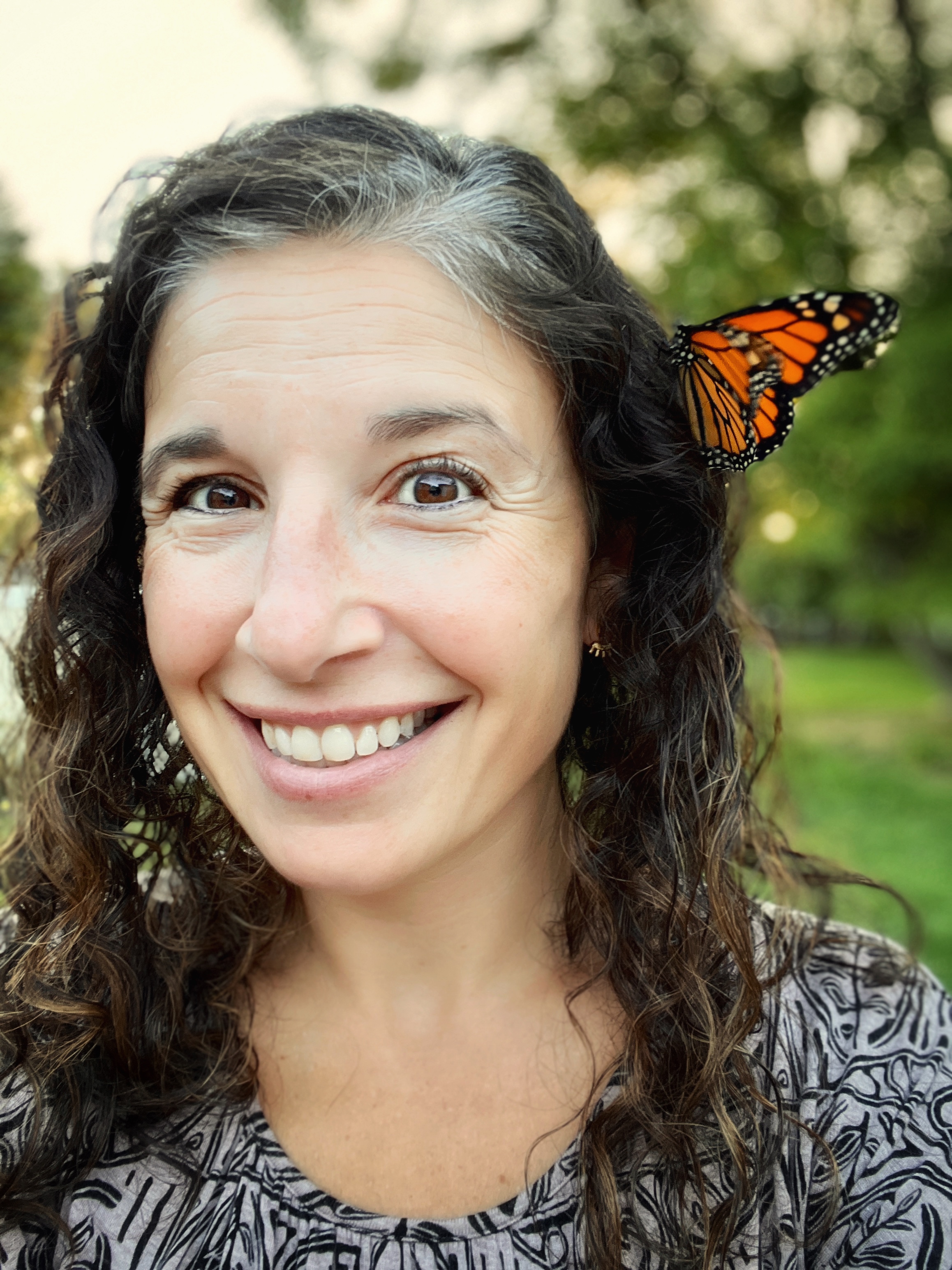 The School of Nursing staff member has turned her home into a haven for monarch butterflies and a farm for composting worms.
---
The University of Maryland, Baltimore (UMB) Office of Sustainability would like to recognize Giordana Segneri, MA, as a Sustainability Champion! Segneri is the assistant dean for marketing and communications at the University of Maryland School of Nursing (UMSON). In this role, Segneri leads a highly creative and exceptionally hardworking five-person team that implements and manages communications strategies for the school — from managing the website to creating social media content to hosting events, and much more. Segneri has been an employee at UMB since August 2016.
While Segneri hasn't been directly involved in any sustainability efforts at UMB yet, as a communications professional, she has been involved in marketing them. Segneri has helped develop and maintain the sustainability webpage on the UMSON website, which outlines the various sustainability-oriented initiatives that the school has undertaken, including the Nurses Climate Challenge and the Maryland Green Registry. It also promotes the work of the school's own sustainability group, GreenSON. Most recently, Segneri has been involved in chronicling the development and installation of the new living green wall at UMSON.
"It's remarkable — I hope everyone has a chance to stop by to see it," says Segneri. "I've learned so much about the health and wellness benefits of indoor plants through the process."
In her personal life, Segneri and her family have become major advocates for monarch butterfly conservation. Several years ago, Segneri purchased a small swamp milkweed plant to install in her backyard rain garden. While she chose the plant because it is native and water-loving, she didn't realize at the time that it would have the added benefit of attracting monarch butterflies to her yard the first year it flowered. Segneri naturally became more interested in butterflies and received a butterfly tent from her neighborhood Buy Nothing group in late summer 2021. With the tent, she was able to bring two monarch caterpillars into her home so that the whole family could witness the process of the caterpillars metamorphizing into butterflies. Though she knew little at the time about the subject, the more she learned, the more hooked she became!
Through reading and research, Segneri learned that the monarchs that appear in the Baltimore area in late August and early September are travelers, migrating to a specific spot in Mexico where they overwinter, then migrate back the following spring to start the process all over again. She also learned that monarchs are endangered, and that the primary way people can help them is by planting more native milkweed, which has been depleted substantially by land clearing, development, and even simple weeding.
This past year, Segneri and her family rescued 21 caterpillars, of which 20 formed chrysalises. Of the 20 chrysalises, 18 became butterflies. This is a hugely successful rate, as in the wild, less than 10 percent of monarch eggs laid make it to the adult butterfly stage. Segneri learned about common diseases and saw early signs of them in the two chrysalises that didn't make it. She had to remove these chrysalises from the tent to ensure they didn't infect the others. "Like anything, it has its ups and downs, but nothing makes my heart happier than releasing the adult monarchs and wishing them 'buen viaje' as they take off for Mexico," says Segneri.
In addition to monarch butterfly conservation, Segneri and her family have also gotten into vermicomposting, or "worm farming." Since Baltimore County prohibits above-ground composting, Segneri began looking for a composting solution and came across a Kickstarter campaign for a product called the Subpod. After researching the product and purchasing it, the Subpod in-ground worm farm composting system arrived in summer 2020 and became a family pandemic project.
"We started with 2,000 red wigglers, and our population is now in the tens of thousands," says Segneri. Each summer since installing the vermicompost system, the family has had great crop yield due to the excellent compost in the bed produced by the worms. Segneri manages an Instagram account called @happycomposters that chronicles the family's vermicomposting and gardening journeys.
When asked what fellow students, staff, and faculty can do to contribute to campus sustainability efforts, Segneri points to composting.
"Food waste constitutes 8 percent of all global greenhouse emissions, but only 5 percent of people worldwide compost food waste. Imagine if we could double or even triple that number!" Segneri didn't realize how easy composting could be until she started doing it. She touts the benefits as twofold — "not only are we reducing food waste that ends up in a landfill, but we're supercharging our garden with the resulting composted material, which is the absolute best growing medium!"
Do you have a UMB Sustainability Champion you would like to nominate to be featured? Please fill out this form. Self-nominations are welcome.
Subscribe to the UMB Sustainability newsletter and follow the UMB Sustainability social media channels (Facebook, Twitter, and Instagram).