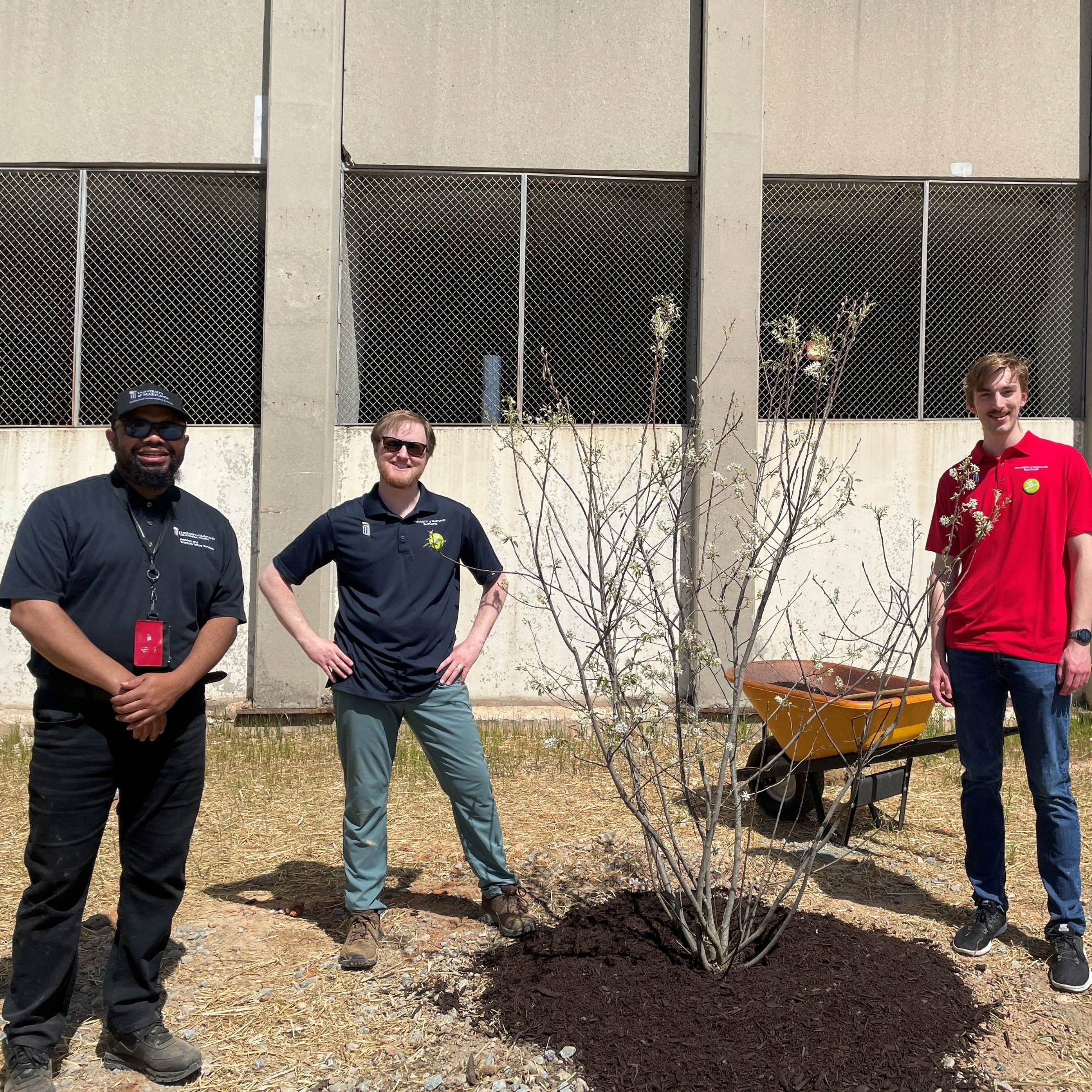 Volunteers plant trees at Pratt Street Garage, including one to memorialize a UMB employee who died in March.
---
UMB's Office of Sustainability celebrated Earth Day all month this past April, from its specialty recycling collection of electronics, plastic films, and other difficult-to-recycle items to the publication of its Tree Equity Map. One notable moment was celebrating Arbor Day, which falls on the last Friday of April, early this year with a tree planting.
On April 12, a small group of volunteers gathered and dedicated some time to plant native trees on the south side of the Pratt Street Garage. With the help of UMB's landscape contractor, BrightView, Inc., members from Design and Construction, Environmental Services, Parking and Transportation Services, and Sustainability were able to plant two sweetbay magnolias and one serviceberry at the site.
These three native trees will provide additional shade to passersby as the trees mature, provide habitat and food to birds and other wildlife, and increase the University's tree canopy. Urban trees also provide stormwater management services, purify the air, and combat the urban heat island effect. By planting more trees on campus, the Office of Sustainability hopes to increase UMB's current tree canopy, currently estimated to be 10 percent. You can learn more about campus trees on the sustainability website.
The tree planting event held additional significance for staff within Parking and Transportation Services. A tree was planted to memorialize Clarence Moore, an employee who passed away unexpectedly in March this year. Moore was part of Project SEARCH, a program creating internships for high school students to learn employable skills within the University. The internship led to a position at Parking and Transportation Services for over 13 years. This June would have marked his 14th anniversary with UMB.
Moore was assigned to the Pratt Street and Penn Street garages. Planting a serviceberry tree outside of the Pratt Street Garage was a way that the Parking and Transportation team wanted to honor his service to UMB while contributing to the sustainability goals of the University. The serviceberry was planted in the center of the site and will include a memorial plaque in the future with Moore's name.
The name "serviceberry" signifies how important this tree is for local ecology. Serviceberries are small trees native to eastern North America. They have white flowers in the spring, deep purple edible berries in the summer that are loved by birds, and fall leaves that range from golden yellow to a vivid red. Be sure to walk by during the autumn months to enjoy the serviceberry's beautiful foliage.
Visit the Alternative Transportation page to learn more about Parking and Transportation Service's programs to reduce the UMB community's environmental impact.
Photo: Rodney Harris, Mark Drymala, and Alex Skowron pose next to the newly planted serviceberry tree on the south side of Pratt Street Garage.