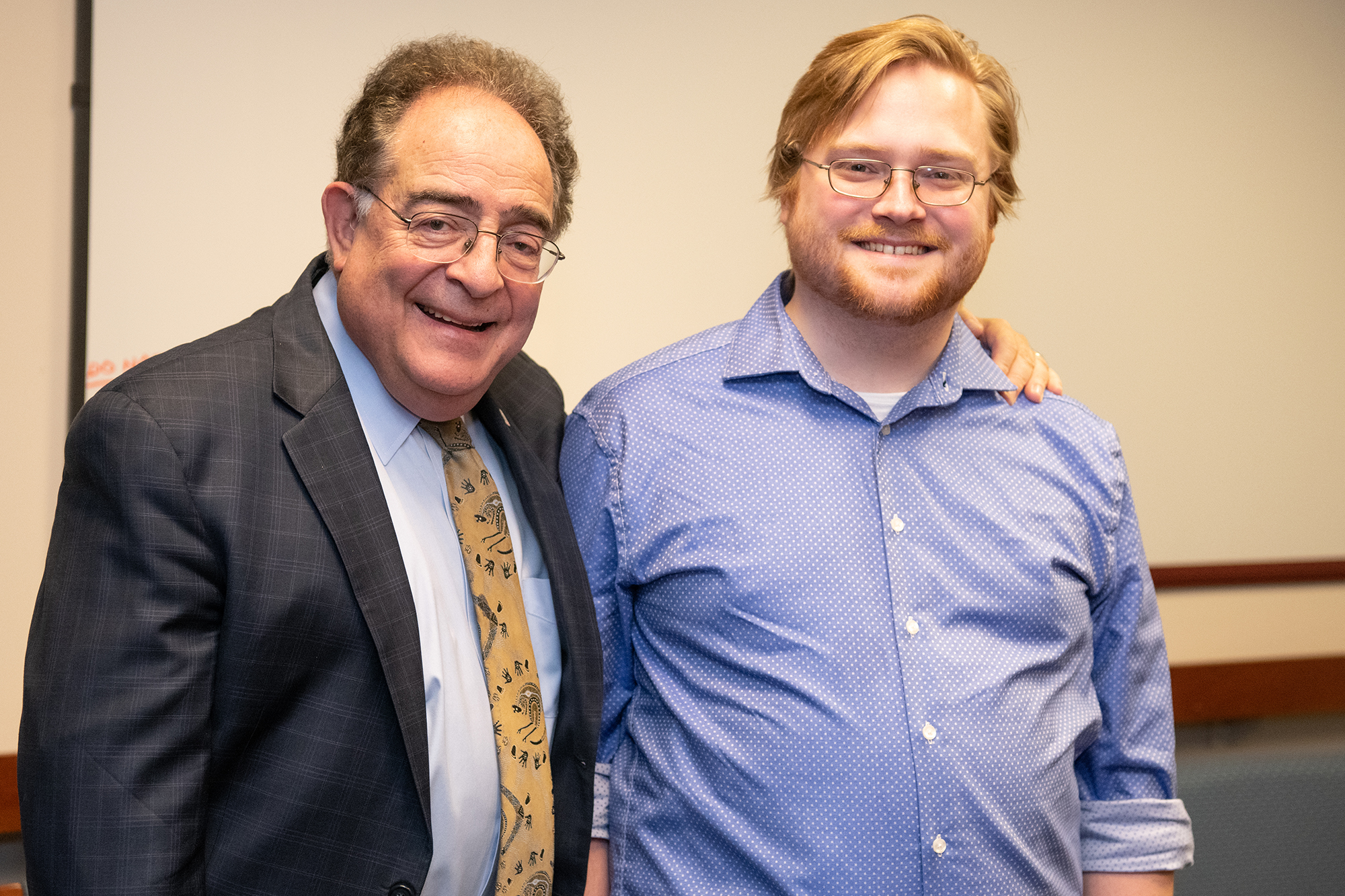 Key player in revamping 'The Elm' site and 'The Elm Weekly' newsletter recognized for efforts to build and maintain University's websites.
---
If you've ever surfed the University of Maryland, Baltimore's (UMB) main website at umaryland.edu or taken a virtual stroll around The Elm, a user-generated UMB site, there's a good chance Jonah Penne has had a hand in improving your user experience.
Penne, web developer, interactive media, for the Office of Communications and Public Affairs (CPA), has been a key player in designing templates, testing functionality, and assuring accessibility compliance on UMB's websites since joining the University six years ago. More recently, he helped to reimagine and redesign The Elm and its companion weekly newsletter, The Elm Weekly, both of which relaunched last February.
"Jonah diligently accommodated various requirements to make The Elm website and weekly newsletter perform effectively according to various expectations across the University," says Amir Chamsaz, ScD, MS, managing director, web development and interactive media, and Penne's supervisor. "His expertise was critical to the development of The Elm and The Elm Weekly.
"Jonah also is an effective team player who collaborates well with all members of our web development team and others in our office. He is an outside-the-box thinker who identifies creative approaches to solving problems."
Penne's efforts were recognized Nov. 15, when he was named UMB Employee of the Month in a ceremony at the Saratoga Building. President Jay A. Perman, MD, lauded Penne and informed him of his rewards: a plaque, a letter of commendation, and an extra $250 in his next paycheck.
"Thank you for your good work," Perman said. "I know what you're doing with UMB's websites and how hard you work, and I want you to know that everybody appreciates it. Congratulations on a well-deserved award."
Quiet and unassuming, Penne likes to shy away from the spotlight — "I personally get super embarrassed about being singled out," he says — but he appreciates the UMB honor, because "it's validating, and it's nice to know that your work is appreciated."
Among that work, as noted, was the revamping of The Elm website to include separate pages for topics (Stories, Announcements, Voices & Opinions, Accolades) as well as pages for each of UMB's six professional schools and interdisciplinary Graduate School. This undertaking required a heavy dose of collaboration across campus and a lot of patience.
"Jonah is a major asset to our team because he is meticulous, patient, articulate, and understanding of what our users want — administrators, staff, faculty, and students alike," says Laura Kozak, MA, associate vice president, CPA. "His creativity and work ethic are top-notch, and we are extremely proud that UMB has recognized his skills with this award."
Penne says The Elm revamp was particularly challenging because the web development team had to balance input from each UMB school and its needs with what was best for the University website and its readers.
"The viewers seem to like it more," Penne says of The Elm website. "In terms of numbers, the viewership went way up when the new templates were launched, so that's been extremely positive."
Penne also has redesigned the website for the School of Social Work's Institute for Innovation and Implementation and enjoys working each year on UMB's animated holiday card, where his background in motion graphics comes in handy, though he laments, "That only comes around once a year."
Put simply, he's a web developer — and a darn good one.
"I like to build web templates, maintain them, and do 'web' things," he says. "I enjoy working on visual design all the way through the pipeline — from development to testing to deployment. I enjoy setting up how something looks online and how it will respond to people interacting with it.
"There's a lot of problem-solving involved in our work, almost like a puzzle of how to engineer things to get them to work the way you want them to," he adds while giving credit to his CPA colleagues. "Pretty much everything we do is a team project on some level, so I'd like to thank our team for its support and the award nomination."
Read about previous Employee of the Month winners.