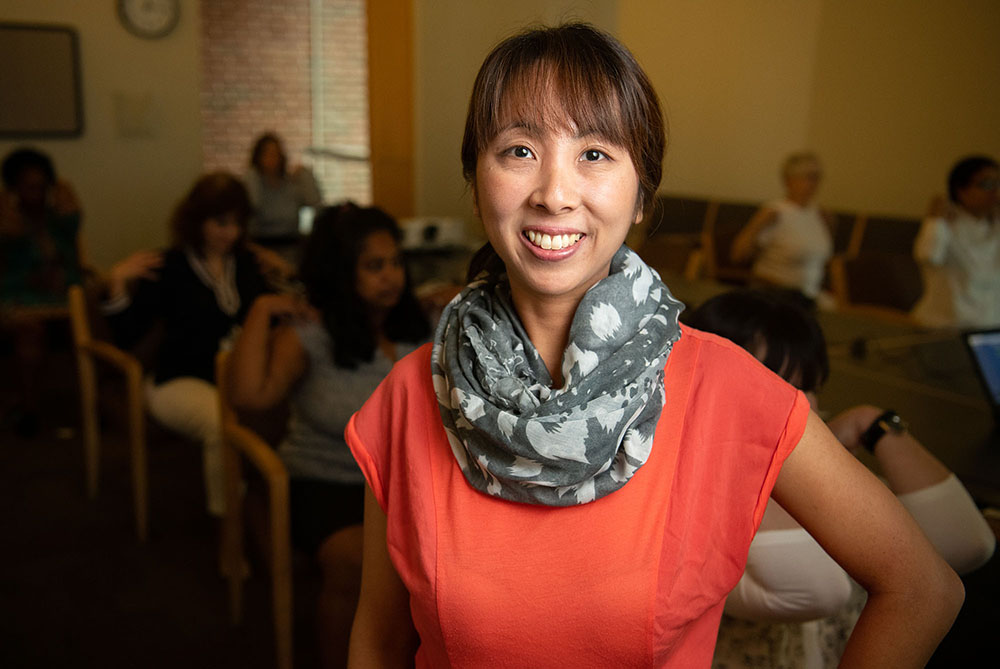 Human Resources' Launch Your Life program leads the way as University's workplace wellness efforts are recognized again.
---
The University of Maryland, Baltimore (UMB) has earned more recognition for its commitment to workplace wellness, led by Human Resources' Launch Your Life program. The latest kudos: UMB took third-place honors in the Baltimore Business Journal's (BBJ) Healthiest Employers Awards.
The BBJ awards honor companies for their efforts to keep employees healthy and happy in an increasingly stressful workplace, with the winners based on an independent survey of employers. UMB was recognized in the large companies category (1,000 employees or more). In May, the University won the Healthiest Maryland Businesses' Wellness at Work Gold Award, which recognizes employers committed to improving employee health and well-being. UMB won the Silver Award in 2018.
(Watch a video about the BBJ award.)
"I'm ecstatic that UMB was chosen as a finalist and then placed third in the Baltimore Business Journal awards," says Jina Bacchus, work life strategy specialist for Human Resources who led UMB in the award application process. "We were the only academic institution that was awarded. That's quite an honor, especially because we were competing among renowned companies with successful wellness programs. Being recognized is not the pinnacle but a continuation in making sure our employees are well taken care of."
Matt Lasecki, SPHR, associate vice president and chief human resources officer, is proud of the recognition for UMB's wellness efforts and has seen the benefits himself. "I've had a session of the seated massage and know why it's so popular," he says.
"Our Launch Your Life program has really taken off in the past three years," Lasecki adds. "The focus on helping to mitigate stress in the workplace and general well-being is a great benefit to UMB. We have definitely marked a milestone and strive to earn more awards in the future."
In its application for the BBJ award, UMB described how the Launch Your Life program has grown its services to UMB employees, maximizing available resources and offering programs and events to promote stress management and relaxation, such as the seated massage sessions noted by Lasecki.
In addition to massage, tai chi, chair yoga, and guided meditation, Launch Your Life has added sessions on financial wellness, financial literacy, brain health, sleep, eating on the run, and Pilates. There also have been events to promote Preventative Health Month, Public Health Week, and Nutrition Month.
"Our inspiration for creating Launch Your Life was to provide our employees with an array of benefits, experiences, and educational sessions to help them as individuals, simply because we care about their overall wellness," says Patricia Hoffmann, director of compensation and benefits. "It's so rewarding to see how this program has made such a difference to so many people. Being recognized for our efforts is just the icing on the cake."
Other new Launch Your Life programs include aromatherapy, nutritional counseling, reiki, and Weight Watchers at Work, all designed to help address key issues considered as top health conditions. UMB also makes sure to be inclusive of everyone's level and status of health.
"We piloted an aromatherapy class and received an overwhelming response from our employees," Bacchus says. "Typically, we have an average of 21 employees who sign up. We had 53 employees register this year, which is an increase of 152 percent. We plan to provide more classes on aromatherapy this year."
Bacchus says UMB also had more than 100 employees express interest in the Weight Watchers at Work program, and 35 signed up for the initiative.
"Nutritional counseling provides employees a 20-minute session to discuss their dietary goals with a registered dietitian," Bacchus says. "With our reiki offering, there were 15-minute sessions with the technique, which is used to promote physical and emotional healing. Employees were put on a wait list due to the popularity, and we plan to offer more reiki sessions in the future."
(Pictured: Jina Bacchus, UMB Human Resources)