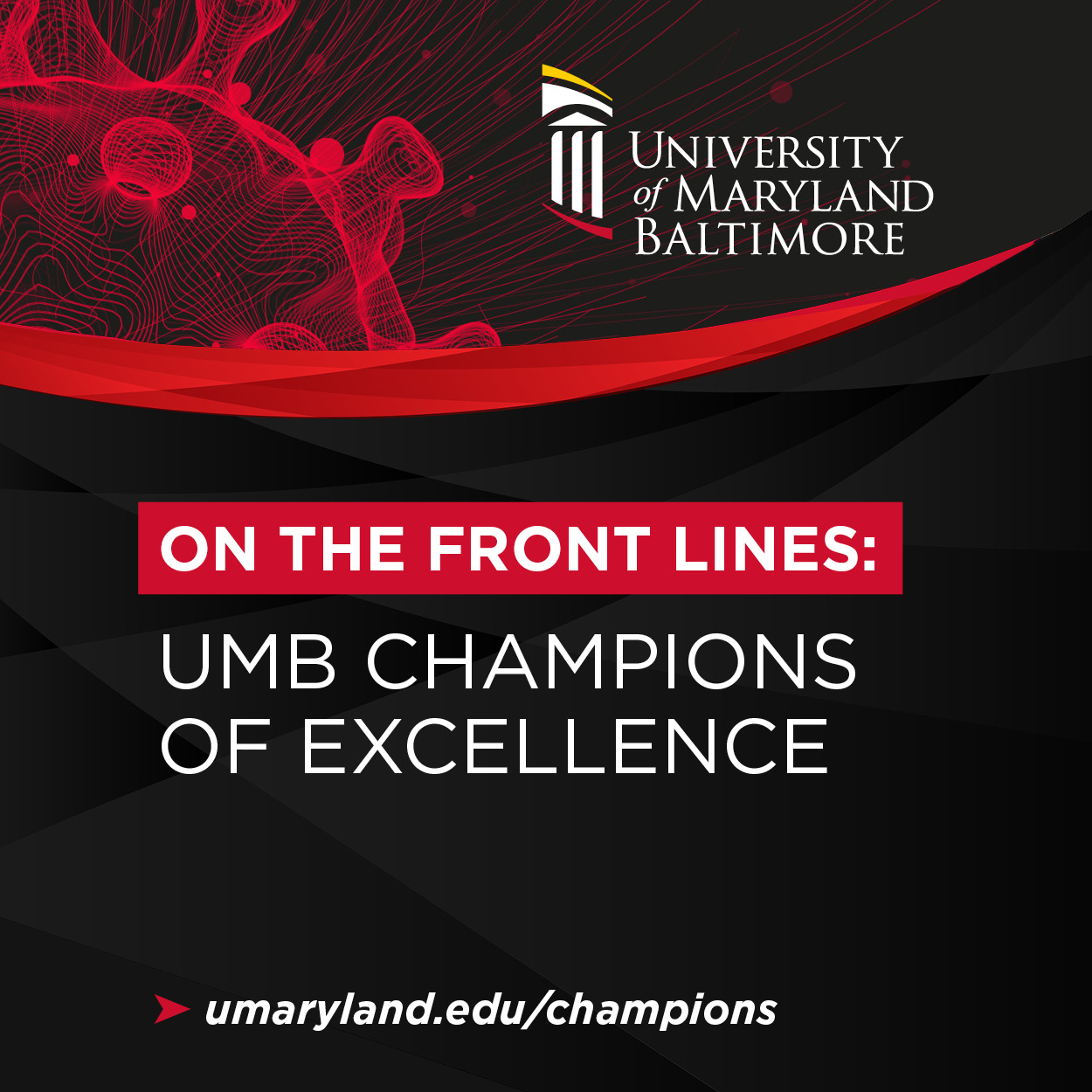 University is highlighting essential workers who've exemplified UMB's mission and core values to make a difference during the COVID-19 pandemic.
---
The University of Maryland, Baltimore (UMB) is proud to announce the launch of a new Champions of Excellence campaign in 2020, featuring stories about UMB front-line employees who've done exemplary work since the COVID-19 pandemic unfolded in March.
The UMB Champions of Excellence campaign began in 2015 and continued in 2017-18 to highlight individuals and teams that exemplify the University's mission and core values. This year, UMB is featuring its essential employees, the workers who've continued to fulfill their extraordinary commitment to the University by keeping our important functions and operations running during COVID-19.
"We're able to keep UMB faculty, students, and staff working toward our mission to improve the human condition because of so many front-line employees," said UMB President Bruce E. Jarrell, MD, FACS. "We face this pandemic together, but these employees often take additional risks on behalf of others. They truly exemplify what it means to be a Champion of Excellence."
Each week, we will share stories of these Champions of Excellence, highlighting their accomplishments and how they continue to help UMB fulfill its mission to improve the human condition and serve the public good through education, research, clinical care, and service.
"Great universities are made up of great programs, people, and teams, and by sharing these stories, UMB can personalize its mission, its core values, and its groundbreaking achievements," said Jennifer B. Litchman, MA, senior vice president for external relations and special assistant to the president. "Baltimore is a better place because of what we do at UMB — and that impact extends to our state, our nation, and the world."
The stories will cover a wide range of employees who work for UMB or one of its schools, such as the University counsel working to "help people follow the rules and do what is right"; the facilities workers at the School of Nursing who aided the transition to distance learning and telework; the School of Social Work's Promise Heights team that responded quickly to the pandemic to keep students and their families in Upton/Druid Heights engaged and supported; and so much more.
You can read these stories each week on the Champions of Excellence website and The Elm website and via The Elm Weekly email on Mondays.