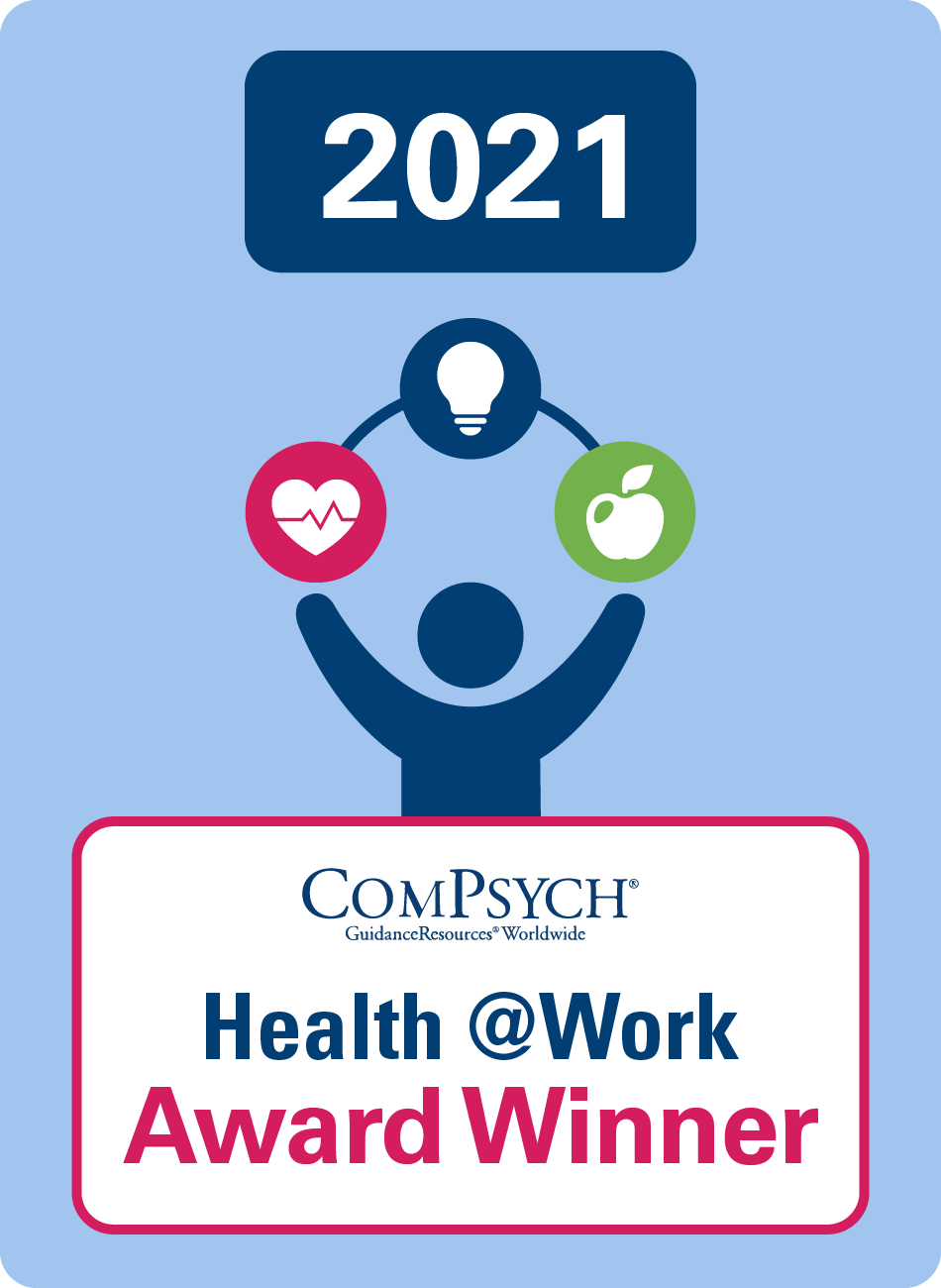 Health @Work honor from ComPsych recognizes the University's efforts to provide mental health resources and promote mental health awareness for employees.
---
The University of Maryland, Baltimore (UMB) has been recognized as a Mental Health Hero as part of ComPsych's 2021 Health @Work Awards, which honor organizations that support employees with exceptional and innovative wellness and well-being programs.
ComPsych, which provides employee assistance programs servicing more than 56,000 organizations around the world, recognized UMB for providing mental health resources and promoting mental health awareness for employees, especially during the COVID-19 pandemic.
"Protecting the health and safety of the UMB community is my priority," said UMB President Bruce E. Jarrell, MD, FACS. "We recognize the mental health toll this crisis has had on all of us. Living with the fear of contracting or spreading COVID-19, caring for the sick, dealing with social isolation and uncertainty — it all affects our emotional well-being. As a physician, I believe that it's always a sign of strength to ask for help.
"I'm so proud that UMB is being recognized for our efforts in this area. I thank everyone at the University who works to promote mental health resources and awareness."
Patricia Hoffmann, director of benefits, work/life strategies, and compensation, Human Resource Services (HRS), said, "We are delighted and so proud to receive recognition of our efforts focused on improving employee mental health and well-being."
UMB responded to the pandemic and its mental health component in a number of ways, including:
HRS produced the COVID-19 Coping Kit, a webpage that includes tips and resources for managing stress and anxiety; tools for resilience, compassion, and stress; online support forums; and more. HRS also compiled a Support, Caregiving, and Work-Life Resources During COVID-19 webpage with information and guidance for parents and caregivers.
"Virtual Face to Face with President Bruce Jarrell," a biweekly online program, devoted several episodes to well-being and mental health, including "Our Mental Health" (May 22, 2020); "COVID-19 and Clinician Burnout" (June 25, 2020); "How to Get Good Sleep" (March 26, 2021); and "Grief in the Time of COVID" (April 23, 2021).
UMB urged its employees to use their accrued leave time that had piled up during the first year of the pandemic with a "Take Your Leave" campaign, which noted the benefits of taking time off to relax, refresh, or recharge. "UMB's leadership understands that taking your earned time off is critically important to your mental, emotional, and physical health, and it is important for the health and safety of our entire community," Jarrell said in a letter to the UMB community March 24, 2021.
In addition, HRS promoted its programs that offer a range of wellness services and work-life balance resources to employees, including the Employee Assistance Program, UMB Guidance Resources, Launch Your Life, and the Self-Care Toolkit.
The 2021 Mental Health @Work Awards features two categories: awards for Best in Class that are based on the number of employees in an organization, and Specialty Awards: Mental Health Hero, Innovative Integration, Trailblazer, and Global Champion.
"These organizations across industries and geographies are setting a new standard for health and well-being care, one that breaks down barriers to access, focuses on destigmatizing mental health, and delivers resources in ways that resonate with people regardless of their age, background, culture and ability," Richard A. Chaifetz, PsyD, founder, chairman, and CEO of Chicago-based ComPsych, said in a news release announcing the award winners. "We are inspired by their leadership and vision, and we are proud to celebrate the positive impact they are making in people's lives."