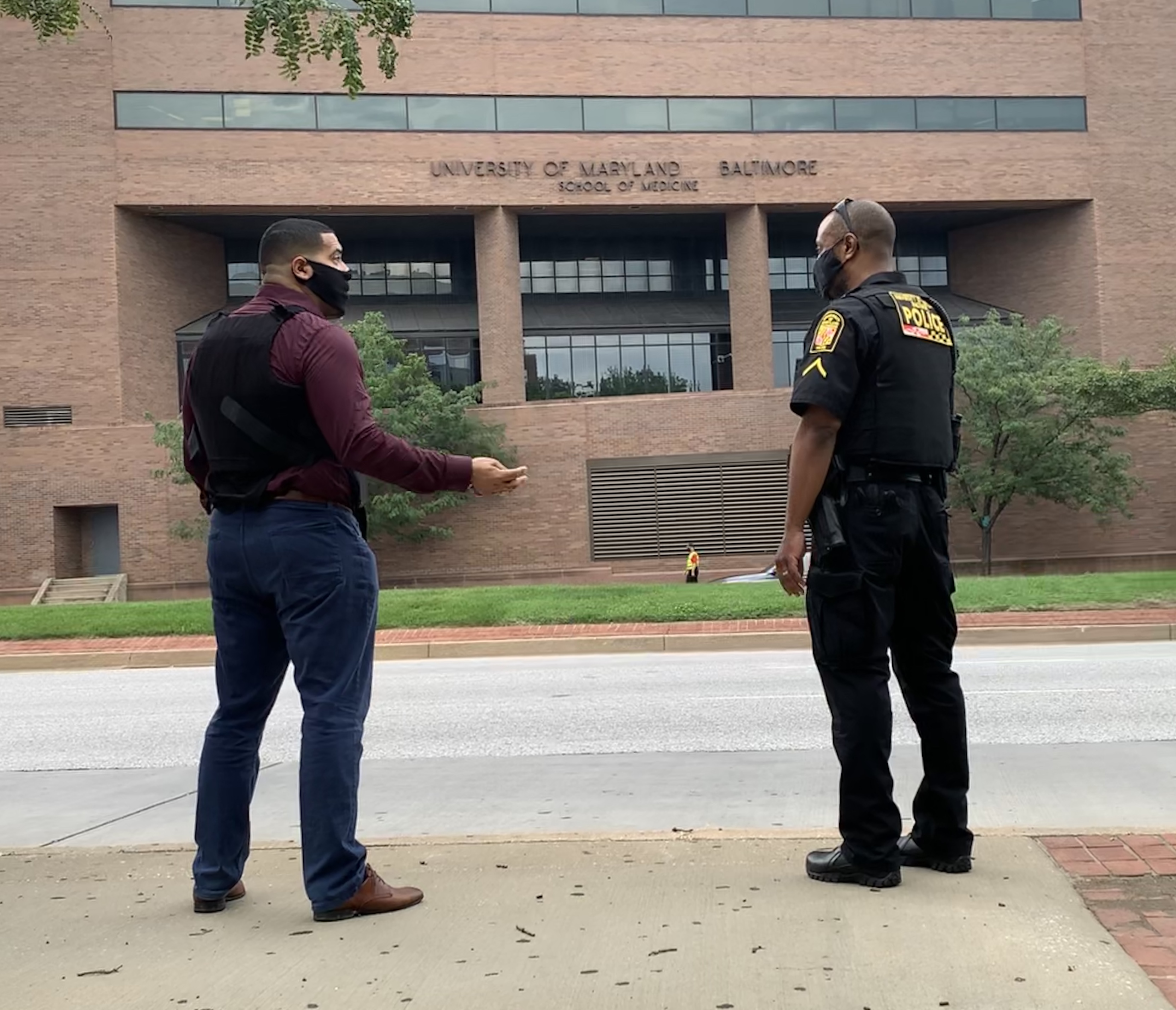 VA turns to police department's Community Outreach and Support Team as a model for working with vulnerable populations.
---
When Jonathan Alfaro wanted to learn about homelessness in Baltimore, one of his first calls was to the University of Maryland, Baltimore Police Department (UMBPD) Community Outreach and Support Team (COAST). Pfc. Yale Partlow, the outreach and intervention officer leading COAST's Homeless Liaison Program, met Alfaro for a Friday evening ride-along.
Practicing COVID-19 safety protocols, both men wore masks while Alfaro sat in the "cage" — a fully enclosed space in the back seat of a police vehicle for prisoner transport. But Alfaro is not a prisoner. He's the Veterans Affairs commissioner for Montgomery County (Md.) and a Civil Air Patrol Second Lieutenant.
Alfaro is currently assembling a team of veterans to help repair relationships between community members and law enforcement agencies across Maryland.
"All I know how to do is help and serve," Alfaro says. "I have seen the benefits of community service and volunteer work. I have seen the impact you can have when you spend time with other people."
Partlow knows this impact, too. He uses a combination of trauma-informed and harm reduction-based interventions to assist those experiencing homelessness and mental health crises. Partlow works with Baltimore City's Law Enforcement Assisted Diversion (LEAD) program to provide resources rather than arrest individuals with unmet behavioral needs, like addiction, mental illness, homelessness, and poverty. For his work, he was recognized as UMB's Employee of the Month in August 2019. His outreach efforts also helped COAST win the 2019 Governor's Award for Outstanding Proactive Crime Prevention Programs in Maryland.
The pair met to discuss Partlow's work as outreach and intervention officer, vulnerable populations in Baltimore, and how Alfaro can help make a difference. Veterans can be an especially vulnerable population. According to the Baltimore City Mayor's Office of Human Services, 15 percent of people experiencing homelessness are veterans. A 2015 Baltimore Sun article found that 45 percent of homeless veterans suffer from mental health illness, including post-traumatic stress disorder, and 70 percent suffer from substance abuse and addiction issues.
"We're all working together toward the same goal," Partlow says. "We want to get people the resources they need so they can be successful. We want to see our city thrive."
Alfaro hopes his team of veterans can bring hope and compassion to the streets of Baltimore. "We have been in dangerous situations. We understand the risks," he says. "As veterans, we never stop serving our country. This is what we fought for."
(In photo: Alfaro, left, and Partlow stand physically distanced wearing masks, facing each other, and talking.)