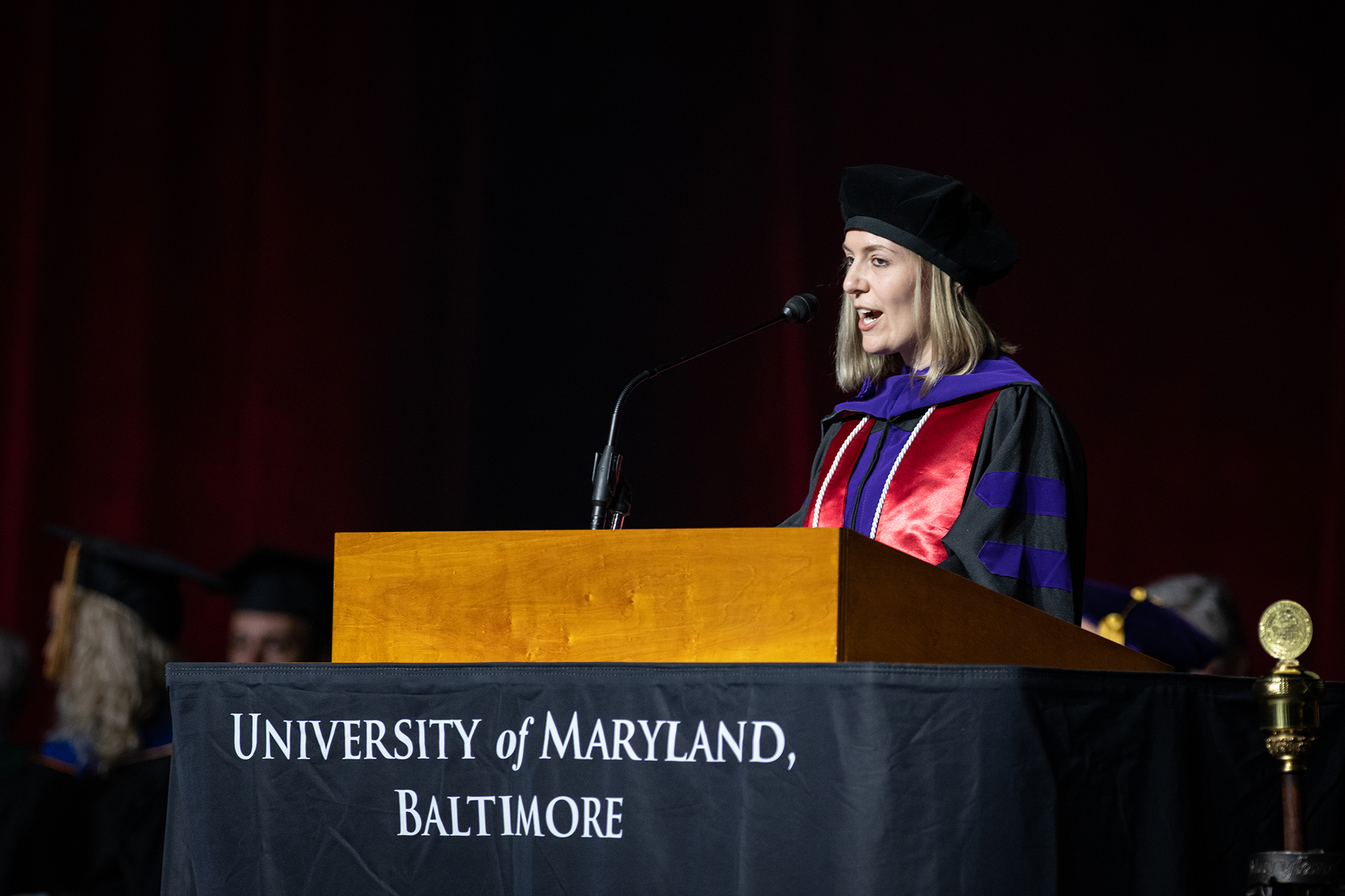 Sarah Montague Shepson of the Carey School of Law talks of public service and perseverance at the Universitywide commencement ceremony.
---
Francis King Carey School of Law graduating student Sarah Montague Shepson, MPPA, was selected as student remarker for the University of Maryland, Baltimore's 2019 Universitywide commencement ceremony. Read her speech below and learn more about Shepson by clicking here:
---
Welcome family, friends, faculty, staff, and the graduates of the University of Maryland, Baltimore Class of 2019.
Degrees will be granted today in social work, medicine, dentistry, nursing, the graduate school, pharmacy, and law. Each program is dedicated to serving the public. Earlier this year, a man passed away at the age of 92 who embodied what it truly means to live a life of public service. He was a congressman from Michigan named John David Dingell Jr. It's possible you have never heard of him. I hadn't until I worked for his wife, Debbie Dingell, a congresswoman elected in her own right. But you don't need a law degree to have heard of the legislation he helped pass during his record-breaking 59 years in Congress — the Civil Rights Act, the Clean Air Act, the Clean Water Act, the Affordable Care Act. There is no denying these landmark laws fundamentally reshaped our country.
Even before his time in Congress, Dingell served as a Second Lieutenant in the U.S. Army during World War II and worked as a National Park Ranger. Most of us could only dream of creating the legacy he left. And yet, at the end of his life, he still wondered if he had done enough to make a difference.
But I imagine that Congressman Dingell knew better than anyone that the work in public service is never done. That the truly worthwhile endeavors take years, decades, lifetimes to accomplish.
I know how overwhelming it can feel to contemplate the most necessary challenges before us — addressing the starkest income inequality since the Great Depression, protecting our civil rights, and curing previously incurable diseases. The problems can seem so big that we feel paralyzed or insignificant in the face of them.
But every generation has their unique challenges that they must choose to confront. Leaders like Mr. Dingell, and former Maryland Speaker of the House Michael Busch, who we also lost this year, took steps every day to make a difference. Over years and decades, these steps compounded to make transformative change. And none of their work was accomplished in a day, nor did they do it alone.
I learned from them that it is all of our jobs to continue improving our collective society from wherever it is when we receive it. If we want our government to be more inclusive, more intersectional, more forward-thinking, and more ambitious to meet the needs of our time, it is our job to make it so. Just a couple of weeks ago, I was proud to be a Marylander when the House of Delegates elected our new Speaker, Adrienne Jones. It may have taken Maryland more than 300 years, but our legislature has finally elevated representative leadership by electing the first African-American and the first woman to this position.
We can all lead in our own ways, and holding public office certainly is not the only one. If anything, there are too many choices. We often wonder, how do I know if I'm choosing the right career? The right job? Did I really just take out that much money in student loans? It may look like everyone else has life figured out, but we've all had these doubts.
The beauty of it is that no matter what path in life you choose, there will be value in that choice when you prioritize bettering the lives of others. What I know of doctors, at least from Grey's Anatomy (my apologies to the med school and nursing school), is that the Hippocratic Oath says, "First do no harm." Sometimes doing nothing is precisely what causes harm. If you see injustice in the world, it is incumbent on each of us to speak up and get involved. As Audre Lorde said, "We are the ones we've been waiting for. We are the change that we seek."
We all have something to contribute. What's important is that you get started. The good news is, by your work here at UMB, you already have. And today, upon our graduation, I ask you to be courageous in tackling the challenges of our time and to use the skills that you learned here to continue to shape our society for the better.
In closing, I want to thank the people who made this day possible. Dr. Perman, the deans of our schools, our professors and all of our teachers, we thank you. I also want to express our gratitude to the custodial and facilities staff who maintain our campus as a haven of learning. Every day, you make our school feel like home in the heart of Baltimore, and for that we thank you.
I personally want to thank my parents and family, my professors, my truly remarkable law school classmates, and everyone who invested in me over the past three years. Finally, and most especially to my fiancé, Christopher Schuler. He saw that as an aspiring lawyer I was becoming professionally trained to argue, and he still was willing to sign up for a lifetime with me. Thank you and I love you.
Congratulations to the Class of 2019 — and in the words of Congressman Dingell, "It's what you can now do to help others that's important. If you never forget that, you'll do fine."
Disclaimer: Elm Voices & Opinions articles reflect the thoughts or opinions of their individual authors, and may not represent the thoughts or values of UMB as an institution.