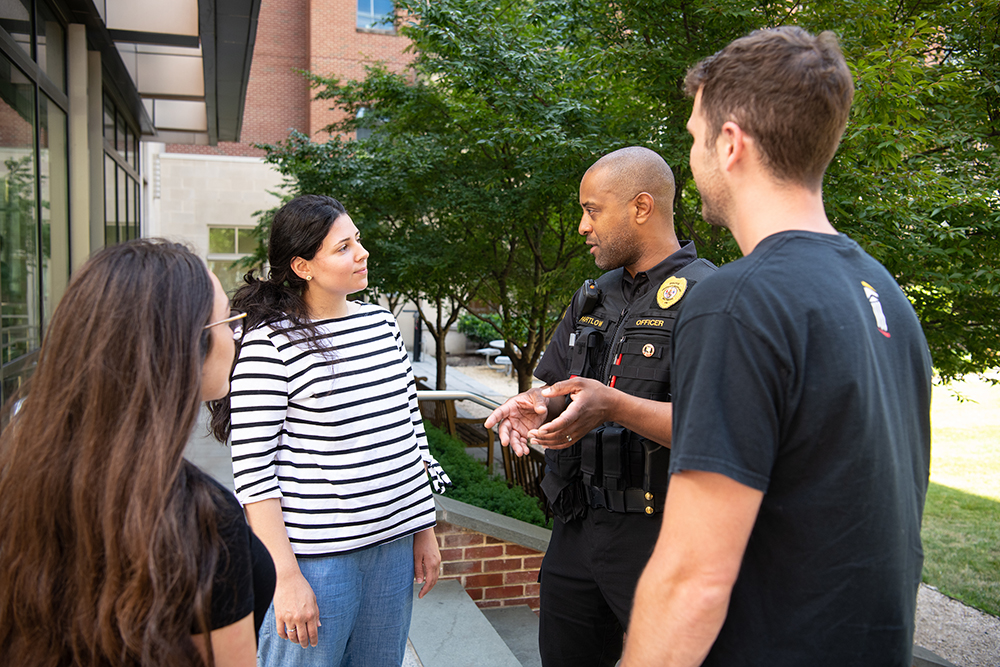 Community Outreach and Support Team recognized for its commitment to the University and West Baltimore communities.
---
Over the past year, the University of Maryland, Baltimore Police Department's (UMBPD) Community Outreach and Support Team (COAST) has made significant contributions to our on- and off-campus community. Because of its impact in West Baltimore, COAST has been awarded the Governor's Award for Outstanding Proactive Crime Prevention Programs in Maryland.
COAST, which will receive the award during a ceremony Dec. 5 in Annapolis, was formed in October 2018 under the direction of UMBPD Police Chief Alice K. Cary, MS. The team provides opportunities for the UMB community and its neighbors, who often face a wide variety of hardships. By fostering positive relationships year-round, UMBPD is able to build bridges within people in communities who might otherwise be hesitant to work with police. This strategy of community-based policing focuses on police being a part of the community, not just simply working in the community.
Officers in COAST mentor young students after school in the Police Athletic/Activities League (PAL) program and teach Drug Abuse Resistance Education (DARE) weekly in Baltimore City schools. The Community Engagement Academy invites members of the community to get a behind-the-scenes look inside UMBPD, from what it's like to enter the police academy through the daily decision-making process for law enforcement officers.
In June, comfort K-9 dog Lexi joined COAST. Lexi is only the third university police comfort dog in the country. The K-9 is trained to provide stress relief and affection to people dealing with anxiety, depression, trauma, or mental illness. Lexi serves many different communities — working with UMB's graduate students who undergo immense pressure and stress; working with community members who might suffer from a variety of mental illnesses, post-traumatic stress disorder, trauma, and anxiety; and working with UMBPD officers to promote self-care. Lexi also helps to humanize the UMBPD by encouraging all dog lovers to approach and interact with police.
COAST's outreach and crisis intervention liaison, Pfc. Yale Partlow, connects community members in crisis with critical social services. He is a key liaison to Baltimore City's Law Enforcement Assisted Diversion (LEAD) program, which redirects people arrested for low-level drug offenses to treatment and other services. Every day, Partlow works with dozens of people experiencing homelessness in Baltimore, providing not only needed support, but also empathy and compassion. This role delves beyond the surface-level view of homelessness and explores the complexities of drug addiction, mental illness, and poverty.
COAST has become a nationwide model for outreach and crisis intervention efforts. Members of COAST have worked with law enforcement agencies across the country to grow their own community outreach programs based on COAST best practices.
(In photo: Pfc. Yale Partlow, a member of COAST, talks with three students.)
Read about COAST's homeless outreach symposiums at the links below.