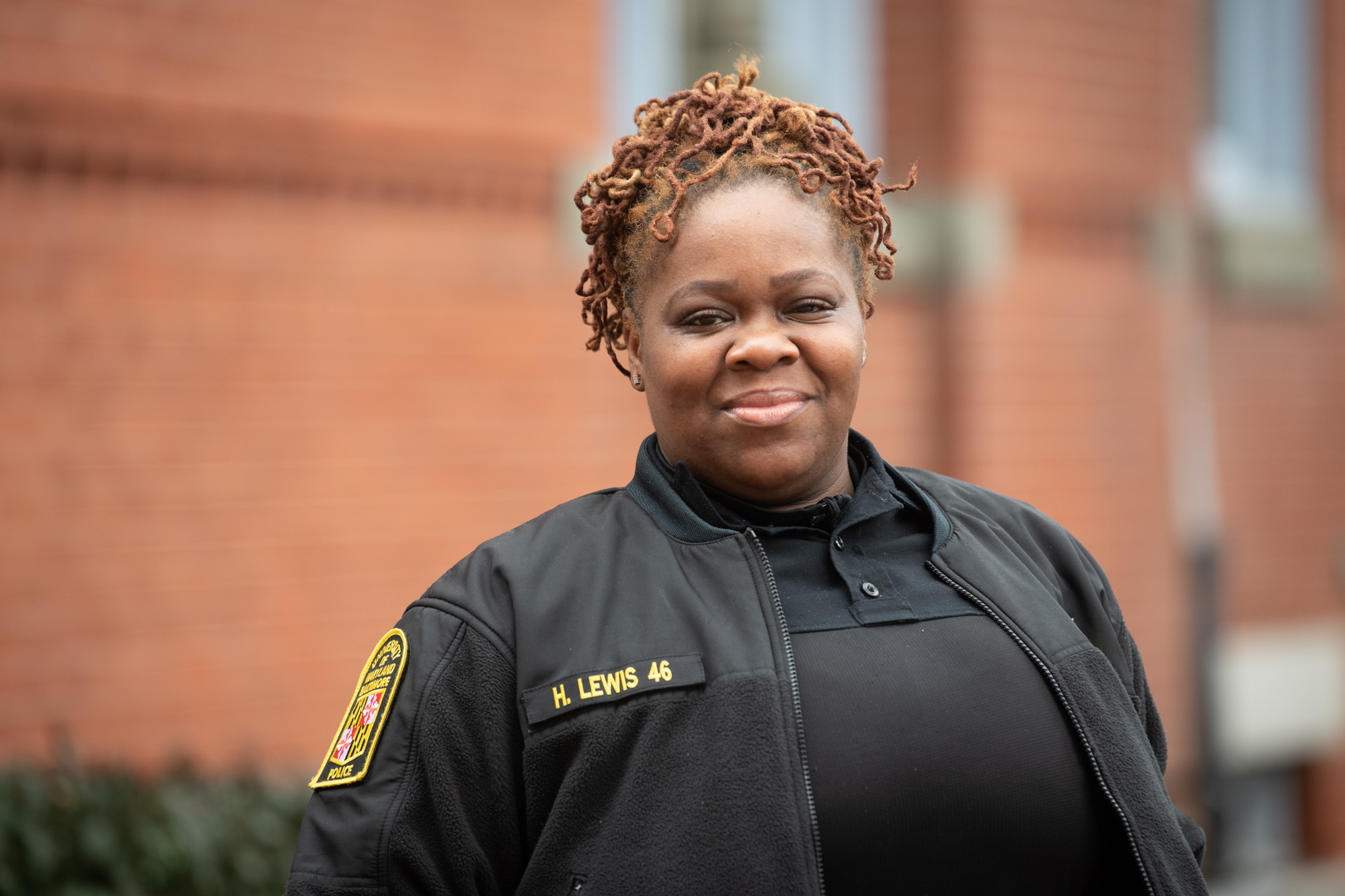 She is recognized for her work planning National Night Out and building relationships with the community as part of the Community Outreach and Support Team.
---
Cpl. Hazel Lewis, MS, says her favorite part of working for the University of Maryland, Baltimore Police Department (UMBPD) is interacting with the community.
Whether she is helping children as part of the UMB Police Athletic/Activities League (PAL) or taking food to neighbors' homes during National Night Out, her efforts to build relationships with members of the community do not go unnoticed.
"Hazel epitomizes an effective steward to the community. Hazel can relate to anyone, and she can make anyone feel like she hears and listens to them. That is of extraordinary importance in this moment in time in public safety," said UMBPD Acting Deputy Chief Chad Ellis, MSL.
Lewis was surprised during a videoconference Jan. 14 by UMB President Bruce E. Jarrell, MD, FACS, who gave her the news that she is UMB's January Employee of the Month. Joining Jarrell were Chief of Police Thomas Leone, MSL, and Ellis as well as numerous police colleagues and others from around campus who collaborate with Lewis in her role managing the day-to-day activities and event planning for UMBPD's Community Outreach and Support Team (COAST). COAST offers numerous programs such as PAL, National Night Out, a community engagement academy, and homeless outreach.
Leone pointed out that Lewis was one of the founding officers of UMB's PAL program, in which she and colleagues meet with children in third to eighth grade twice a week to help them with schoolwork and participate in other activities.
"When we planned the community outreach support, you were all in," Leone said to Lewis. "It's a different way of policing. It's a different way of building relationships for our community. Your energy every day is second to none. And we appreciate everything that you're doing for us here on the campus and helping us redefine what policing looks like."
Lewis, whom her colleagues call dependable and consistent, is also known for building relationships with the children she works with in the PAL program.
"The kids love you," Sarah Porter, LMSW, program specialist, Community Engagement Center (CEC) told Lewis. "It's so apparent you love the kids and work so hard to provide awesome opportunities for them."
Lewis also planned her first National Night Out over the summer, which her supervisor, Lt. Matthew Johnson, said "brought the community together after a very difficult year dealing with COVID-19."
The event, held nationwide, is intended to strengthen trust and foster positive relationships between police and the communities they serve. For the children, Lewis brought in a game truck, set up face painting, and arranged for a visit from Lexi, UMB's comfort K-9. In addition, she managed the logistics for food preparation and service, compliant with UMB COVID-19 guidelines, coordinated with the University of Maryland School of Nursing to provide a mobile COVID-19 vaccination station, and worked to put together a laptop giveaway.
But her work didn't stop with the planning. During the event, she noticed elderly neighbors who could not participate watching from their homes and brought them plates of food.
"I just let them know, 'You don't have to come all the way here. I'll help you as well,' " she said. "We are there to help in any way."
Lewis is also managing a pilot program of trauma-informed policing between UMBPD and the University of Maryland School of Social Work (UMSSW) in which two UMSSW interns work with Lewis to help members of the community. They canvass areas on campus and the surrounding neighborhoods two days a week and offer assistance and resources to the unsheltered on finding housing, obtaining vital records and identification for job applications, and getting drug treatment.
"This is extra help to get people on the right road to recovery," she said of the partnership, the first of its kind and a model for other universities.
Kyla Liggett-Creel, PhD, LCSW-C, clinical associate professor, UMSSW, called Lewis a mentor and role model. She recalled when Lewis helped a crime victim.
"He was horribly traumatized, and calling the police was really frightening for him. Hazel was the one who came in, and the way she responded was so healing that every time I see this young man now, I know that it was because of Hazel that he is thriving and surviving," Liggett-Creel said. "She was healing and loving in a way that we have not seen before."
In her role with COAST, Lewis also will manage the Community Engagement Academy, which allows civilians to learn more about UMBPD, such as its history and officers' roles. Participants during the weeklong class planned for the fall will be able to use MILO, a virtual-training simulator that puts participants in different real-life scenarios to see how they would react.
"It's another form of building a relationship," said Lewis, who will recruit individuals and businesses to attend as well as colleagues to teach the classes. "You're the officer."
Lewis, who has worked at the University for 18 years, will receive a plaque, a letter of commendation, and an extra $250 in her next paycheck for being named Employee of the Month. She thanked Leone, Johnson, and her colleagues in COAST for their support as well as the representatives from the CEC and UMSSW who attended the videoconference with Jarrell.
"When Dr. Jarrell said my name, I thought, 'What in the world?' I was speechless. I was trying not to cry because I couldn't believe it," she said. "It's great to be acknowledged. Sometimes a person is working for years and never gets a thank you. So just to get that thank you from everyone there, I was very appreciative. I had so many emotions."